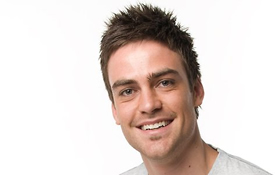 MC wins Australia's next Top Jock award
Michael Christian, one of the Australian radio presenters behind the hoax hospital phone call last December, has won a Top Jock award.

Australia's Next Top Jock was a 12 week competition organised by Fox FM's Adrian Brine and jock Keegan Bakker with the winner getting a trip to LA.
The contest was searching for the best Metro and Provincial Jocks within parent company Southern Cross Austereo.
The internal SCA website saw their workday jocks share breaks and ideas, a source of inspiration for all up and coming jocks in the network.
Every week jocks uploaded one break for judging by Australian programmers Craig Bruce, Dave Cameron, Derek Bargwanna, Mickey Maher and others.
Some weeks were even themed – 'Local', 'Less is More', 'Passion', 'Best Breakfast Sell' etc.
The winners were announced today, and saw MC getting the Metro award in a tie with Ellie Mobbs from 2Day FM.
Perry Lazarus from Hot FM Townsville took away the Provincial.
Michael Christian: "If this competition has taught me anything, it's that there's a LOT of talent in this company. Plus it's given all our announcers access to ideas, ways of thinking and people we might normally have day to day contact with.
"From the start I felt like I had something to prove to myself. That regardless of all that's happened in the past few months I'm still at the top of my game. So it felt good to see my name at the top of the final leader board! Congrats to Ellie and Perry as well. Bring on round two!"
News of the award has grabbed the attention of mainstream media, after it was criticised by the Australian Communications Minister, Senator Stephen Conroy, who said the move was in "bad taste".
In Australia, Channel Seven's Sunrise crossed to a reporter outside Fox FM.
The reporter outlined the details of MC's prize, commenting on the award by saying; "I'm sure Jacintha's family would be delighted to hear (about) that".
See the video of the Sunrise report here.
3AW's Neil Mitchell has also weighed in saying: "This is ridiculous. Southern Cross Austereo, the radio company, has learnt nothing.
"They own the station that pulled the prank that led to the British nurse committing suicide, and now the network has rewarded one of the disc jockeys who pulled the stunt.
"Michael Christian ran the prank and he has won a competition in the station to go to Los Angeles on a junket.
"Why? He is judged one of the next top jocks in the network.
"They learnt nothing.
"You do something so stupid, a woman dies and Southern Cross Austereo rewards you.
"The radio industry is capable of bizarre and insensitive management at times – I have seen it myself often enough – but this takes the cake. This is absurd."
This article first appeared on RadioToday.com.au


If you liked this story, we can email you more radio news and alerts. Just fill in the form below.