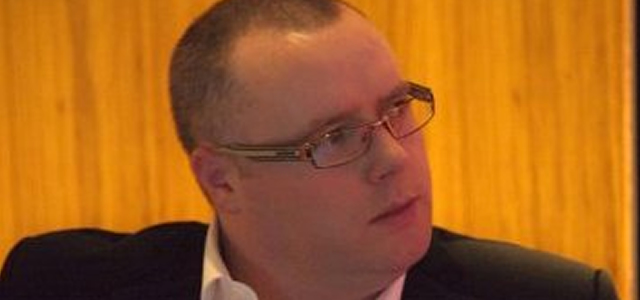 After cleaning up at the PPI Awards, we had a chat with Ocean FM's Production Manager and presenter Kevin Blessing.

Congratulations on your PPI wins.. did you make a conscious effort this year to enter more categories or was it same as other years?
No not really, we have always embraced the PPI Awards, even from our very first year. Back then, in 2005, we received one nomination.
And then we had a barren six years, believe it or not, until we got another single nomination. Which was very disappointing and very frustrating for us. Because we knew ourselves that some of our output was as good, if not better, than that of any radio station in the country, including national stations.
We have always entered in various categories, showing the broad range of programmes we broadcast. This year, it just all seemed to click. Our entries, we always felt, were very strong, but we've had strong entries before, if not stronger, and we never got anywhere.
Do you think winning a PPI is down to the quality of the application more than the actual event it was based on?
A bit of both, really, but the bottom line is, if you don't put the groundwork in, you won't get anywhere. The PPI entry is just a snapshot of a particular programme, or feature, or initiative, but it takes real time, effort and skill to produce that in the first place. In many cases, we do feel that the shortened entry does not give a true representation of the efforts that a presenter puts into a programme. The quality of the application is always very important, I feel, but not even close in terms of importance to the quality of the original broadcast.
Tell us what Ocean FM has done different in the last 12 months to make the judges notice you more?
Absolutely nothing! We do take about two weeks with a couple of members of staff in the lead-up to the deadline day to prepare entries. What may have improved, I think, is our archiving talents. Some staff are fantastic when it comes to retaining output, others are a complete disaster! So we may have been more organised, but whether or not the judges were impressed by that, we'll never know…
"Local local local" has always been radio's mantra. How do you keep your station visible and involved in the community?
Well, I don't think there is ever a day, or night, that at least one of our staff, and usually more, are not out and about, either covering an event, or involved in it as a guest. Be these council meetings, charity events, music gigs, matches, press launches, etc. Local Radio should do exactly what it says on the tin A reflection of all things local, with a professional approach as to how this is achieved.

You are Production Manager and Presenter, are you doing more these days in radio than before? Have you felt the pinch?
I think it's fair to say that there isn't a home, business or radio station in the country that hasn't felt the downturn but we run a tight ship here in Ocean, as many local stations do, and like so many, we have learned to deal with it. When I first started in Dublin's Country over a decade ago, I remember the CEO at the time telling me that radio is going to be all about multi-tasking in the next decade and he was on the mark.
Who is your favorite air personality not on your staff and why do you like them?
There are so many great talented people working in local radio around the country, it wouldn't be fair to name just one, when I can think of at least ten. On a national level, I would have to give it to Paddy McKenna on 2fm. Paddy is a good friend of mine, and like me, from Drumshanbo. I feel if I didn't give my national favourite tag to Paddy, some of our mates would probably stick the studs into me at soccer tonight.
Who would be a "dream guest" to have on your show?
I have to be honest and say I have never actually thought about a "dream guest" – don't know if there is one, but you're looking for an answer, so it would have to be Bob Dylan, who has had a big influence on my musical interests – he penned and recorded one of my favourite songs of all time according to my ears 'Like a Rolling Stone' – his success over many genres including Country, Folk, Blues, Gospel and Rock and Roll is unparallelled. Dylan is a real poet and he came up with one of my favourite quotes that probably bodes well with fellow workers within our industry; "What's money? A man is a success if he gets up in the morning and goes to bed at night and in between, does what he wants to do". For me its to work on radio and have my health.
What was your favorite station to listen to when you were a kid?
Not many reading this would have heard of my favourite station as a kid, It was Radio North West, a pirate station back in the early 80's when I was only five or six years of age, which was based about a mile from my house. Our next door neighbour was one of the jocks, Terry Leydon, he was brilliant on air and looking back now it was probably his show on the radio that sowed the seed for me with my love of radio.
Tell us a secret nobody else in the radio industry knows!
About 15 years ago I did an Audition for Cilla Blacks blind date in Belfast. When they told me the terms and conditions, let's just say I walked away.


If you liked this story, we can email you more radio news and alerts. Just fill in the form below.