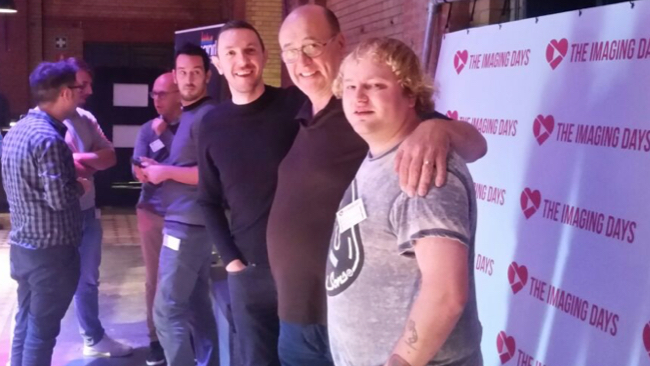 The Imaging Days is the only global conference for Radio and Audio Imaging Producers held at Haarlem near Amsterdam in The Nederlands in October every year.
This is the third event entitled #TID16. Over 300 attendees go to De Lichtfabriek to share ideas, hear from the world's top Imaging and Jingle producers and enjoy the Dutch lifestyle for a couple of days out of the studio or away from the office and their busy workloads. Flagship speaker for both days is Legendary Dave Foxx from the world famous Z100 New York.
Anthony Timmers, founder of Spine Jingles and event organiser of The Imaging Days opened the day's proceedings yesterday by introducing the first creative session Hosted by Denzil Lacey, Imaging Producer at 2FM, with an insight into his promo and creative branding work including making promos and TV spots for 2FM. Denzil demonstrated during the forty-five minute presentation his creative use of artist audio on a branded intro with Bastille's latest song "Good Grief" and another example in a 5 Seconds of Summer Power Intro where he took an audio sample from James Corden's TV intro to the band and incorporated that to the 2FM Power intro.
Speaking to RadioToday.ie in Haarlem on Day 2 of #tid16 Denzil said: "The Imaging Days is more than just an Imaging event! I was absolutely honoured to be asked to speak in front of hundreds about my new gig at 2FM in Ireland. Anthony and the team at The Imaging Days have pulled out all the stops this year with some amazing speakers and guests. I've never had to opportunity to hang out with so many legends and peers in one small place. I've now made some really good friends who I will be friends with for years. There were also a lot of tears at the end of day one for me, when Dave Foxx opened his speech by saying "Denzil Lacey is someone who I've admired for some time" to get a seal of approval from the godfather of Imaging is reassurance that I am doing something right!!
Speaking to Enda W. Caldwell at The Imaging Days, Z100 station voice and former Imaging Director and station voice of Cork's 104-106 Red FM and Dublin's 98FM Dave Foxx said: "The Imaging Days 2016 was a 'must stop' for me for a couple of reasons as I continue to "pass it forward" to my production brothers and sisters around the world. Two days of nothing but imaging had my name all over it.
"I raced a bit to get in on day one because the opening session was one of my favourite producers in the world, Denzil Lacey. We've never had the opportunity to work together because my voice is on 98FM while Denzil was at Spin and now RTÉ 2FM. I've been listening to his work since he was at Spin and tried to keep up because I liked it so much. It was great fun seeing how he constructs his sessions. First class stuff!
"I was doubly delighted on day one to see my long-time producer from 98FM, Pat Gill. He's always a delight to talk to and even though we chat weekly via email, I really enjoyed catching up face-to-face.
"The only thing that might've made this conference the perfect trifecta would be seeing my producer from Cork's Red FM, Brendan Bourke. He's a busy, busy man though and didn't make it this year."
Pat Gill who is the Imaging Director at Dublin's 98FM is in attendance every year. Today in Haarlem Pat told us: "It's great to return to The Netherlands for Imaging Days and meet some of the world's finest imagers. Having 98FM's Dave Foxx here makes it more special… what a voice!
It was also brilliant to see Denzil Lacey represent Ireland, his stuff is sounding amazing.
These events are great for seeing what direction radio imaging is going and helps us plan things at 98FM."
Out of a total of over eighty services licensed by the BAI, only two stations were represented this year at Imaging Days – Communicorp's 98FM and RTE's 2FM. No station producers from Northern Ireland were present this year out of hundreds of delegates who hailed from over twenty countries and five continents worldwide. Out of those two organisations only one station sent a delegate: Communicorp's 98FM – as Denzil Lacey was invited as a guest speaker to The Imaging Days by the event co-ordinator Anthony Timmers.
Talking to RadioToday IE Anthony told us: "We are very excited in The Nederlands when we hear Irish Radio both North and South.
"Over the last three years we have had a small number of attendees who came here from Ireland and Northern Ireland. Next year we would love to see many more as we believe the highly creative Irish market would benefit from the sessions and networking events we hold here at Haarlem each and every year.
"The Imaging Days was proud to have 98FM and Red FM station voice Dave Foxx here and we are very proud of Denzil Lacey who we feel was an excellent opening session host choice.
"Irish producers and Imaging guys and girls please check www.theimagingdays.com for special offers on attendance rates for The Imaging Days 2017 which will be even bigger and better than ever before and will include more networking events, more 1MAG1NG 1ON1 and The Global Imaging Awards event to be confirmed and incorporated into our event schedule."
The Imaging Days 2016 ends this evening with part two of Dave Foxx's Radio Branding and Imaging Masterclass. Hear the event LIVE on inRadio during Enda Caldwell's afternoon show and retweet with the hashtag #tid16.


If you liked this story, we can email you more radio news and alerts. Just fill in the form below.