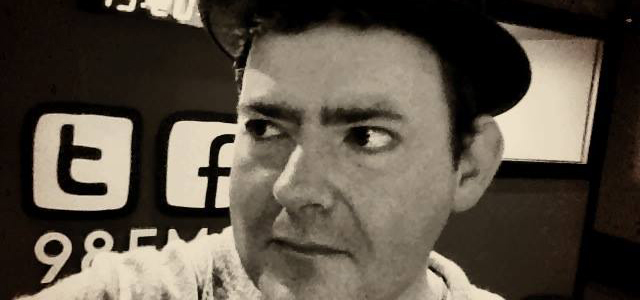 As part of our regular series of Q&As, we've caught up with Barry Dunne, who hosts the 10am-3pm slot on Dublin's 98FM.
How would you describe your first radio gig?
When I was 13 years old a guy called Kevin Branigan set up a pirate radio station in his bedroom. We used to broadcast around Stillorgan and South Dublin at the weekends and when Kevin felt like it!
(Kevin is now the CEO of Radio Nova 100FM – but they don't broadcast from his bedroom)
What led you to a career in radio?
My dad was a technician with RTE TV so I always always a bit of an anorak J When I was a young kid I got to visit Declan Meehan while he was on the air one day. He was so supportive – and even let me play on the mixing desk when the show was over that I decided it would be a cool thing too do.
How would you describe the radio landscape in your area?
The Dublin market has become very crowded in recent times. I think theres 14 stations listed in the Dublin JNLR book along with a bunch of other community stations and stations from surrounding areas that don't get listed.
What makes your station unique? How would you compare it to other stations you've worked at?
98FM was one of the big successes of Irish ILR when independent radio was launched here in 1989. Although Dublin is a small city in international terms Dubliners still have the attitude that their city is equal (or if not bigger) in size and stature to London or New York .. we try to reflect that as best we can.
Are you wearing more "hats" than you have in the past?
Not officially, but then again I think everybodys doing more unofficial work than they used to. That's not a bad thing because you get to see whats going on in the station from all different viewpoints.
What are you doing social media-wise?
Personally probably not enough. I'm on Twitter but am more of a Facebook person. I deliberately only have a personal page – I never liked the idea of maintaining two different pages because I think punters realise it very quickly. I will use privacy settings though to keep some stuff between family and close friends. I also keep a blog on 98fm.com Station wise our own Dave Moore (from Dermot and Dave on drive) is a major user of social networking. He even got into the Top 20 list of Ireland most influential tweeters last year!
"Local local local" has always been radio's mantra. How do you keep your station visible and involved in the community?
We've got the 98FM Thunderteam, a mighty impressive OB unit called 98FMs Big Red and studios in Dundrum Town Centre (largest shopping centre in Ireland). Theres probably at least four OBs per week across the station.
We run the 98FM Radiothon every year for the three childrens hospitals in Dublin, and we have a sponsorship deal with Shamrock Rovers (go on the Hoops!) who are Dublins biggest soccer club.
As I said – Dublins not the biggest city on the global stage but don't tell Dubs that! I like to call it the worlds largest village. Gossip gets around the city very quickly – everybody knows everybody else and there is a sense of humour that seems to be unique to Dublin.
What is your favorite part of the job?
That happy feeling you get after knowing you've done a good show (just before you listen back to it and realise it could be better!)
What is the most challenging part of the job?
Fitting in the sponsor reads!
What's the coolest promotion you've been involved with recently?
We did a stupidly simple promotion a couple of weeks ago for Harvey Norman which involved us bursting balloons in studio. I thought it would be naff but it turned out the listeners loved it!
What's the coolest promotion you've EVER been involved with?
The 98FM Fugitive. Our fugitive developed a personality of his own which involved insulting Dubs on-air and calling them "morons". This went down about as well as you'd imagine and the city was genuinely looking for him. At one point we almost closed down Dublin airport when he announced he was in the area. We made the TV news plus he even got mentioned on Fair City (Irelands answer to East Enders)
What artist would we be surprised to find on your iPod?
Tuxedo Moon – the most under-rated band in the world.
What's one thing that would surprise many people to learn about you?
I can't drive!
If you could add one full-time position to your station's budget right now, what would it be?
Bring back the 98FM Fugitive!
Who is your favourite radio personality not on your staff and why do you like them?
In Dublin? Andy Preston (my main rival over on FM104) seemingly never does a bad show. I'm hoping he does!
Who would be a "dream guest" to have on your show?
Keith Richards!
What was your favourite station to listen to when you were a kid?
Energy 103 in 1987. John O'Hara on Schools Out!
Do you have a favourite hobby outside of radio?
I love hill walking. I live near the Dublin Mountains so will try to get up there at least once a week. Its good exercise plus it clears the head!
What music do you listen to when you're not working?
I have a shameful love of ropey 80s music. I also love stuff like Can and Kraftwerk. All the stuff I don't get to play during the day!
What is it about our industry that keeps you wanting to do it for a living?
All the funny little events that happen everyday in a radio station!
What is the one truth that has held constant throughout your career?
You're always learning. I've had over 12 PDs over the years and I've learnt something from all of them. Mind you I had a lot to learn!
What advice you would give people new to the business?
Do everything. Try to get an insight into every single aspect of how a radio station functions before deciding where you fit into the grand scheme of things.
What is the current state of the radio 'talent pool'?
I think its pretty good in Dublin. Our sister station Spin 1038 (CHR) have some fantastic show plus their new online station FRQ is giving airtime to some cool people and it seems to be getting a reaction. iRadio in the Midlands and Galway have some great presenters on who were newcomers to the industry and its working well for them.
What would you like to do to save radio from its "dying-industry" image?
If I knew that I'd be rich TBH. I think Kiss in the UK have the right idea – make yourself an all encompassing brand with radio as a big part of it.
What ringtone do you have on your mobile?
Phones got to stay on silent .. I'm on air after all!
What did you want to be when you were growing up?
A radio presenter. I am that lucky person who got to do exactly what he wanted to do.
What's the best sweeper/liner you've ever heard?
The Radio Nova TOHs back in the 80s. Also Nova when they talked about the "Bay Area Weather". We never knew we had a 'Bay Area' until then!
What was your last non-industry job?
I was a kitchen porter for 3 years. A damned good one too!
What's the biggest gaffe you've made on air?
Dropped the 'F' bomb. On Christmas Day! Still it was a "F**king great song"!
Tell us a secret nobody else knows!
I once got arrested on suspicion of bringing a replica fire-arm into the Criminal Courts. That's one story I'll only tell over a few pints!


If you liked this story, we can email you more radio news from Ireland and the UK each weekday afternoon direct to your inbox. Just add your details below for "24 Hours in Radio - UK and Ireland":