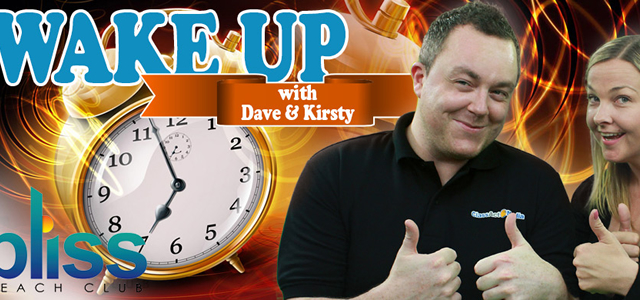 He left Ireland for a brand new breakfast show in the sun, and with rumours going around that he's heading back for 2fm breakfast, we thought we'd catch up with former iRadio breakfast jock Dave O'Connor.
He tells us what it's like to finally be appreciated, how he'd like to Skype his dog, and we get his honest take on the current changes at 2fm.
Dave, it's over to you.
How are you getting on with your new job?
I am loving Thailand, every weekend is like heading on holidays. Beautiful sunshine, amazingly lovely people and the job is just brilliant. The company I work for are a massive media organisation that have many media outlets including newspaper, TV and radio. It is refreshing to work for a company that actually appreciates it's staff, I haven't had that for quite a while.
Are you missing Ireland?
With Skype and other apps Ireland feels a lot closer to me albeit it almost 10,000 kms away. I really miss my dog Cooper, he hasn't learned how to use Skype yet. Otherwise, I am having a ball here and enjoying the daily 30 plus temperatures.
What's your favourite radio show at the moment, in any country?
Before I left Ireland I became a massive fan of George Hook. I've always like pat kenny but I think my favorite radio show would have to be the overnights 2-5am on BBC Radio 2.
What do you see the radio industry being like in 10 years from now?
I hope it is full of presenters allowed and encouraged to show their personalities more. I also hope that it doesn't become too syndicated like in UK.
What did you want to be when you grew up?
Radio was always there. Used to record myself talking into my tape recorded. Guards was always a close second. I'm not sure which one deals with more a**holes! 🙂
How is radio different in Phuket to Ireland?
The market here isn't as cluttered and the lifestyle that your audience are experiencing is different. It is more feel good and there is a big happy vibe among the whole island. The basic challenges of radio remain the same but the atmosphere is more positive.
You've been rumoured to be taking over 2fm Breakfast. What say you?
I don't have any plans to work on radio in Ireland again anytime soon. I have so many friends in Irish radio and it is full of lots of great people but I think the biggest problem with Irish radio currently is that it has so many people running them who know more about sales than radio and the art is suffering as a result. Some people are more concerned with stroking their own egos instead of actually employing presenters based on their past results and achievements but then again this is what you get when you have people who know little about the art of radio running them.
Tell us a radio secret nobody else knows!​
What's said off air between links would be more entertaining to listen too. If only haha.
Dave can now be heard weekday mornings on Dave and Kirsty in the Morning on Live 89.5 FM in Phuket.


If you liked this story, we can email you more radio news and alerts. Just fill in the form below.