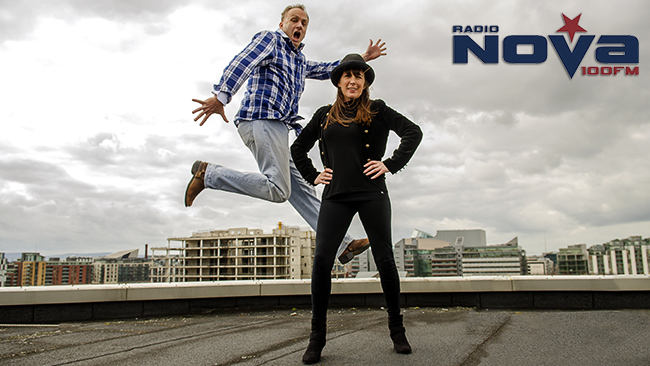 Former Spin 1038 and Q102 duo Jack & Ali have joined Radio Nova for a Saturday morning show. They've taken time out to answer a few questions on radio and life in general!
How would you describe your first radio gig?
Jack: I started out as a morning man on Boston station WERS. I used to do a show from 6 – 11. We were voted station of the year three times while I was there.
Ali: I started out, like so many others, at East Coast Radio. They were a great gang, and I'm still in touch with loads of people from there.
What led you to a career in radio? 
Jack: My Dad owned all these old records of radio shows from the US in the 30's,"Captain Midnight" , "The Great Gildersleeve" and "The Shadow". They really captured my imagination.
Ali: I grew up wanting to be a presenter. My family was always listening to the radio
What makes your station unique? How would you compare it to other stations you've worked at?
 J&A: This is the first station in Ireland that we have worked at the encourages original content. The station is a great fit for us. The staff are also much more experienced and that leads to a relaxed atmosphere.
Are you wearing more "hats" than you have in the past?
J&A: No, definitely less hats.
What is your favorite part of the job?
J&A: It's great when a topic really takes off. You connect with the listeners and texts and calls flood in. It really let's you know that you've connected.
What's the coolest promotion you've EVER been involved with?
Jack: I was executive producer of a coast to coast radio network in America and we got to give away Super Bowl tickets. A listener had to get a series of predictions right over the course of the season.
Ali: The "Nova Noise" is an all time classic.
What attracted you specifically to Radio Nova?
J&A: We listen to Nova all the time, so we were fans first. The appeal as presenters, is that Nova's presenters have the freedom to express personality, be real, and have fun.
What do you think will be different about the Nova audience compared with stations you've worked on before?
J&A: Well, in Ireland, we've only worked on Dublin stations. Between the two of us we have been on FM104, Spin, 98FM, Q102, East Coast and Phantom. This is the first station that also reaches Wicklow, Kildare, and Meath.
What artist would we be surprised to find on your iPod?
J&A: Neither of us owns an iPod or MP3 player.
What's one thing that would surprise many people to learn about you?
Jack: Oooh, that's a tough one. I suppose, having done so much lifestyle stuff, people would probably be surprised to know that I was a national sports caster in America. Really cool job. I used to cover the Red Sox, Bruins and Celtics.
Ali: Most listeners who meet me are surprised I'm not blonde.  Hahaha.
If you could add one full-time position to your station's budget right now, what would it be?
J&A: We both feel that a massage therapist would help the on-air staff, the sales staff and management. Fantastic for stress relief.
Who is your favourite radio personality not on your staff and why do you like them? 
Jack: Well, I really liked Howard Stern in the 80's. Not all the smutty stuff, but that he was being honest and sharing about his life.
Ali: I really liked Zoe Ball back in the 90's. Great to hear the first woman on BBC Radio One's breakfast show.
Do you have a favourite hobby outside of radio?
Jack: I love playing softball. It's like rounders for coed people who can't be bothered running around too much. I work as a juggler too and that comes in really handy.
Ali: Hobby. Yoga, Red Wine Connoisseur, chatterbox
What is it about our industry that keeps you wanting to do it for a living?
J&A: Radio is all about energy, imagination, spontaneity. There are so many things that make it good.
What would you like to do to save radio from its "dying-industry" image?
J&A:  Not sure we agree with the question. I haven't ever heard anyone say that. Now, newspapers are in trouble, but radio just keeps going. There's nothing more personal, in the media,  than listening to someone tell a compelling story on radio. Dying? No way.
What ringtone do you have on your mobile?
Jack: I went for a duck quacking
Ali: Generic
What did you want to be when you were growing up? 
Jack: When I was in High School, I worked on the school radio station and also put on shows as a juggler. Still doing those same things today. Before that, a baseball player.
Ali: Always wanted to be a presenter.
What was your last non-industry job?
J&A:  We both work as entertainers and also run our own event management company, Brilliant Events.  (Yes, we both can put on magic shows )
What's the biggest gaffe you've made on air?
J&A: With out pointing the finger, one of us, on-air, read out "phonetic" after the producer had spelled out Leo Varadkar's name phonetically.  He was new at the time. We never really got to interview him because as soon as it was said we both burst out laughing and couldn't stop. He was very nice about it…. Okay, it was Ali! (She's still mortified!)
Tell us a secret nobody else knows!
J&A: Our big secret is how we met. We've never told the listeners. Sorry. It's a secret!
---
Jack and Ali kicked off their Radio Nova residency with their first show yesterday morning, April 25th. They're on the station every Saturday from 10am.


If you liked this story, we can email you more radio news and alerts. Just fill in the form below.