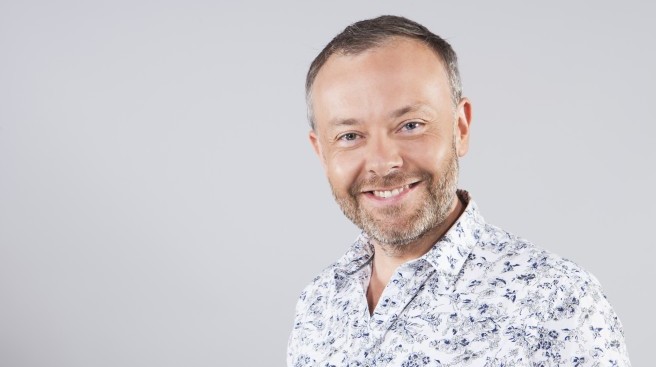 One of the best known names in the Irish radio industry, Rick O'Shea has had a varied and interesting career and has interviewed many well known personalities. Now it's his turn in the spotlight.
A former presenter with both Atlantic 252 and Dublin's FM104, Rick now hosts a daytime (2pm-4:30pm) music and chat driven show on national broadcaster RTÉ 2fm and presents the Poetry Programme (Saturdays, 7:30pm-8pm – currently on a summer break) on its more 'grown up' sibling station RTÉ Radio 1.
He's also the patron of national epilepsy support organisation Brainwave, and he's an accomplished master of ceremonies, having hosted many awards nights.
Rick is a keen devourer of literature with a considerable following on social media, but he doesn't like to think of himself as a "celebrity", despite being a presenter on prime time national radio. In fact, he would sooner describe himself as "really dull" … see if you agree with his self-deprecating assessment, below:
Hi Rick! Tell us a bit about you and the station you work at…
We're the guys with the orange logo and the big mast out in Donnybrook. I've been here since 2001.
How would you describe your first radio gig?
Sanitary. It was in hospital radio in St. James' Hospital in 1991. I lasted less than a year.
What led you to a career in radio? 
Total accident. I wanted to be an accountant.
How would you describe the radio landscape in your area?
It's Ireland, so – uniform. Many, many stations that all end up sounding like each other in a couple of basic categories.
What makes your station unique? How would you compare it to other stations you've worked at?
We let presenters entertain the audience. There isn't a single show on 2FM devoted solely to being someone's MP3 playlist with ten songs in a row and "that was / this is / station name" in between. I mean no disrespect to that sort of format, I worked them before I came to RTE, just that we do the other thing.
Are you wearing more "hats" than you have in the past?
Sort of. Social media is an ever-expanding hat but one I've taken on early and vigorously. I do a programme on Radio 1 too (devoted to poetry and as far removed from the daytime 2FM show as possible), I've written newspaper columns, act as a social media consultant for radio stations, I review books on Radio 1's Arena, present awards ceremonies, conduct public interviews with authors / movie stars and the like, I speak at conferences and I've judged the odd book award. Whatever's interesting and pays the bills.
So, can you tell us one high point in your radio career so far?
The show I have now. Keeping the same slot doing what you want, with people you like, successfully for 5 years is no small beans in this industry.
What's the biggest gaffe you've made on air?
I get asked this question a lot by college students. My usual answer is I make them frequently. Every day. It's part of the charm, so I'm told…
If you weren't working for RTÉ, what station would you like to work for and why?
I don't want to work for anyone other than my current station. I have no reason to lie to you about this. I love my work right now and I like working for an organization that takes things like programming diversity, responsibility and duty to the audience as seriously as profit motive.
What are you doing social media-wise?
I adopted Twitter very early on. I was the first radio show here using it. I still think it's the most valuable one for generating content for the actual show. The rest is just advertising of a sort.
I run… 3 FB pages for the two shows, gave up on Instagram for now. It just wasn't for me and fairly useless for radio. Tried Snapshot (Snapchat?) for a bit but, again, it's very useful for advertising and getting visual content for other SM, less so for actual radio. I try not to wear too many hats.
I spend almost zero time on SM outside of work hours.
"Local local local" has always been radio's mantra. How do you keep your station visible and involved in the community?
I don't – I'm just a foot soldier and do as I'm told. However I do turn up at Roadcasters in Dingle 🙂 I also think "local local local" is the wrong mantra sometimes.
What is your favorite part of the job?
Working with the guys on the show. Genuinely (and they'll squirm if they read this) but Cormac, the brains/clown of our circus and Michael our producer and ringmaster are the closest, tightest team of people I've ever worked with and we still like each other, bizarrely.
What is the most challenging part of the job?
Trying to not sound like everyone else, trying not to duplicate your own ideas, trying to move on when other people do duplicate your ideas. Easier said than done, but a mantra.
What's the coolest promotion you've been involved with recently?
Honestly? I take care of the business of making the radio show. Promotions are someone else's department and I don't know if anyone has ever called radio promotions cool…
Okay… what's the coolest promotion you've EVER been involved with?
See above.
Are there any artists we'd be surprised to find on your iPod/MP3 Player?
All of them. I don't have an iPod to begin with – I stream everything these days. Huge amounts of jazz, classical, old school country, speech-based podcasts like Kermode & Mayo, Welcome To Nightvale and Freakonomics.
What music do you listen to when you're not working?
Anything that helps my brain decompress after being connected to the Matrix and the audience during the day so see MP3 playlists above.
What's one thing that would surprise many people to learn about you?
That I almost never listen to pop music radio. If you work in McDonald's all day do you go home and eat Big Macs? Maybe you do… I find too that if I don't listen to it I'm not inclined to duplicate what others are doing.
If you could add one full-time position to your station's budget right now, what would it be?
Monkey butler.
Nice! Who is your favourite radio personality who's not on your staff… and why do you like them?
Donald Helme who does Jazz Alley on Lyric FM. Impossibly good taste in music, knows his stuff inside out and with the delivery to match. Aside from that Cathal Mac Coille on Morning Ireland. They're how I find out about the world every morning and I like his uncompromising interviews.
Coming back to 2fm – and excluding  your own show… who is your favourite on-air voice on the station – and why?
Larry Gogan. A gentleman, a professional and someone for us all to aspire to be.
Who would be a "dream guest" to have on your show?
Despite the fact that I do it all the time in both of my jobs I'm very uncomfortable on the inside doing interviews so anyone I truly genuinely admire I don't think I'd want to interview…
What was your favourite station to listen to when you were a kid?
2FM, Sunshine 101, Q102, all in the late 80s.
Do you have a favuorite hobby outside of radio?
Being a pedant about incorrectly spelled questions…
Kidding. I read. A lot. I call drinking craft beer a "hobby". Makes me seem like less of a future alcoholic. I travel whenever I can.
What is it about our industry that keeps you wanting to do it for a living?
The money at the end of the month. It pays bills and allows me to enjoy my actual life… I wrote that with a small smile but I'm not one of those people who got into radio for a love of the medium itself. I just enjoying making up stuff to talk to people about every day and maybe make their afternoons a little more tolerable before they get to knock off and go live their life.
Tell us one truth that has held constant throughout your career?
Be nice to everyone on the way up because maybe they won't kick you in the arse when you're on the long fall back down. Seriously, don't be an asshole.
What do you think is the current state of the radio 'talent pool'?
Honestly? I don't know. You'd have to ask someone who gets demos in management.
What would you like to do to save radio from its "dying-industry" image?
That image is a fallacy. It will adapt and find ways to survive even if that won't involve old-fashioned radio waves. People listen to music radio now for the same reasons they always have – decent music and because they like what goes on in between the songs. We have to keep that bit entertaining.
What ringtone do you have on your mobile phone?
Really? Is it still 2001?
… I've checked – apparently it's called "Sunrise". This is news to me…
What did you want to be when you were growing up?
An astronaut.
What's the best sweeper/liner you've ever heard?
I mean no disrespect to those who make them (I used to be a head of production when I was 21) but I don't get people who obsess about them. They all sound pretty much the same to me…
What was your last non-industry job?
I sold hi-fi equipment for half a day in 1992.
Tell us a secret nobody else knows!
It took me 3 weeks to complete this because I kept getting bored typing about myself. I find myself really, really dull.
Any advice you would give people new to the business?
Run, run now while you can.
You can follow Rick on Twitter or check out his personal web site at rickoshea.ie


If you liked this story, we can email you more radio news and alerts. Just fill in the form below.