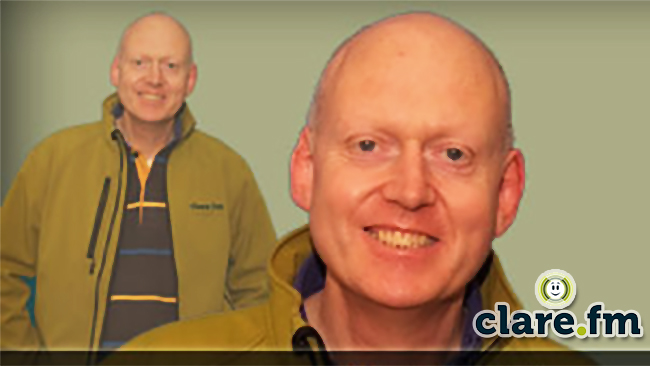 Every so often we get the thoughts of someone within the Irish radio industry in the form of a Q&A interview. This time it's the turn of Clare FM Music Controller and presenter, and self-confessed anorak, John Ryan.
Name: John Ryan Station: Clare FM
Job: Music Controller, Presenter of the weekday Home Run Show and Saturday night Heartbeat (which can also be heard on our sister station Tipp FM).
Tell us a bit about your station:
Clare FM is a multi-award-winning station which broadcasts to County Clare and the surrounding areas. The format is Adult-Oriented Pop Music with local news, sports and specialist programmes.
What was your favourite station to listen to when you were a kid?
I was always a lover of the medium listening to the legendary Luxembourg 208 as a child & teenager I think the fact it was on medium wave with the signal fading & rising gave it a more magical feel. I was hooked I thought it was the most fantastic job getting to play all these great songs
What led you to a career in radio?
When pirate radio arrived in Ireland I kept knocking on doors until I eventually was given a chance on one of the Limerick Stations 'Big L' I found myself joining  a group of people that all had the one thing in common the love of music & the dream  to broadcast. Some 35 years later there are at least three of us that started off in that basement building still working in radio. Declan Coupes on Limerick's Live 95, Francis Jones on Radio Kerry & myself.
How would you describe your first radio gig?
I can't remember too much about it, it was a Saturday night, I was very nervous & the only song I can remember playing was ELO's "Sweet Talkin' Woman".
Tell us some high points in your radio career so far?
The chance of having the opportunity of working with some of the people I have the highest respect & regard for in radio. In The 90's I got the chance to work with the late Chris Carey, the man who brought the original Radio Nova to Dublin… that was to change the landscape of radio in Ireland! He had bought a station in Birmingham 'Buzz FM' & I presented breakfast. Chris had radio running through his veins & I learnt so much from him' & made some great friends. I'm still in regular contact thanks to social media with Brody Swain who now works with BBC Radio Coventry & Warwickshire.
When I had the chance to return to Ireland & do some work for Atlantic 252, I Once again worked with people with a love of radio & gained more positive influences from people like Paul Kavanagh (now Managing Director of Riviera Radio in Monaco) & the late Henry Owens (founding chief executive of Cork's Red FM).
I had have the privilege of receiving training & coaching sessions from a man that I had admired from a far for a long number of years – Mark Story a leading radio Industry figure in Ireland & the UK.
What's the best sweeper/liner you've ever heard?
I'm going to give you an anorak answer to this one, maybe not the best sweeper I have heard but definitely one of my personal favourites: when I listened to radio Luxembourg one of my favourite shows was the top 40 with Bob Stewart, during my time at Buzz FM I got to meet Bob when he was brought in to voice some liners. I ended up with my named Jingles voiced by one of my heroes (Other anoraks will understand!)
What music do you listen to when you're not working?
Motown & Soul. The early Motown ethic reminds me of how local radio works, everybody mucking in & helping each other out. So you would end up with Smoky Robinson doing backing vocals on Supremes records Diana Ross on Miracles songs in fact anyone who was in studio at recording sessions would jump in if required. I believe this is one of the reasons that made the sound so great the best of the best working with each other no room for egos. As I say… one of the strengths of local radio!
What artist/Music would we be surprised to find on your iPod/MP3 Player?
Bobby Darin with Mack the knife, a lot of the swing artists like Sinatra etc. Also 50's doo-wop music. Love all that harmony stuff.
What's the coolest promotion you've EVER been involved with?
We did one in Buzz FM which was called 'Where in the World'. The Prize was a major holiday to Arizona, USA. Former Radio Luxembourg DJ Rob Jones was brought in to get the whole concept up & running (Rob had been my favourite DJ growing up..- another one for the anoraks!) It was a great learning experience discussing what would be the best way to make this work, generate interest & more listeners. Rob devised & put together a whole jingle package together especially for the promotion. A great learning experience & a promotion that lit up the phone lines
And what about on Clare FM?
Well, a couple of years ago we did 'The great trolley dash' on the Home Run… it saw the show & I linking up with a Supermarket chain, and in each of their Clare outlets one of their customers got the chance to dash around the store for two minutes & put as much produce in the trolley as possible! I would broadcast the show from the store on the day & would get to run around the store with them doing a commentary. What started off with us doing everything very official changed somewhat as the promotion went on and by the final store, saw the dashing customer being aided by staff members & yours truly just piling as much produce as possible into the trolley! It was mad but proved a major hit with the chain, the managers, the customers, and the listeners! Most importantly it proved to be great radio.
What are you doing social media-wise?
Like most media we use Facebook & Twitter to promote & inform. It's another great way to provide information to people on-going basis. From traffic & travel updates, sporting updates ..- in fact anything of an important nature.
I think Facebook has lost something, I'll crack up if I see any more cat videos or new profile pictures. Message 'Jim has changed his profile picture' with about twenty comments of how well Jim looks… Firstly, how am I friends with this man who I have never heard of or seen before? – and secondly why can't people be honest about some changed profile pictures? 'No, Jim doesn't look fantastic, it looks like he has been sleeping in that faded Smiths tee shirt he is wearing, he could do with a shave, and his hair looks like he has been dragged through a hedge backwards'!
With Twitter, I think (thankfully!) we have gone past the stage where people are putting up pictures of what they have for breakfast although I still notice come Friday someone will have a picture of an alcoholic beverage with '#thankgoditsfriday'. But seriously I find it great for a focused message or one that links you to a more detailed article.
What is it about our industry that keeps you wanting to do it for a living?
It's like a drug! I just love doing it. In the early days, I was never too concerned if anybody was listening, and if someone said they had heard the show and enjoyed it, that was a plus. Of course, it has changed now that listenership figures are everything, and the whole thing with selecting songs has become a science which has taken some of that individuality away from presenters.
If you weren't working for your current station, what station would you like to work for and why?
I suppose most presenters dream is too work for a bigger station in a larger area I had a taste of it while at Buzz & Atlantic 252 if an opportunity arose again in say greater Dublin or Cork & of course nationally I would seriously look at it. The Big one for me would be BBC Radio 2 I their music variety & specialist programs are fantastic, the fact they are lucky enough not to have adds allows more time for presenters to show their personalities.
John presents The Home Run every weekday from 3pm on Clare FM and Heartbeat on Saturday nights from 10pm on both Clare FM and Tipp FM.
You can find him on twitter at @johnryanradiodj
[ More RadioToday Q&A's here ]


If you liked this story, we can email you more radio news and alerts. Just fill in the form below.