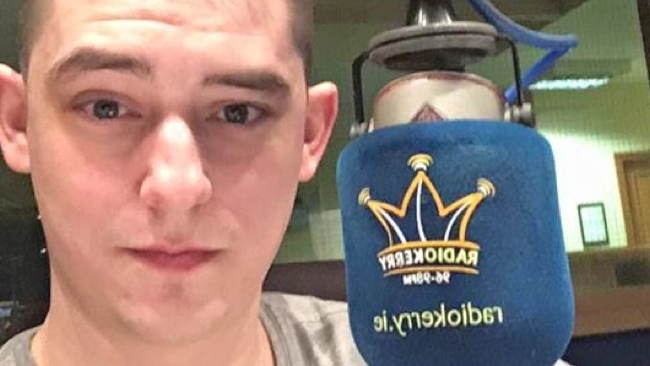 Finding a hotel that will accommodate me and my Spaniels took me on a journey down to the rather beautiful County Kerry. The Google maps on my iPhone had sent me into a field! Desperation set in and I needed to find something to keep me sane, the car radio suddenly stopped on Radio Kerry.
The delight of knowing I was at least in County Kerry shocked me. The next surprise would be the late night jock that was not only "live" but the presentation style and music was far more current than any CHR station I have heard since I moved to Ireland from the UK.
People go to bed in County Kerry with Ciarán O' Regan and he has to satisfy them fully so they wake up with the breakfast show presenters. Radio Kerry have broken the mould of late night love songs…. with a current CHR format from 10pm to 12 midnight and placed a great communicator on the late show that connects fully with his audience. I predict big things for Ciaran, he has a style and charisma that Radio Kerry have nurtured and kept in place for 3 years. I was intrigued to find out about Ciarán and was pleasantly surprised that he doesn't have an ego the size of Mount Etna….. in fact quite the opposite.
Tell us a bit about you and the station you work at…
I'm 26 and from Mallow, Co. Cork but I've lived in a few places because of my parent's career moves throughout my childhood so I know most of Ireland! I have always had an interest in radio and got myself involved in any way I could starting off with the pirates and then later onto licensed radio, I even set up my own pirates over the years! Radio has always been in my blood, my parents both worked in pirate radio in the 80s on North Cork Local Radio which is now C103. I have a passion for my show "The Pulse on Radio Kerry" and I think I have so much freedom to experiment this helps me creatively to keep taking the show to the next level.
In my spare time I am a GAA referee and sports fanatic – even playing Inter county hurling with Longford at one stage – and when I was offered the opportunity to produce the multi award winning programme, Terrace Talk, presented by Weeshie Fogarty I jumped at it and still love it to this day!
Is Ciaran O Regan the same on air as he is off air
Funny you should ask! I was chatting to Eric Dixon one day and he said, 'You know, you're like 2 different people. On air Ciarán is completely different to off air Ciarán'! I'm nowhere near as shy on air! I'm more reserved when I'm not on air. I like to think I'm saving it all for when I get behind the mic!
What artists would we be surprised to find on your iPod?
Ben E King, The Temptations, Jack Penate, ATB, Linkin Park to name a few…I've a very varied selection of music on there! I have different playlists for different things though. I've one for the gym, one for going to bed and one before I go out to ref a match which is just a pumped up kind of playlist!
Who is your ideal woman?
My girlfriend Sarah has put up with me for seven years so without a doubt she is my ideal woman! Awwwww.
Have you any aspirations to move into television?
It's not something I have really thought much about to be honest. Ciarán Mullolly who would be a family friend works for RTE News and invited me to do a showreel a few years back. I just didn't have the time as I was working flat out on an internship and hoping to secure full time work. A bad excuse and maybe I should have but radio is my first love. You never know, I could make an appearance as an extra or something on the TV at some stage!
Doing late night radio do you get stalkers?
Erm, that would be telling! I have a great bank of loyal listeners which is great cause they've been building up over the last 3 years. I do walk down the street and people say 'Hi Ciarán' and I'm left wondering for the rest of the day who the hell they were!
Having listened to you I would be very surprised if the likes of 2FM or Today FM weren't knocking at your door within the next year or so, does that scare you?
I'm my own worst critic, always going over things and working out other ways I can improve my delivery etc. I'd be flattered if they did come along, I always love a challenge. Scared? No. Like I said, my main focus is to always improve and never say never. When I was studying radio in Cork, we had to make a 5 year plan. I completed the plan after 2 and a half years…except for winning a Meteor Award for Radio but they stopped doing that so I think I'll get away with not winning that one!
Apart from Radio Kerry what would be your favourite radio station and why?
I listen to a lot of shows on different stations but if I had to pick my favourite stations in Ireland, probably 2fm, Today FM and Beat. All three are just very forward thinking, creative and they try new things that keep their output fresh! I also listen to a lot of US, UK and Australian stations too though.
Who in radio do you feel has been your biggest inspiration?
Oh this is a toughie! I always respect people who come from the pirates, maybe because I am able to relate to them having started there myself. I've had a lot of people help me through the years too which I'll always be appreciative of. I really enjoy listening to Dermot & Dave, Will Leahy & Simon Murdoch. Chris & Ciara have a great show on 2fm too. I'd consider Chris a good friend but alas, I'm on air at the same time as them so don't really get to listen that often!
What would your girlfriend say is your worst habit?
She says it's either washing my car all the time or using '!' in txts constantly – force of habit!
Ciarán O Regan presents The Pulse on Radio Kerry weeknights from 10pm to Midnight. On Fridays the show starts at 9pm with a Special Irish Music Hour.


If you liked this story, we can email you more radio news and alerts. Just fill in the form below.