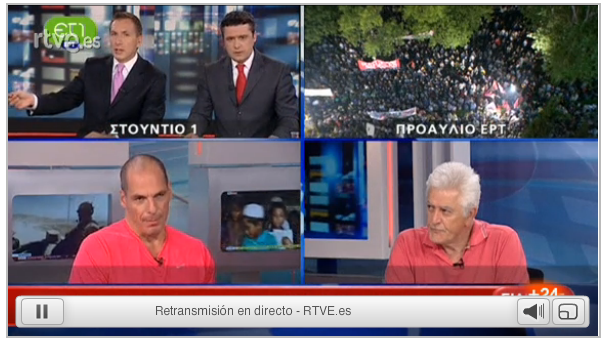 Four national radio stations, numerous regional stations and an external service, Voice of Greece have stopped broadcasting.

The ERT radio stations along with three television channels were closed yesterday by the Greek prime minister and finance minister.
It's a measure made by the government to save costs and, they hope, will lead the country out of recession.
ERT is our equivalent of RTE although wholly supported by a compulsive fee – a direct payment of 4.30 euros added monthly to electricity bills.
Over 2,500 jobs are thought to be at risk if the decision to close the up-to 70-year old services isn't reversed.
Employees at ERT on Tuesday night occupied the broadcasting building in Athens, while thousands of supporters demonstrated outside, as captured during live coverage from TVE:
EBU president Jean Paul Philippot and director general Ingrid Deltenre urged the Greek prime minister Antonis Samaras "to use all his powers to immediately reverse this decision". They also critisized him for the way the decision was taken in a letter sent yesterday.
"The existence of public service media and their independence from government lie at the heart of democratic societies, and therefore any far-reaching changes to the public media system should only be decided after an open and inclusive democratic debate – and not through a simple agreement between two government ministers" the EBU said in a press release.
The head of ERT's foreign desk, Odin Linardatou, said the announcement took journalists by surprise.
"We are very shocked, we are angry, it was a decision that we didn't expect, we expected maybe more cuts," she told the BBC's Newshour programme.


If you liked this story, we can email you more radio news and alerts. Just fill in the form below.