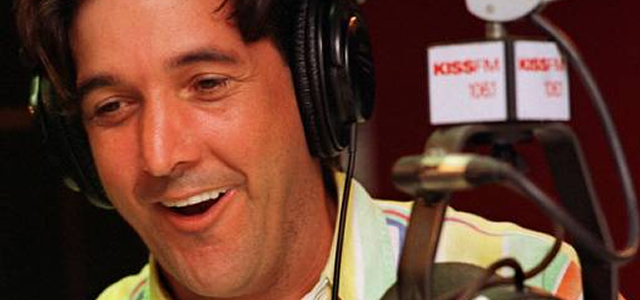 Well known American radio presenter Kidd Kraddick has died suddenly at the age of 53 whilst attending a charity golf tournament.

David 'Kidd' Kraddick presented his morning show on KHKS KISS FM 106.1 in Dallas Texas for over 20 years and was syndicated on over 75 stations. He was on-air as normal on Friday morning.
Radio colleagues around the world expressed their shock at the news on Twitter, whilst Kelly Clarkson and One Direction band members Harry Styles and Niall Horan also paid tribute.
He died in New Orleans yesterday from an aneurysm.
KISS-FM altered its usual format on Saturday to celebrate Kraddick's life by playing music and taking calls from listeners.
"I can't believe this is actually happening," one caller said. "He's a part of everybody's family; he makes people laugh."
In a ironic twist, Kraddick did a radio feature last week on "what he would say to each member of the show in his final moments on earth" as a comedy bit.
"Have you ever thought about those last moments of your life?" he asked his radio crew. "Nobody wants a long, lingering illness; nobody wants just that; but it would be nice if you could have a day or two where you know it's coming."
He then spent several minutes saying goodbye to each member of his on-air staff.
"When I die, you have permission to take a bunch of creepy pictures of my body," Kraddick said. "I want to thank all of you guys for being at my deathbed today. I'm going to miss you so much."
British presenter Graham Mack has written a blog about Kidd, saying: "His spirit will live on in the voices of those he influenced on the radio."
Fellow presenter Mike Adam tweeted: "My thoughts and prayers go out to @KiddKraddick's family. He's a radio legend that ppl like myself study & aspire to be like. #KiddKraddick"
Former colleague at KEGL The Eagle Karin Crosby, where he started his Dallas career said: "So sad that Kidd Kraddick's gone.He did nites @ KEGL when I started there. His "Boogie Checks" ruled the air then!"
Real and Smooth Deputy Group PD Chris Sevens, who used to work in Dallas, tweeted: "KK had a lot of UK followers in the industry; we're sending you good vibes from here."
Harry Styles said: "Absolutely devastated to hear about the sad passing of Kidd Kraddick. He was always so nice and will be incredibly missed. Lovely man. RIP.
"My love and thoughts go out to his friends and family. Very very sad news."
Niall Horan added: "Wow ! Literally can't believe it! Soo sad! We only seen him like 5 days ago in Dallas! Very sad! #RIPKiddKraddick."
A statement from KHKS owner Clear Channel said: "He died doing what he loved, and his final day was spent selflessly focused on those special children that meant the world to him.
"Kidd devoted his life to making people smile every morning, and for 21 years, his foundation has been dedicated to bringing joy to thousands of chronically and terminally ill children."
A statement from Kraddick's family said: "We are all shocked and saddened by Kidd's untimely passing. At this time, we ask that you respect our privacy as we mourn and grieve our family's tremendous loss."
Kidd, you'll be missed. Sending our LUV. #kiddnation pic.twitter.com/vEFO9LUDLW

— Southwest Airlines (@SouthwestAir) July 28, 2013
Oh man, I just heard Kidd Kraddick died! He's my childhood dj. What a sad day. His poor family. He was always nice 2 me from the beginning.

— Kelly Clarkson (@kelly_clarkson) July 28, 2013
Kidd Kraddick with Harry last week …. May be rest in peace … pic.twitter.com/KutKgWYIdh

— 1DUpdates (@1Dupdategirls) July 28, 2013


If you liked this story, we can email you more radio news from Ireland and the UK each weekday afternoon direct to your inbox. Just add your details below for "24 Hours in Radio - UK and Ireland":