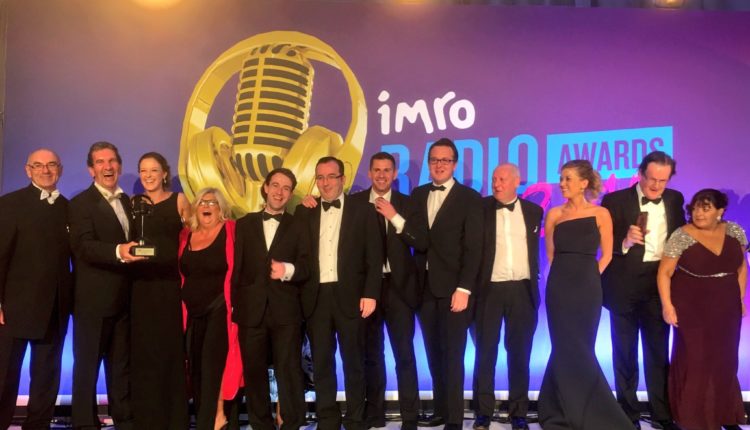 The winners for the IMRO Radio Awards 2018 have been announced at a ceremony held at the Lyrath Estate Hotel, Kilkenny.
RTÉ Radio 1 took home the most Golds, collecting eight in total, including Full Service Station of the Year. 98FM is the biggest independent winner with seven Gold awards including the Music Station of the Year, followed by Newstalk with six top gongs.
BBC Radio Foyle won the Local Station of the Year award, making up four Gold awards for the BBC on the night.
Multiple Gold awards also went to Today FM, Classic Hits, Ocean FM and Midlands 103. Scroll down for the full list of Gold, Silver and Bronze winners.
The Awards are attended by over 600 people in the radio industry in Ireland, and included the inductions for the Hall of Fame winners for this year. Pat Kenny, Margaret Nelson, Willie O'Reilly and Ian Wilson were presented with their plaques. The special award for Outstanding Achievement was presented to RTÉ 2fm Live and the RTÉ Concert Orchestra.
Chairperson of the Radio Awards Tom McGuire says: "Tonight was a celebration of the creativity, innovation and variety of Irish radio. The quality, appeal and professionalism of all nominees is a fitting recognition of our audio island and our wonderful listeners."
Speaking at the Awards, Eleanor McEvoy, IMRO Chairperson said "Many congratulations to all of the award recipients. Each one in their own way has made an indelible mark on the broadcasting sector in Ireland and they rightfully deserve to be honoured by their peers on this special evening".
Chief Executive of the BAI, Michael O'Keeffe, said after the Awards: "The BAI is very pleased to continue our support for the IMRO Radio Awards which recognises and rewards excellence in Irish radio broadcasting. We also look forward to a continued partnership with our colleagues from IMRO who have been great supporters of the radio sector in Ireland for many years.
One of the key strategic objectives of the BAI Strategy Statement is to encourage creativity and innovation as distinctive features of the Irish audiovisual sector and these goals are certainly reflected in the submissions for this year's Awards. I would like to congratulate all nominees and category winners on this special occasion for radio practitioners in Ireland."
The full winners list is as follows:
Category: A1 General Music Programme
Gold The Big Ride Home with Dara Quilty 98FM
Silver The Zoo Crew Spin 1038
Bronze Muireann O'Connell Today FM
Category: A2 Specialist Music Programme
Gold Classical Connections with John Toal BBC Radio Ulster
Silver Soundscapes with Stephen McCauley BBC Radio Ulster
Bronze Ceilí House RTÉ Radio 1
Category: A3 Breakfast Programme
Gold PJ and Jim in the Morning Classic Hits 4FM
Silver The KC Show Featuring Ross Browne Cork's 96FM
Bronze The Ian Dempsey Breakfast Show Today FM
Category: A4 Music Special
Gold Sailing Homeward to Coney Island Ocean FM
Silver FM104's Strawberry Alarm Clock – Aslan Special FM104
Bronze Jazz Club – The Jazz and Blues of Sir Van Morrison BBC Radio Ulster
Category: A5 New Irish Music/Musical Talent
Gold 98FM's Totally Irish 98FM
Silver When Teresanne met Ruthanne WLR FM
Bronze Across the Line BBC Radio Ulster
Category: B1 News Story
Gold Paedophile Hunters BBC Radio Ulster
Silver August Floods BBC Radio Foyle
Bronze Belfast Rape Trial Newstalk
Category: B2 News Bulletin
Gold 98FM News
Silver Downtown Radio/Cool FM
Bronze Red FM News
Category: B3 News Programme – Full Service
Gold Storm Ophelia – The Cleanup Today FM
Silver This Week – London Bridge Attack RTÉ Radio 1
Bronze Be Home by Four RTÉ Radio 1
Category: B4 News Programme – Local/Regional
Gold The Breakfast Show – After the Flood BBC Radio Foyle
Silver Main Lunchtime News Ocean FM
Bronze Beat News Round Up – Referendum Special Beat 102103
Category: B5 Current Affairs Programme – Full Service
Gold The Pat Kenny Show Newstalk
Silver Ivan Yates: Belfast Rape Trial Verdict Newstalk
Bronze Evening Extra BBC Radio Ulster
Category: B6 Current Affairs Programme – Local/Regional
Gold Remembering Dolores Limerick's Live 95
Silver Midlands Today with Will Faulkner Midlands 103
Bronze Morning Mix Anti Social Behaviour South East Radio
Category: B7 Sports Story
Gold The Munich Air Disaster 1958 RTÉ Radio 1
Silver Radio "GAA GAA" – All Ireland on WLR WLR FM
Bronze Back from the Brink: Institute Football Club BBC Radio Foyle
Category: B8 Sports Programme – Full Service
Gold Sunday Sport – Remembering Jimmy RTÉ Radio 1
Silver OTB Live Newstalk
Bronze Off the Ball Newstalk
Category: B9 Sports Programme – Local/Regional
Gold When the Gloves are Off Ocean FM
Silver Over the Line Galway Bay FM
Bronze Now that's what I call Sport 98FM
Category: C1 Documentary/Feature
Gold Documentary on One: Frank Stagg's Three Funerals RTÉ Radio 1
Silver Documentary on One: An Unholy Trinity RTÉ Radio 1
Bronze Documentary on One: 007, The Irish Connection RTÉ Radio 1
Category: C2 Music Documentary
Gold Berlin Calling RTÉ 2XM
Silver Totally Irish – Music Makers 98FM
Bronze The Recovery Café BBC Radio Ulster
Category: C3 Short Feature
Gold The Book Show: Song of Winter RTÉ Radio 1
Silver CAKE RTÉjr
Bronze Aisling Kenny for Morning Ireland: Baby in a Coffin: Real Life Abortion Stories RTÉ Radio 1
Category: C4 Magazine Programme
Gold The Open Door with Ann Marie Kelly Midlands 103
Silver The Ray D'Arcy Show RTÉ Radio 1
Bronze Plan B Spin 1038
Category: C5 Drama
Gold K.L.O. for the Doggy by Robert Barrett RTÉ Radio 1
Silver 100 Everyday Menaces RTÉ Radio 1
Bronze A Pilot's Honour Alan Meaney for Newstalk
Category: C6 Specialist Speech Programme
Gold Futureproof – Enemies of the State Newstalk
Silver A Grave Profession Ocean FM
Bronze Science and Stuff with Emer Maguire BBC Radio Ulster
Category: C7 Craoltoireacht le Gaeilge
Gold Rónán Beo @ 3 RTÉ Raidió na Gaeltachta
Silver Scoil Bhride – 100 Bhliain d'Aois BBC Radio Ulster
Bronze Splanc Newstalk
Category: C8 Interactive Speech Programme
Gold Liveline: Forced apart after 63 Years Kathleen and Michael Devereux RTÉ Radio 1
Silver The Opinion Line Cork's 96FM
Bronze Lunchtime Live: Cervical Check Newstalk
Category: D1 Community/Social Action
Gold Classic Hits Wish Week Classic Hits 4FM
Silver Save the Next One Downtown Radio Cool FM
Bronze Giving for Living Radiothon Cork's 96FM
Category: D2 On Air Competitions/Promotions
Gold Best of Dublin Awards 98FM
Silver Billboard Singles Spin 1038
Bronze F-ANNEMARIE Today FM
Category: D3 Station Imaging
Gold Radio Nova
Silver 98FM
Bronze FM104
D4 Entertainment Inserts
Gold Mario Rosenstock Today FM
Silver Dermot & Dave's Entertainment Inserts Today FM
Bronze FM104's Strawberry Alarm Clock with Jim-Jim & Nobby FM104
Category: D5 Innovation
Gold Futureproof – The State Watches Newstalk
Silver Billboard Singles Spin 1038
Bronze Be the Voice Radio Kerry
Category: E1 Music Broadcaster
Gold Ray Foley Red FM
Silver Fergal D'Arcy Today FM
Bronze KC Cork's 96FM
Category: E2 Radio DJ
Gold David Hammond Beat 102103
Silver Tracy Clifford RTÉ 2FM
Bronze Darren Rice Beat 102103
Category: E3 Specialist Music Broadcaster
Gold Ann Marie Kelly Midlands 103
Silver Stephen McCauley BBC Radio Foyle
Bronze Lynette Fay BBC Radio Ulster
Category: E4 News Broadcaster
Gold Brendan O'Loughlin 98FM
Silver Seamus McKee BBC Radio Ulster
Bronze Audrey Carville RTÉ Radio 1
Category: E5 News Reporter
Gold Philip Boucher-Hayes RTÉ Radio 1
Silver Kevin Magee BBC Radio Ulster
Bronze Henry McKean Newstalk
Category: E6 Sports Broadcaster of the Year – Full Service
Gold Joe Molloy Newstalk
Silver Nathan Murphy Newstalk
Bronze Ger Gilroy Newstalk
Category: E7 Sports Broadcaster – Local/Regional
Gold Darren Cleary 98FM
Silver Eric White BBC Radio Foyle
Bronze Jamie Moore 98FM
Category: E8 Speech Broadcaster – Full Service
Gold Sean Moncrieff Newstalk
Silver Stephen Nolan BBC Radio Ulster
Bronze John Toal BBC Radio Ulster
Category: E9 Speech Broadcaster – Local/Regional
Gold PJ Coogan on the Opinion Line: Cork's 96FM, Cork's 96FM
Silver Will Faulkner Midlands 103
Bronze Shane Beatty KFM
Category: E10 Newcomer
Gold Tommy Walsh Newstalk
Silver Emer Maguire BBC Radio Ulster
Bronze Jaz Keane Spin 1038
Category: F1 Local Station of the Year
Gold BBC Radio Foyle BBC Radio Foyle
Silver Radio Kerry Radio Kerry
Bronze LMFM LMFM
Category: F2 Music Station of the Year
Gold 98FM
Silver RTÉ lyric fm
Bronze Spin 1038
Category: F3 Full Service Station of the Year
Gold RTÉ Radio 1
Silver Newstalk
Bronze RTÉjr


If you liked this story, we can email you more radio news from Ireland and the UK each weekday afternoon direct to your inbox. Just add your details below for "24 Hours in Radio - UK and Ireland":