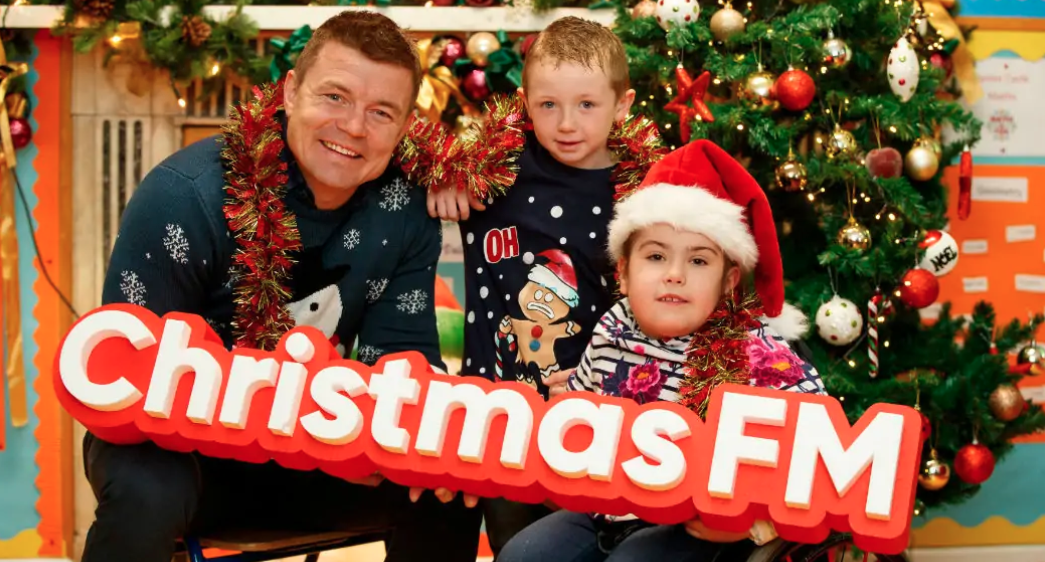 Christmas FM returns to the airwaves this week to raise awareness and funds for its charity partner Temple Street Children's Hospital.
The station launches on a number of platforms and frequencies at 1pm today, Wednesday 28th November, once again from the Ballsbridge Hotel in Dublin which gives the space for free.
Christmas FM is funded through sponsorship and run each year by more than 100 volunteers on-air, devoting hundreds of hours of their time. Cadbury, Coca Cola and Dunnes Stores are on-board as premier FM sponsors.
Brian O Driscoll, Ambassador for Temple Street, says funds will help buy new ventilators and incubators for critically sick children. The radio station's goal is to raise over €200,000 which will go towards giving the gift of life to over 1,000 critically ill babies and children in Temple Street.
Funds raised will be used to purchase new state-of-the-art incubators and ventilators, helping to ensure that sick children have access to the very best pediatric equipment when they need it most.
Have you got us preset on your radios? Here's our FM frequency list for Ireland and a handy map! The magic of Christmas starts at 1pm tomorrow, Nov 28th. https://t.co/3eGOAlB6jM pic.twitter.com/DcuiDdKLKV

— Christmas FM (@christmasfm) November 27, 2018
Garvan Rigby, co-founder of Christmas FM, says: "We are delighted to bring Christmas FM back on-air for our eleventh year. We are beyond delighted to have reached this point and want to thank each and every one of our listeners who have supported us on our journey and in turn, supported each of our chosen charities.
"We would like to thank Dunnes Stores, Coca-Cola, and Cadbury who have come on board as sponsors for 2018. We're really looking forward to getting on-air and beginning our fundraising so we can help provide the very best medical equipment this Christmas to many deserving children."
Brian said: I would like to thank everyone at Christmas FM for choosing Temple Street Children's Hospital as its beneficiary this year. All funds raised will buy much-needed new ventilators and incubators that will help doctors and nurses care for the young patients at the hospital. I hope that Christmas FM listeners all across the country will get involved this December and help make this vital new equipment a reality for children who need it most at Temple Street."
The main radio frequencies for Christmas FM are Dublin City and County 105.2FM, Cork 106.7FM, Galway 87.7FM, Kildare 88.1FM, Sligo 95FM, Kilkenny 104.3, Letterkenny 105.7, Limerick 105.5FM, Midlands North 101.6FM, North East 99.4FM, South East 103.8FM, Tralee / Killarney 105FM, Wicklow North 99.5FM, Wicklow South 106.6FM, and Ennis/Clare 105.2FM.
Christmas FM will also broadcast on Virgin Media Channel 900.


If you liked this story, we can email you more radio news and alerts. Just fill in the form below.