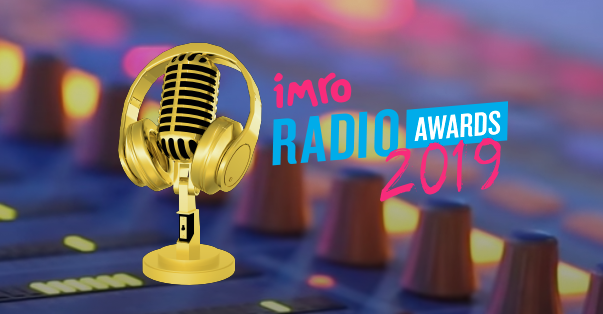 The nominations are out for the IMRO Radio Awards 2019 as 105 judges including industry veterans and new independents decide who is on the shortlist.
See the full list here, or scroll down this article.
Altogether, 652 were entries receive and there are 185 shortlisted across 37 categories.
The Awards, which are sponsored by IMRO and BAI, will take place on Friday 4th October at the Lyrath Estate Hotel Kilkenny. The names of those taking home the trophies will be a closely guarded secret until the night itself.
Prior to the main Awards night, the IMRO Hall of Fame induction ceremony will be held at the BAI offices on Tuesday 24th September. Four new inductees will be awarded the honour and join the list of those who have made significant contributions to radio in Ireland.
Speaking about the significance of the event, Chair of the IMRO Radio Awards committee, Tom McGuire said: "The IMRO Radio Awards is an important media milestone as it recognises the excellence of Irish radio; celebrates the contribution of broadcasters to the national conversation and for one night only brings together the nation's stations."
Eleanor McEvoy, IMRO Chairperson said "After much deliberation and debate the judges have selected an incredible shortlist of 185 Finalists whose broadcasting output fully embodies the broad spectrum of radio content in Ireland today. Irish audience's appetite for quality radio output continues to grow, fuelling outstanding creativity, story-telling and audience engagement from broadcasters throughout the country. And this is abundantly evident from the quality of submissions received this year. We wish all of the shortlisted entrants the very best of luck"
Michael O'Keefe, Chief Executive of BAI said: "The BAI is delighted to support the IMRO Radio Awards 2019, which recognise creativity and excellence in the Irish radio sector and highlight the impressive level of high-quality, culturally relevant radio content available to audiences in Ireland. The IMRO awards are highly regarded and coveted and the BAI congratulates all the shortlisted candidates and wishes them well on the awards night in October."
| | |
| --- | --- |
| Category | Station |
| A1 | |
| General Music Programme | |
| Dermot and Dave | Today FM |
| More Music with Philip Bourke | Cork's Red FM |
| Muireann O'Connell Show | Today FM |
| The Big Ride Home with Dara Quilty | 98FM |
| The Saturday Soundtrack with Peter Devlin | Radio Nova |
| | |
| A2 | |
| Specialist Music Programme  | |
| Céilí House | RTÉ Radio 1 |
| Music and the Mind: Music and Relaxation | RTÉ Lyric FM |
| The Beat Goes On | Today FM |
| The Paul McLoone Show | Today FM |
| The Tom Dunne Show | Newstalk |
| | |
| A3 | |
| Breakfast Programme | |
| Beat Breakfast | Beat 102-103 |
| Breakfast with Ray and Jay | Cork's Red FM |
| Fully Charged with Graham and Nathan | Spin 1038 |
| KC and Ross in the morning | Cork's 96FM |
| The Ian Dempsey Breakfast Show | Today FM |
| | |
| A4 | |
| Music Special/Music Event | |
| Astral Week's at 50 | BBC Radio Ulster |
| Marty in the morning, Beatles White Album at 50 | RTÉ Lyric FM |
| Proms in the Park | BBC Radio Ulster |
| Tom's Trip to Tipp – The Tom Dunne Show | Newstalk |
| The Trip to Tipp | Tipp FM |
| | |
| A5 | |
| Irish Music Programme or Initiative | |
| Composer Lab on Blue of the Night | RTÉ Lyric FM |
| Electric Mainline | BBC Radio Foyle |
| Folk Awards | RTÉ Radio 1 |
| The Long Road | RTÉ 2XM |
| Urban Hymns | RTÉ 2FM |
| | |
| B1 | |
| News Story/News Event | |
| BBC Radio Foyle – Lyra McKee | BBC Radio Foyle |
| National Broadband Plan | Newstalk |
| The Battle of the Boyne – Drogheda's drugs war | LMFM |
| Thank you Laura | Clare FM |
| The Grand Hotel | East Coast FM |
| When Mistakes Cost Lives | Radio Kerry |
| | |
| B2 | |
| News Programme – Full Service | |
| Bloody Sunday: The decisions live | BBC Radio Ulster/Foyle |
| Evening Extra | BBC Radio Ulster/Foyle |
| This Week: Brexit's Meaningful Vote | RTÉ Radio 1 |
| | |
| B3 | |
| News Programme – Local/Regional | |
| Downtown and Cool FM news teams | Downtown and Cool FM |
| Extended News Bulletin | Cork's 96FM |
| Optics, Than Fibre Optics | Shannonside |
| Rooskey under fire | Shannonside |
| The Breakfast Show | BBC Radio Foyle |
| | |
| B4 | |
| Current Affairs Programme – Full Service | |
| Between the Lines | Newstalk |
| Newstalk Breakfast | Newstalk |
| Saturday with Cormac – the meaning and values of Irishness | RTÉ Radio 1 |
| The Hard Shoulder | Newstalk |
| The Pat Kenny Show | Newstalk |
| | |
| B5 | |
| Current Affairs Programme – Local/Regional | |
| Deise Today – Waterford Acid Attack | WLR FM |
| Dublin Talks | 98FM |
| Midlands today with Will Faulkner | Midlands 103 |
| Morning Focus | Clare FM |
| The Mark Patterson Show | BBC Radio Foyle |
| | |
| B6 | |
| Sports Story | |
| Declan Rice – A Tragedy of Three Acts | Newstalk |
| From Russia with Love | Today FM |
| Meet the determined – Team Ireland at the Special Olympics World Games | Today FM |
| Painkillers in Irish Sport | Newstalk |
| "The Players Is The Men" (Derry 1993) | RTÉ Radio 1 |
| | |
| B7 | |
| Sports Programme – Full Service | |
| Off the Ball – Live | Newstalk |
| Off the Ball | Newstalk |
| Sunday Sport – Stories and Action for over 40 years | RTÉ Radio 1 |
| Team 33 | Newstalk |
| The Last Word with Matt Cooper | Today FM |
| | |
| B8 | |
| Sports Programme – Local/Regional | |
| Big Red Bench | Cork's Red FM |
| Carlow Rising | KCLR |
| Now that's what I call sport | 98FM |
| The Score | Cork's 96FM |
| Weekend sports breakfast | Dublin's Q102 |
| | |
| C1 | |
| Documentary | |
| Documentary on one: in Shame, Love, in Shame | RTÉ Radio 1 |
| Lyric feature – In The Wind | RTÉ Lyric FM |
| So much more than baby blues | Beat 102-103 |
| Sticking Out | BBC Radio Ulster |
| The Rescue | Clare FM |
| | |
| C2 | |
| Music Documentary | |
| Documentary on One: Ireland's First Superstar | RTÉ Radio 1 |
| Documentary on One: Johnny Cash's Lost Tour of Ireland | RTÉ Radio 1 |
| Documentary on One in association with RTÉ Arts and Culture: The summer of Astral weeks | RTÉ Radio 1 |
| The Story of the Christmas chart topper | 98FM |
| The Road Well Travelled | RTÉ Radio 1 |
| | |
| C3 | |
| Short Feature | |
| Cluas Chiarraí | Radio Kerry |
| Every Road Has a Cross to Bear | LMFM |
| Finding your Tingle  – The Francie Boylan Show | Ocean FM |
| Live from the past | Radio Kerry |
| The Birth of Laylah | South East Radio |
| | |
| C4 | |
| Magazine Programme | |
| Countrywide | RTÉ Radio 1 |
| Moncrieff | Newstalk |
| Plan B with Sarina Bellissimo | Spin 1038 |
| The John Toal Show | BBC Radio Ulster |
| Valentines Day Special | LMFM |
| | |
| C5 | |
| Drama | |
| Jetty Stars | WLR FM |
| RTÉ Drama on One: James's Story by Dave Zane Mairowitz | RTÉ Radio 1 |
| RTÉ Drama on One: Northern Lights by Stephen Jones | RTÉ Radio 1 |
| The Vampire of Killaspleen | Shannonside |
| Searching for Daddly Dee | Newstalk |
| | |
| C6 | |
| Specialist Speech Programme | |
| Children at the Microphone | RTÉ Radio 1 |
| Futureproof "Chances" | Newstalk |
| Getting Better, not Bitter | Ocean FM |
| Six Dads | RTÉ Radio 1 |
| The Blame Game | BBC Radio Ulster |
| | |
| C7 | |
| Craoltoireacht le Gaeilge | |
| An Saol Ó Deas | RTÉ Raidió na Gaeltachta |
| Donall Mac Ruairi Go Domhain San Fharraige | RTÉ Raidió na Gaeltachta |
| Fear Bean nó Idir Eatharthu | RTÉ Raidió na Gaeltachta |
| Iris Anair | RTÉ Raidió na Gaeltachta |
| Litreacha | BBC Gaeilge |
| Tracy Clifford | RTÉ 2FM |
| | |
| C8 | |
| Interactive Speech Programme | |
| Liveline: After 82 years, Eileen Macken Finds Her Mother | RTÉ Radio 1 |
| Lunchtime Live | Newstalk |
| Phoneshow | FM104 |
| The Neil Prendeville Show – A Mansion on the Hill | Cork's Red FM |
| | |
| D1 | |
| Community/Social Action | |
| Dublin Life | FM104 |
| Giving for living radiothon | Cork's 96FM |
| The East Coast FM Wicklow Wide Coffee Morning | East Coast FM |
| The Galway Bay FM Sleepout for Simon | Galway Bay FM |
| Wish Week | Classic Hits |
| | |
| D2 | |
| On-Air Competitions/Promotions | |
| Beat the Bomb | Spin 1038 |
| Best of Dublin | 98FM |
| Gotta Get It Wrong | Spin 1038 |
| Greedy Guts | 98FM |
| The Can – A – Da Challenge | Cork's Red FM |
| | |
| D3 | |
| Station Imaging | |
| 98FM | |
| FM104 | |
| Newstalk | |
| Spin 1038 | |
| Today FM | |
| | |
| D4 | |
| Entertainment Inserts | |
| Gift Grub on the Ian Dempsey Show | Today FM |
| Fully Charged with Graham and Nathan | Spin 1038 |
| KC and Ross in the Morning | Cork's 96FM |
| Rise and Smile | Galway Bay FM |
| Strawberry Alarm Clock | FM104 |
| | |
| D5 | |
| Digital & Social Innovation | |
| Are you Watching on the Radio | Ocean FM |
| Cluas Chiarraí | Radio Kerry |
| Choose your own Breakfast Show | 98FM |
| Gift Grub 2.0 | Today FM |
| The iRadio thief | iRadio |
| | |
| E1 | |
| Music & Entertainment Presenter of the Year | |
| Dara Quilty | 98FM |
| Dermot Whelan | Today FM |
| Luke O'Faolain | 98FM |
| Muireann O'Connell | Today FM |
| Ray Foley | Cork's Red FM |
| | |
| E2 | |
| Radio DJ of the Year | |
| David Hammond | Beat 102-103 |
| Izzy Bartak-Healey | Cork's Red FM |
| Killian Pettit | Cork's Red FM |
| Sharon Lynskey | iRadio |
| Steve K | Spin 1038 |
| | |
| E3 | |
| Specialist Music Broadcaster of the Year | |
| Ann Marie Kelly | Midlands 103 |
| God Knows Jonas | Spin South West |
| Kieran McGuinness | Radio Nova |
| Ralf McLean | BBC Radio Ulster |
| Tom Dunne | Newstalk |
| | |
| E4 | |
| News Broadcaster of the Year | |
| Andrew Lowth | Spin 1038 |
| Elaine McGee | BBC Radio Foyle |
| Gavin McLoughlin | Newstalk |
| Karen Patterson | BBC Radio Ulster |
| Susan Keogh | Newstalk |
| | |
| E5 | |
| News Reporter of the Year | |
| Aideen Finnegan | Newstalk |
| Brian O'Connell | RTÉ Radio 1 |
| Declan Harvey | BBC Radio Ulster |
| Frank Greaney | Newstalk |
| Henry McKean | Newstalk |
| | |
| E6 | |
| Sports Broadcaster of the Year – Full Service | |
| Damien O'Meara | RTÉ Radio 1 |
| Darren Frehill | RTÉ Radio 1 |
| Joe Molloy | Newstalk |
| Máire Treasa Ní Cheallaigh | Newstalk |
| Nathan Murphy | Newstalk |
| | |
| E7 | |
| Sports Broadcaster of the Year – Local/Regional | |
| Daniel Pitcher | Dublin's Q102 |
| Debbie Ridgard | Beat 102-103 |
| Eric White | BBC Radio Foyle |
| Sean McCaffrey | Shannonside |
| Tom Moynihan | Radio Kerry |
| | |
| E8 | |
| Speech Broadcaster of the Year – Full Service | |
| Ciara Kelly | Newstalk |
| Ivan Yates | Newstalk |
| Sean Moncrieff | Newstalk |
| Sean O'Rourke | RTÉ Radio 1 |
| Stephen Nolan | BBC Radio Ulster |
| | |
| E9 | |
| Speech Broadcaster of the Year – Local/Regional | |
| Jerry O'Sullivan | Radio Kerry |
| Mark Patterson | BBC Radio Foyle |
| Neil Prendeville | Cork's Red FM |
| Niall Delaney | Ocean FM |
| Sarina Bellissimo | Spin 1038 |
| | |
| E10 | |
| Newcomer of the Year Award | |
| Brian McEvoy | iRadio |
| Declan Wilson | Q Radio |
| Jillian Godsil | East Coast FM |
| Kayte O'Malley | Spin South West |
| Sinead Brassil | LMFM |
| | |
| F1 | |
| Radio Moment of the Year | |
| Bosco v Dustin | iRadio |
| Gerry Ryan Show 2FM 40 Special | RTÉ 2FM |
| Maria Bailey Interview | RTÉ Radio 1 |
| The Neil Prendeville Show – 'A Bubble of Brilliant-ness' | Cork's Red FM |
| The priest who anointed Lyra McKee speaks hours after the murder | BBC Radio Foyle |


If you liked this story, we can email you more radio news from Ireland and the UK each weekday afternoon direct to your inbox. Just add your details below for "24 Hours in Radio - UK and Ireland":