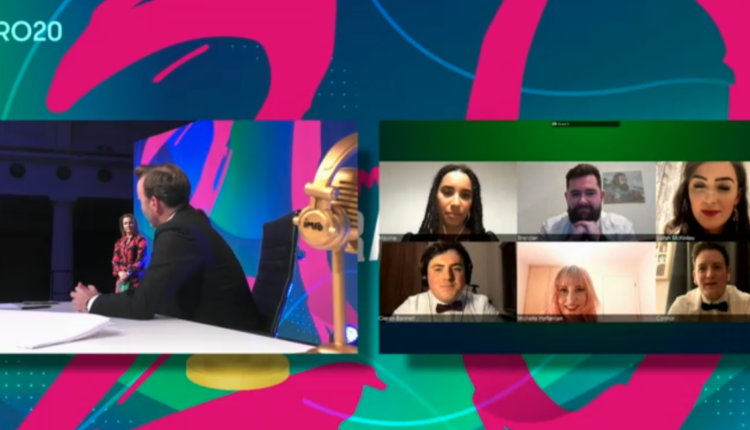 IMRO Radio Awards trend number one on Twitter
The entire radio industry glammed up for a night in to watch the online stream of the IMRO Radio Awards 2020.
And the official hashtag #IMRO20 trended number one for most of the night.
Here are some of your best bits celebrating in your own living rooms!
Well @Midlands103's @AMKellyDJ won the best dressed award at @IMRORadioAwards #IMRO20 !!! And isn't that what we're all here for really?!! … Enjoy the fizzy drinks, Ann-Marie 😉 https://t.co/YBR4UwvwrK

— Niall O'Keeffe (@NiallOK) October 2, 2020
Not in the Lyrath this year, but ready for the @IMRORadioAwards #IMRO20 pic.twitter.com/lwOPijxbEl

— Niall Power (@mrniallpower) October 2, 2020
SPECIAL OCCASION: Wearing my Tony Fenton cuff links tonight #IMRO20 @TodayFM pic.twitter.com/0euaNBJ1vQ

— Ian Dempsey (@IanDempsey) October 2, 2020
Tracksuit on for #IMRO20 ✌️❤️@imroradioawards @TodayFM pic.twitter.com/TcyjjCRvhs

— Jessica Maciel (@Jess_M_Maciel) October 2, 2020
We are going to party HARD 🥳 Best of luck to everyone tonight. A radio year like no other. We'll go again in 2021 🤞🏻#IMRO20 pic.twitter.com/e8SfCHhwbx

— Susan Keogh (@susankeoghnews) October 2, 2020
I'm on my own so tried to get a timed pic of myself 😂 Anyway, happy #IMRO20 night 🥂 pic.twitter.com/8zCFJOwkf7

— Shauna O'Reilly (@grandantor) October 2, 2020
All dressed up for tonight's @IMRORadioAwards lovely to have a bitta support here 😂 #IMRO20 @TodayFM pic.twitter.com/OwoQ6hsDEA

— Mairead Ronan (@cocomairead) October 2, 2020
Ready for off 🎉 #IMRO20 here we go! Catch ya on the flip side @eoghanmcdermo – best of luck one and all 📻🥂🥳 pic.twitter.com/7ufHdV0o30

— Doireann Garrihy (@DoireannGarrihy) October 2, 2020
Big congrats to @DermotTodayFM who won GOLD for 'Music and Entertainment Presenter of the Year' at the @IMRORadioAwards – #IMRO20 🏆🥇 pic.twitter.com/FiZh8uUogM

— Today FM (@TodayFM) October 2, 2020
Suited (and booted) for this evening's awards!
Best of luck to my fellow 'Best Entertainment Inserts' nominees, including team @askaudreylike @corksredfm@davemacardle @Pdfitzpatrick @estread @MrsLauraOMahony @emer_o_mahony @Shane_Casey1#imro20 @IMRORadioAwards pic.twitter.com/6ye9HqSL0m

— Kilian Pettit (@KilianPettit) October 2, 2020
Well that's 2 nights I won't be dressing up for this month @IMRORadioAwards #imro20 🥴🥱🤪 pic.twitter.com/dKt1eaUGK8

— Darragh O'Dea (@darraghodj) October 2, 2020
Reunited with my pal for the @IMRORadioAwards #IMRO20 pic.twitter.com/9hIVKvhe9W

— Kolyn Ryan-Byrne (@KolynByrne) October 2, 2020
Suited and slippered ahead of the @IMRORadioAwards tonight.

Nice candel lit dinner for one too!*

Best of luck to all the nomerknees, all in radio generally, the listeners and well everyone generally I guess.

Yer all lovely! 📻

*mayyyy have oversnacked 👀 @TodayFM#IMRO20 pic.twitter.com/PAOGdWIi59

— 📻 SpookEd Smith 👻 (@EdTodayFM) October 2, 2020
I like this new 9pm News…. #imro20 @Christdoyle pic.twitter.com/cMGEw2Rc2M

— Paul B (@PaulBonass) October 2, 2020
Cheers and best of luck to all my fellow @todayfm nominees for tonight's very different @imroradioawards Chin chin!#IMRO20 pic.twitter.com/lLaij2d6Zc

— Paul McLoone (@PMcLoone) October 2, 2020
Mini dude and myself ready for @IMRORadioAwards #IMRO20 … pic.twitter.com/TLu0iuA6Co

— Sean Mc Caffrey (@BreakfastRollNS) October 2, 2020
Jess can't cope with the suspense!@TodayFM @IMRORadioAwards #imro20 pic.twitter.com/gXUY4oFqEn

— Pamela Blake (@PamelaABlake) October 2, 2020
Socially distant @IMRORadioAwards but we're still managing to have the craic! #IMRO20 pic.twitter.com/Sbrjgvl0LN

— Gabrielle Cummins (@GabmCummins) October 2, 2020
Best of luck to everyone at the @IMRORadioAwards tonight and especially my @Live95Limerick colleague @LOLIDDY2489 #IMRO20 pic.twitter.com/sU6q9wM9sV

— Maxine Bramley (@BramleyMaxine) October 2, 2020
Big virtual night in for team @newsoncool @newsondowntown in the prestigious @IMRORadioAwards #IMRO20 – shortlisted in News Bulletin category.. not to be this time around but I'm so incredibly proud of this team – our 3rd nomination in this category in 4 years, team pic from Jan pic.twitter.com/jDim7DgClj

— Nigel Gould (@gould_nigel) October 2, 2020
Watching #IMRO20 from home with a cup of tea instead of going on the absolute razz in Kilkenny 🤠 Missing everyone but cheering on from the couch ❤️ pic.twitter.com/eD8valxRWQ

— Claire Beck 🌈 (@clairebeck1052) October 2, 2020
In the door of @radiokerry and we're fed and watered thanks to @McDonalds #IMRO20 pic.twitter.com/wmD15KD0QI

— Andrew Morrissey (@AndrewRadioDJ) October 2, 2020
Congratulations, Music & Entertainment Presenter of the Year. @DermotTodayFM @IMRORadioAwards #imro20 pic.twitter.com/WOicWj8QGv

— Jill St John (@HarringJill) October 2, 2020
Really looking forward to tonight's #imro20 Radio Awards tonight – ceremony being presented virtually by @DermotTodayFM . Thanks to management in @98FM & @CommunicorpIRL for the gift box and fingers crossed that @DublinTalks98FM wins an award!! pic.twitter.com/DRRhbfi0bJ

— Adrian Kennedy (@AdrianFKennedy) October 2, 2020
#IMRO20 – lets go @FM104 @IMRORadioAwards pic.twitter.com/mM4ZCBSqfE

— Emma Nolan (@Emma___Nolan) October 2, 2020
Very lonely here in the RDS all dolled up & about to go live 😝 Neighbours gave me some funny looks on my way out….. #StaySafe @IMRORadioAwards @IMROireland @bai #IMRO20 pic.twitter.com/tub9Pfby1R

— Eleanor McEvoy (@eleanormcevoy) October 2, 2020
#IMRO20 Let's go! 📻🎙️📻🎙️

Best of luck everyone 🙌🥳🤩

I'm all dressed up and nowhere to go 💕😍📻🎙️ @IMRORadioAwards @ThisisiRadio pic.twitter.com/YqaJvVdEu0

— Louise Clarke iRadio 📻🎙️🎧 (@louclarkeradio) October 2, 2020
Ok we're ready for the Awards #imro20 pic.twitter.com/SIubK3gLNq

— Ann Marie Kelly (@AMKellyDJ) October 2, 2020
#imro20 Finally can bring the kids 😄😄 @IMRORadioAwards pic.twitter.com/JYUgKdwc3o

— eoghain fitzgerald (@eoghainfitz) October 2, 2020
Best of luck to everyone but especially this amazing gal @michelleheff21 who's celebrating (socially distant) with me! ❤️ #IMRO20 pic.twitter.com/9X6tezAmUi

— Dave Cronin (@itsDaveCronin) October 2, 2020
So so proud of the gang @Corks96FM @C103Cork ⭐️ #IMRO20 – as for best dressed… here is my best nightdress 👀 does that count @IMRORadioAwards 🤣 pic.twitter.com/E1Izb8ddux

— Mairead Twohig (@Mairead2hig) October 2, 2020
Very different this year… 🤪 #imro20 pic.twitter.com/iP4K9C4wwi

— K.i..e…r….a…..n (@321Kieran) October 2, 2020
As you can see @Laurabracken4 is gunning for the Best Dressed Award #IMRO20 pic.twitter.com/yxL22EXili

— Jaz Keane (@jazkeane) October 2, 2020
Cracked open the prosecco for tonight's #IMRO20 🥂 🥳 pic.twitter.com/JM9aHQS1MY

— Tara Walsh (@Tara_walsh_) October 2, 2020
Gang of us here for the @IMRORadioAwards #IMRO20 pic.twitter.com/GoBBtyFT44

— Radio Kerry (@radiokerry) October 2, 2020
Award shows, pyjamas and beer. I've finally gone full on 2020. #IMRO20 pic.twitter.com/hu6UZ0hFki

— Seán Marum (@SeanMarum) October 2, 2020
Feels weird to not be running around the Lyrath tonight nabbing winners for interviews and bombarding everyone with Tweets and Instagram stories.

Running the #IMRO20 socials this year alongside @MASONRYdotie from our separate homes. Strange, but exciting all the same! pic.twitter.com/jQ7wrBdwvK

— Christine Costello (@CostelloMusings) October 2, 2020
The Barker family are ready for this year's @IMRORadioAwards 🎈@98FM #Communiphwoar #IMRO20 pic.twitter.com/8nyRLksAWp

— John Barker (@TotallyIrish98) October 2, 2020
A sure fire win for best dressed at this years awards #imro20 pic.twitter.com/b44LopYiKg

— Rob O'Connor (@curlybert) October 2, 2020


If you liked this story, we can email you more radio news from Ireland and the UK each weekday afternoon direct to your inbox. Just add your details below for "24 Hours in Radio - UK and Ireland":