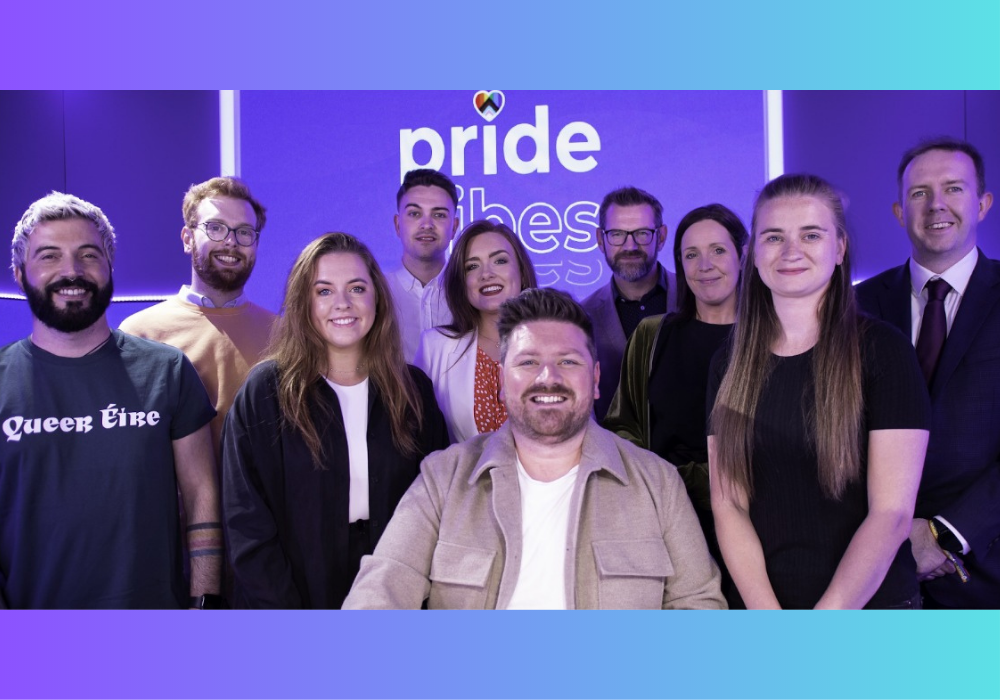 Ireland's first quasi national LGBTQI+ radio station – Pride Vibes; is available on FM for the first time from this morning.
The station has already been streaming online since the start of June – the beginning of Pride month; and will be on FM for the next 30 days; while it will continue until the end of August on pridevibes.ie to take in the various Pride parades throughout the country this Summer.
Irish Singer Brian Kennedy; RTÉ's Stephen Byrne and FM104's Sean Munsanje and Thomas 'Crossy' Crosse are among those who will present live shows on air.
Kennedy will front a show called 'That's My Vibe' airing on Saturday's at 3pm; where he interviews various well known members of the community, asking them to pick their favourite 12 songs that have made a difference in their lives.
Byrne has recently relocated to Australia, and will present Pride Anthems live each weekday at 9pm from Sydney!
Back on FM radio in Ireland from next week for the month, celebrating Pride from Sydney 🏳️‍🌈🏳️‍⚧️ on Pride Vibes.

I haven't heard back on how many times I can play Padam Padam back to back and get away with it but I'll report back.

Will let you know how to tune in next week x pic.twitter.com/ARiGShOTjI

— Stephen Byrne (@stephenbyrne) June 10, 2023
Meanwhile, Crossy will present a chilled laid back magazine show on Sunday's aptly called 'The Sunday Roast' (11am-3pm) – the title is a nod to the Navan man's love of all things carvery!
It's the first time in over a decade that a station representing the LGBTQI+ community will appear on FM. Back in 2012 Open FM broadcast from Dublin Pride events – but it's FM reach was confined to listeners in the Capital.
Open FM's on-air team included Michaela Hayes (currently Spin 1038); Trishauna Archer (Currently KCLR and RTÉ Today); Lisa Gearnon, Russell Alford (Today FM Content Creator and regular on 98fm) and Panti Bliss.
The first song broadcast on Pride Vibes following the Pride Breakfast sting shortly after 7am was 'Closer' by 'Tegan and Sara'.
Immediately following the song, Presenter Shivani Dave was the first live on air voice on FM this morning at 7am and told listeners:
"'A little bit closer' here on Pride Vibes 23 – it's Shivani Dave.
"We are starting the day with some of the biggest tunes. I'm going to get you moving; I'm going to get you shaking.
"If you didn't (sic) need an excuse, well now you have one to start your day with a little bit of a dance and a shimmy."
Following a successful online only run last year, the station is on FM for the first time.
FM104's Sean Munsanje is Station manager this year, and will also present Morning Pride (Weekdays 11am-1pm).
Sean told RadioToday.ie he's excited to make the leap to FM with a mix of Irish and International broadcasters from the LGBTQI+ community.
"We are on air during Pride, which is obviously a celebration of queer people," he said.
"It was very important to us that we represented that – that queer people were the people on the station that taught doing the talking, doing the interviewing. And yeah, it's worked out. Well. We actually found a great pool of talent, that we're delighted with the great schedule and I can't wait for it to launch now on FM because that's the big change this year!"
Many different parts of the country will be able to access the broadcast for its initial FM run, as Sean explains.
"It's from June 14th for exactly 30 days on FM. It will be broadcast in Dublin, Cork, Limerick, Galway; the North East and South East."
While the initial online run last year focused a lot on music, the 2023 offering will provide plenty of talk content, with coverage of pride; documentaries and many different queer issues forming much of the focus.
"It's the second year and obviously we want to be bigger and expand," Sean said.
"Last year was brilliant and had a good line-up, but it was mainly music. So this year taking on the station manager role I wanted to kind of expand on that and make it feature more people from the community. Having interviews and content and features as well as the great music – that was a big thing I wanted and then of course we had great documentaries, so I took that from last year and ran with that – documentaries and podcasts and things like that will be on the station too.
"The first Pride takes place in Dublin on June 24th – obviously, things are kicking off, events are starting to happen.
"So all our presenters are talking about this and trying to big up obviously, the things that are going to be happening in Dublin pride. And then we have our reporter, Alice, who actually works in GCN – she's our Dublin reporter. She'll be on daily doing minute long reports, just letting everybody know what's going on what they can be going to and to see what the what what the vibe is hence 'Pride Vibes'.
"Then for each city, as I say, we will have a different reporter for the run up to that individual Pride.
"The whole point is it's all about Pride in Ireland, but we'll bounce I suppose and focus on each Pride individually more in the week or two before that Pride."
Among the podcasts on the station will is 'Iris by Damian Kerlin'. Over the series, Damian catches up and speaks with filmmakers covering topics such as authentic casting and representation on screen, the portrayal of queer youth and the dramatising of the communities true stories.
The Charity partner this year is Belong To, and Sean says that it's great to be able to support the youth focused LGBTQI+ organisation.
"I'm thrilled this year that our charity partner are again Belong To. They are a youth services charity for LGBTQ+ young people," he said.
McDonalds, Voltarol and Dalata Hotels (Clayton and Maldron) have come on board as sponsors – helping ensure the station gets on air and helping to fund the FM licence fee.
Pride Vibes will broadcast on FM on the following frequencies:
Cork City, part county 106.7
Cork North, part county 87.7
Dublin City & County 105.2
Galway City, part county 87.9
Limerick City 105.5
Dundalk/Drogheda – Louth 104.2
South East(Wexford, Waterford, Kilkenny, Tipperary) 103.8
It's also available online at www.pridevibes.ie


If you liked this story, we can email you more radio news and alerts. Just fill in the form below.