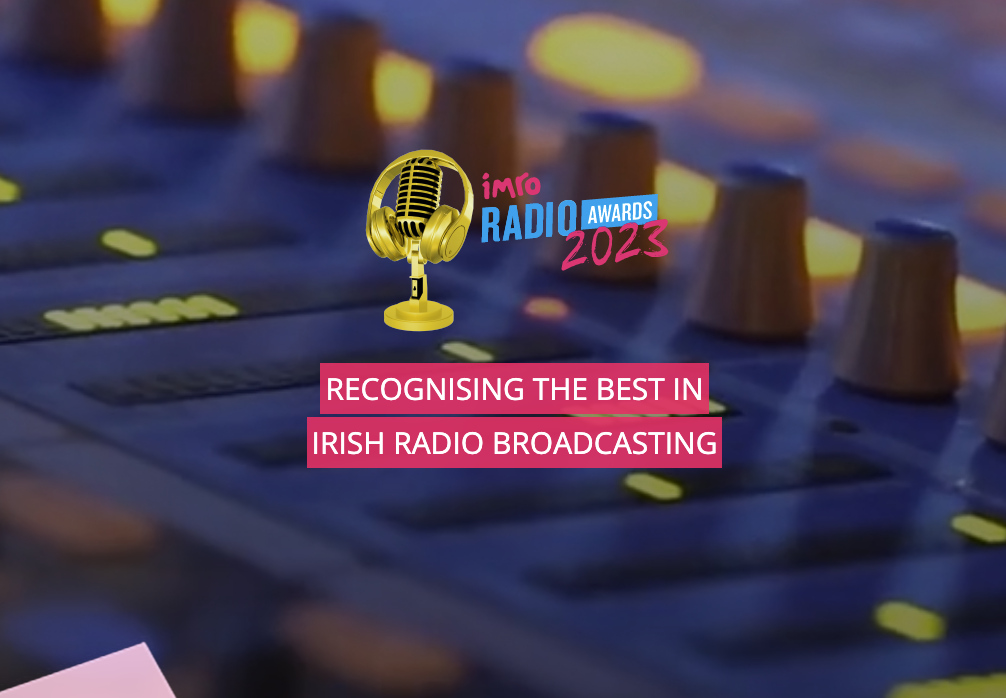 The shortlist for the IMRO Radio Awards has been revealed ahead of the Gala Awards night at the Lyrath Estate Hotel in October.
Organisers say a record number of entries have been received this year from all over Ireland.
Celene Craig, Broadcasting Commissioner at Coimisiún na Meán, one of the Awards sponsors, commented: "Continuing the support of its predecessor, the BAI, Coimisiún na Meán is delighted to sponsor the IMRO Awards this year. Radio remains a key source of information for people and brings high-quality and diverse programming to listeners across the country. The IMRO Awards showcases the creativity, talent and dedication of those working in radio to deliver such content. I'd like to congratulate all the nominees and wish them luck on the Awards night."
The awards will be handed out on Friday 6th October 2023 in Kilkenny.
See the full list here.
Category:
Category title:
Shortlist:
Station

A01

General music programme

Dave and Fionnuala
iRadio
Dermot and Dave on Today FM
Today FM
Pamela Joyce on Today FM
Today FM
The Darren and Joe show
SPIN1038
Weekend Mix JP McManus ProAm / Nadia Snakia
Live 95

A02

Specialist music programme

Ambient Orbit
RTÉ lyric fm
American Country Show
Tipp FM
FM104's Freaks on Friday
FM104
The Music Tree
Radio Kerry
The Tom Dunne Show
Newstalk

A03

Breakfast programme

Beat breakfast
Beat 102-103
SPIN's Fully Charged with Ed and Valerie
SPIN South West
The Big Breakfast with Rebecca and Brendan
98FM
The Ian Dempsey Breakfast Show
Today FM
2FM Breakfast with Doireann, Donncha and Carl
RTÉ 2fm

A04

Music special, music event

Barrscéalta – A Live Musical tribute to those lost Creeslough Tragedy
RTÉ Raidió na Gaeltachta
Lalla Roukh (Opera Night with Paul Herriott)
RTÉ lyric fm
Live at the Ulster Fleadh
BBC Gaeilge
RnaG 50 – Cúige Uladh
RTÉ Raidió na Gaeltachta
The Belfast Mixtape
BBC Radio Ulster

A05

Irish music programme or initiative

Ceol for the soul
Galway Bay FM
iRadio's iLoveIrish
iRadio
Irish Music Month on SPIN
SPIN1038
RTÉ Choice Music Prize – Song of the year – with Tracy Clifford
RTÉ 2FM
Sessions from Oblivion
RTÉ 2XM

B01

News story

Creeslough – John Cooke
RTÉ Radio 1
Drug Debt and intimidation
WLR FM
Fr Sheehy and The Sinners
Radio Kerry
Lunchtime Live – Bullying in the HSE
Newstalk
The Queen's Death, Evening Extra
BBC Radio Ulster

B02

News programme – full service

Morning Ireland – tragedy unfolds in Creeslough
RTÉ Radio 1
The New Prime Minister, Evening Extra
BBC Radio Ulster
The Stephen Nolan Show
BBC Radio Ulster
This Week – Creeslough
RTÉ Radio 1
Today FM's 5@5
Today FM

B03

News programme – local/regional

FYI Galway
Galway Bay FM
Ocean FM Lunchtime News
Ocean FM
The 5.45
Tipp FM
The Creeslough Explosion
Highland Radio
WLR News @ One Tricolour Special
WLR FM

B04

Current affairs programme – full service

Good Morning Mr President, Good Morning Ulster
BBC Radio Ulster
Newstalk Breakfast
Newstalk
On the Record
Newstalk
Taking Stock
Newstalk
The Hard Shoulder
Newstalk

B05

Current affairs programme – local/regional

Deise Today with Damien Tiernan
WLR FM
Knock Knock The American President is There – The Joe Finnegan show
Shannonside Northern Sound
The Michael Reade Show
LMFM
The Morning Show with Declan Meehan
East Coast FM
Violent Schooldays
Galway Bay FM

B06

Sports story

A Faithful Legacy
Midlands 103
Cliona Darcy Wins Boxing Gold
Galway Bay FM
Frank Greally: Running Full Circle
Midwest Radio
Ón Taobhlíne: Blianta Órga: Ard Mhacha 2001
BBC Gaeilge
The Making of Chiedozie Ogbene
Newstalk

B07

Sports programme – full service

Game on
RTÉ 2fm
Jacqui's Christmas Sporting Selection Box
RTÉ Radio 1
Off the Ball
Newstalk

B08

Sports programme – local/regional

Connacht Club Championship Special
Galway Bay FM
Foyle Sportsound – FAI Cup Final
BBC Radio Foyle
Radio Kerry Weekend Sports
Radio Kerry
RedFM's Big Red Bench
Cork's Red FM
Remembering Paudie Palmer
C103 Cork

C01

Documentary

A Man from Cork
Newstalk
Bottler, Brendan Grace
Clare FM
Documentary on One: Blackrock Boys
RTÉ Radio 1
Documentary on One: Minding Mary
RTÉ Radio 1
Extraordinary Eire
Newstalk
Falsely Accused
Clare FM

C02

Music, arts and culture documentary

Give The Beatles Back To The Irish
BBC Radio Ulster
Sing All Our Cares Away
RTÉ Radio 1
The Dawning of the Day (The Lyric Feature)
RTÉ lyric fm
The Irish Soundtrack
RTÉ Radio 1
Whatever Happened to Gertrude Page?
LMFM

C03

Short feature

Dear Kerry – Letters to a Kingdom
Radio Kerry
Henry McKean reports
Newstalk
Heritage Hunters
Radio Kerry
Park Bench
RTÉ Radio 1
The day the box was seen by Jackie Browne
Radio Kerry

C04

Magazine programme

Late Lunch – Gerry Kelly
LMFM
Moncrieff
Newstalk
The Anton Savage Show
Newstalk
The John Toal Show
BBC Radio Ulster
The Saturday Social
98FM

C05

Drama

An Eachtra
BBC Ulster
An End of Term
Newstalk
One Day
Galway Bay FM
Sniper Joe and Sister Jim
Newstalk
The Listener
RTÉJr Radio

C06

Specialist speech programme

Murmurations
RTÉ Radio 1
Stand out with Ian O'Connell
Radio Kerry
Talking History
Newstalk
Tech Talk with Jess Kelly
Newstalk
Tell Teresa
BBC Radio Ulster

C07

Craoiltoireacht le Gaeilge

Abair Amach Éar WLR FM – Alzheimer's Special
WLR FM
An Saol Ó Dheas
RTÉ Raidió na Gaeltachta
Beo ar Éigean
RTÉ Radio 1
Dúshlán na Feirme
RTÉ Raidió na Gaeltachta
Snaoisín Bán
RTÉ Raidió na Gaeltachta

C08

Interactive speech programme

Focus on Fostering – The Jennifer Zamparelli Show
RTÉ 2FM
Lunchtime Live
Newstalk
Night Time Talk with Niall Boylan
Ireland's Classic Hits Radio
Talkback
BBC Radio Ulster
The Stephen Nolan Show
BBC Radio Ulster

D01

Community/social action

Coast to Coast Challenge – Paddleboard Scotland to Northern Ireland
Cool FM
Cork's 96FM Giving for Living Radiothon
Cork's 96FM
FM104's Get Lewis to The Gig
FM104
Make A Wish
Newstalk
The Big Busk for Focus Ireland
Today FM

D02

On air competition/ promotion

Blue Monday
98FM
FM104's Get Lewis to The Gig
FM104
Gallagher's Grand Primera with Mick's Garage on Morning Glory with PJ and Jim
Radio Nova
Ireland's Greatest Accent – The Ian Dempsey Breakfast Show
Today FM
Pass the Parcel
98FM

D03

Station imaging

Carl Kinsman
Q Radio
Cork's 96FM
Cork's 96FM
iRadio
iRadio
SPIN1038
SPIN1038
Today FM Station Imaging
Today FM

D04

Entertainment inserts

Bonner's blessing on SPIN's Fully Charged
SPIN1038
Emma, Dave and Aisling presents Des Kelly the Musical
SPIN1038
FM104'S Strawberry Alarm Clock
FM104
Gift Grub on The Ian Dempsey Breakfast Show
Today FM
Mollie in the Morning
Galway Bay FM

D05

Digital and social innovation

Cathal's Camino – Dermot and Dave on Today FM
Today FM
Dublin Delish
98FM
FM104's #GetLewisToTheGig
FM104
FM104's The Buzz
FM104
From Dreams to Victory: Sam Maguire Returns To The Kingdom
Radio Kerry

D06

Podcast of the Year

As I Remember It: Bertie Ahern and The Good Friday Agreement
Newstalk
Inside the Crime: The Charles Self Murder
Newstalk
Let Me Explain
Newstalk
The Kinahans
Q102/Wireless/Urban Media
Leaving Cert Music Podcast
RTÉ lyric fm

E01

Music and entertainment presenter of the Year

Dara Quilty
Today FM
Dermot Whelan
Today FM
Emma Nolan
SPIN1038
Nathan O'Reilly
FM104
Pamela Joyce
Today FM

E02

Radio DJ of the Year

Dee Woods on Radio Nova
Radio Nova
Michaela Hayes
SPIN1038
Paul Bonass
98FM
Simon Murdoch
Cork's 96FM
Tracy Clifford
RTÉ 2FM

E03

Specialist music broadcaster of the Year

Aedín Gormley
RTÉ lyric fm
Ann Marie Kelly
Midlands 103
J.J. O'Shea
Radio Kerry
Kieran McGuinness
Radio Nova
Stephen McCauley
BBC Radio Ulster

E04

News broadcaster of the Year

Ben Finnegan
Today FM
Bryan Dobson
RTÉ Radio 1
Chris Buckler
BBC Radio Ulster
Declan Harvey
BBC Radio Ulster
Justin McCarthy
RTÉ Radio 1

E05

News reporter of the Year

Barry Lenihan
RTÉ Radio 1
Brian O'Connell
RTÉ Radio 1
Emma Tyrell
98FM
John Cooke
RTÉ Radio 1
Sean Defoe
Newstalk

E06

Sports broadcaster of the Year – full service

Aisling O'Reilly
Newstalk
Damien O'Meara
RTÉ Radio 1
Joe Molloy
Newstalk
John Duggan
Newstalk
Nathan Murphy
Newstalk

E07

Sports broadcaster of the year – local/regional

Austin O'Callaghan
Ocean FM
Donal Ryan
Ocean FM
Luke Liddy
Live 95
Ruairi O'Hagan
Cork's Red FM
Shane O'Keefe
KCLR
Tim Moynihan
Radio Kerry

E08

Speech broadcaster of the Year – full service

Ciara Kelly
Newstalk
Pat Kenny
Newstalk
Sean Moncrieff
Newstalk
Shane Coleman
Newstalk
Stephen Nolan
BBC Radio Ulster

E09

Speech broadcaster of the Year – local/regional

Alan Corcoran
South East Radio
Damien Tiernan
WLR FM
Gerry Kelly
LMFM
Neil Prendeville
Cork's Red FM
PJ Coogan
Cork's 96FM

E10

The Gay Byrne Newcomer of the Year award

David Hollywood
Midlands 103
David Nelligan
Radio Kerry
Donal Ryan
Ocean FM
Elizabeth Hirst
Dublin's Q102
Matthew Matthews
SPIN1038

F1

Radio moment of the Year

A Special GloryDaze – PJ Gallagher's Story as told to Jim McCabe
Radio Nova
Losing My Boys To Suicide
LMFM
My Dying Wish
Cork's 96FM
Radio One News at One Robert Troy Interview
RTÉ Radio 1
The Neil Prendeville Show: "Shane Will Shine On" Cork's RedFM
Cork's Red FM
The shortlist for #IMRO23 is finally here!@IMROireland @CNaM_ie pic.twitter.com/EiiYxKGA0G

— IMRO Radio Awards (@IMRORadioAwards) August 23, 2023


If you liked this story, we can email you more radio news and alerts. Just fill in the form below.