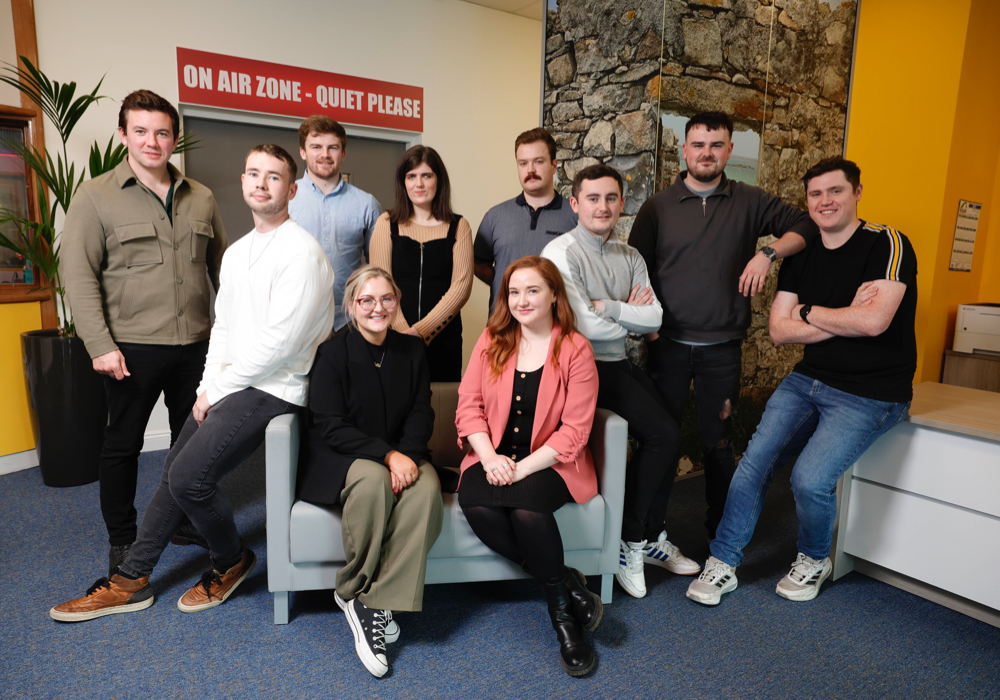 This year's Learning Waves Journalism Graduate Programme launched this week at Galway Bay FM with the ten students involved, Learning Waves and members of Coimisiún na Meán.
This year's course sees graduates from seven different third-level institutions placed in radio stations in Dublin, Clare, Cork, Kerry, Louth, Galway and Longford.
The placements at 10 independent radio stations are part of the 2023 Learning Waves Journalism Graduate Programme.
Now in its fourth year, the Learning Waves Journalism Graduate Programme, which is designed and supported by the independent commercial radio sector along with Coimisiún na Meán and Skillnet Ireland, gives students a unique opportunity to complete a five-month paid placement in a radio station.
Speaking at the launch of this year's programme in Galway Learning Waves Project Manager Teresa Hanratty said 'Current events happening across the globe have again proven how the role of the journalist has never been more important in disseminating reliable and trustworthy information. Eight of the 10 graduates who took part in the programme last year are now working full time in the sector, so we know the programme not only provides a pathway for new journalists to enter the sector but also a consistent pipeline of much needed new talent to future proof radio journalism'.
Commenting on the launch of this year's programme Coimisiún na Meán's Media Development Commissioner, Rónán Ó'Domhnaill said 'As the media landscape continues to evolve it has become increasingly important to equip the next generation of journalists with the expertise needed to report on events accurately and ethically. Radio continues to be an essential source of trusted information and engaging content for people of all ages right around the country. The Journalism Graduate Programme ensures we continue to attract new graduates to the medium by providing an opportunity to gain invaluable hands-on training, experience, and insight into the role of journalists in society. We are delighted to support this scheme once again and I would like to congratulate the successful graduates and stations and to wish them the best of luck'.
The 10 graduates and the radio stations involved in this year's programme are:
James Hanly, University of Limerick to Clare FM
Isabella Finn, UCD, Newstalk
Dan Casey, MTU, Kerry to Off the Ball
Katelyn Galvin, Kerry College of Further Education to Radio Kerry
Michael Lavery, University of Derby to LMFM
Steven Fox, University of Galway to Cork's 96FM
Caoimhe Killeen, University of Galway to Galway Bay FM
Eoin Glackin, TUI Dublin to Classic Hits
David Seagrave, TUI to Dublin's FM104
Darragh O'Connor, Maynooth University to Shannonside
The Learning Waves Journalism Graduate Programme is part funded by Coimisiún na Meán's Sectorial Learning and Development Innovation Scheme. Under the 2023 scheme, a total of €47,000 amount was awarded to Learning Waves to operate the programme. The award constitutes a significant increase on the initial programme funding amount, which will benefit the interns directly and help to contribute towards their living expenses while they undertake their placements.
The participating broadcasters and graduates were chosen following an application process that began in March 2023. A total of 15 broadcaster applications and 45 student applications were received. The student applications were shortlisted and interviewed by a panel of representatives from Learning Waves and the industry. The successful graduates took up their placements in September and will showcase their work in February 2024.
Photo:
Sitting – Isabella Finn (Newstalk) Katelyn Galvin (Radio Kerry), side Dan Casey (Off the Ball), Darragh O'Connor (Shannonside)
Standing – Left to Right – Eoin Glackin (Ireland's Classic Hits), James Hanly (Clare FM), Caoimhe Killeen (Galway Bay FM), Steven Fox (Corks 96FM), David Seagrave (FM104), Michael Lavery (LMFM)


If you liked this story, we can email you more radio news and alerts. Just fill in the form below.