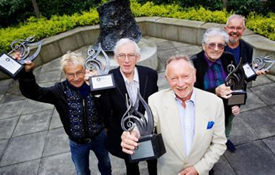 Six Irish songwriters and composers were inducted into the IMRO Academy at the IBI Radio Conference Dinner in Dublin this week.


Paul Brady, Phil Coulter, Pete St. John, Ray Harman, Shay Healy and Jimmy MacCarthy all had their contribution to Irish music acknowledged in front of an audience of radio professionals from all over the country.
The IMRO Academy's mission is to celebrate and mark the successes of Ireland's iconic songwriters and composers who have made a very significant cultural and social impact in Ireland and/or internationally.
Launched in 2011, Bill Whelan, best known as the composer of Riverdance and Brendan Graham, co-author of the song, 'You Raise Me Up' became the first inductees to the Academy. Both have contributed enormously to the recognition of Ireland across the world through their extensive music repertoire.
Of the awards Keith Donald, IMRO Chairman, states, "Once again the IMRO Academy is honouring songwriters and composers who are at the forefront of Ireland's great tradition of creativity. It is a very important ingredient in fostering our reputation of being a dynamic and culturally rich nation. The IMRO Academy shines a light on these iconic music creators who continue to inspire, entertain and make sense of the world in which we live".
"I am delighted to be part of this induction ceremony for some of Ireland's most successful and revered composers and I welcome this talented expansion of the IMRO Academy", added Bill Whelan.
"The songs and music of these six Irish songwriters have sailed far beyond the shores of Ireland. They have touched hearts, engaged emotions, and brought joy to people everywhere. Recorded by some of the greatest artistes of our times, they have been heard – and sung along to – by millions of people.
"They have climbed the pop charts, rocked stadia and brought Eurovision victory to Ireland. On our TV screens they have had us at the edge of our seats and they have become anthems helping us to win many a football and rugby match! They have also given us moments of reflection, of spiritual understanding, of insight into ourselves.
"By reaching into their own hearts these six, gifted crafters of song have touched our hearts. Ireland and the world are the richer for what they have given us and tonight we, their fellow songwriters, salute and honour their gift… and its gifting", added Brendan Graham.
The induction ceremony coincided with the IMRO sponsored Independent Broadcasters of Ireland (IBI) annual conference dinner which took place Monday night in the Conrad Hotel. During the ceremony, all six recipients performed a selection of their songs.


If you liked this story, we can email you more radio news and alerts. Just fill in the form below.