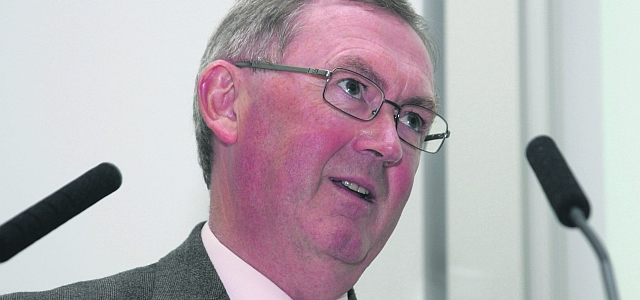 RTÉ News at One presenter Seán O'Rourke is taking over Pat Kenny's morning show as part of a new daytime schedule on RTÉ Radio 1.

In announcing the news this morning, Jim Jennings, Acting Managing Director of RTÉ Radio said the station has "a top-class new daytime line-up," and that "Radio 1's schedule was already strong. Now, it's even better."
Seán, who also presents The Week in Politics on RTÉ television will be on-air from 10am till 12pm from September 2nd.
Also, Claire Byrne joins Morning Ireland as one of the core presenting team, and will continue to present Saturday with Claire Byrne on Radio 1, and Prime Time on RTÉ One television.
Sean O'Rourke said: "It's 40 years ago next month since I began a lifelong love affair with journalism and I can honestly say I am as excited about this move as I was the first day I climbed the stairs in the Connacht Tribune in September 1973. I love radio and I love news. Friends and colleagues however will know me as a huge sports fan and an avid reader. Not only will we break news, drive the debate and analyse the stories of the day, we'll be getting stuck into much more than that. I hope people will come for the news and stay for the craic. Here's to September 2nd."
Miriam O'Callaghan says she has "hugely enjoyed the 9am slot on RTÉ Radio 1. I love radio and I love the 9am slot. I'm delighted to continue in the slot for the autumn and look forward to more really strong human interest stories." In the past weeks Miriam has conducted high-profile interviews with the parents of Donal Walsh, and with Praveen Halappanavar, in the 9am slot. Miriam will also return to her senior presenter role on RTÉ One's Prime Time in September. RTÉ confirmed that John Murray will return in the coming months.
Aine Lawlor and Richard Crowley will alternate as presenters of RTÉ Radio 1's News at One, with Aine Lawlor also hosting The Week in Politics on RTÉ One television. Speaking today, Aine said: "I'm swapping breakfast for lunchtime and relishing the challenge of a solo gig. The lunchtime news on radio is the peak of the current-affairs day, and it's an honour to be at the very heart of the Radio 1 schedule."
Richard Crowley welcomed the move to one o'clock: "Lunchtime news is a natural appointment to listen for hundreds of thousands of people all over the country. It's one of the most challenging programmes on Irish radio and also one of the most exciting to present."
Jim Jennings said: "This is a hugely strong schedule for RTÉ Radio 1. Sean O'Rourke, multiple winner of PPI News Journalist of Year, is Ireland's foremost news and current affairs presenter. Sharp, insightful and fair, Sean progresses the news agenda like no other presenter. Now listeners will get the Sean they know, and much more. A massive sports fan, a keen reader, Sean will showcase the best of what listeners love about the Today show. We are intent on holding and building listeners in this key slot; with Sean O'Rourke, listeners have an easy choice to make in staying with Radio 1.
We're honoured to have Miriam O'Callaghan continue for the autumn on Radio 1, and we look forward to welcoming John Murray back in due course. Miriam joins Claire Byrne, Rachael English, Mary Wilson and of course Aine Lawlor in the daytime Radio 1 schedule. Truly, the women are on air.
Irish listeners can now be assured of the very finest journalism, and the very best presenters, on Ireland's number one radio station."
The new schedule is as follows:
7.00-9.00am: Claire Byrne is announced as new co-presenter of Ireland's number one radio show, Morning Ireland, joining Rachael English, Gavin Jennings and Cathal MacCoille.
9.00-10.00am: Miriam O'Callaghan will continue to present the key 9am slot for the autumn.
10.00-12.00pm: Sean O'Rourke has been named as the new presenter of the Today programme.
12.00-1.00pm: Ronan Collins will continue to present Ireland's number one lunchtime music show.
1.00-1.45pm: Richard Crowley and Aine Lawlor are announced as alternating presenters on RTÉ's flagship lunchtime radio news programme.
1.45-3.00pm: Joe Duffy presents Liveline, Ireland's second most-listened-to radio programme.
3.00-4.30pm: Derek Mooney presents the nation's biggest afternoon radio show
4.30pm-7.00pm: Mary Wilson presents Ireland's number one drivetime radio programme.


If you liked this story, we can email you more radio news and alerts. Just fill in the form below.