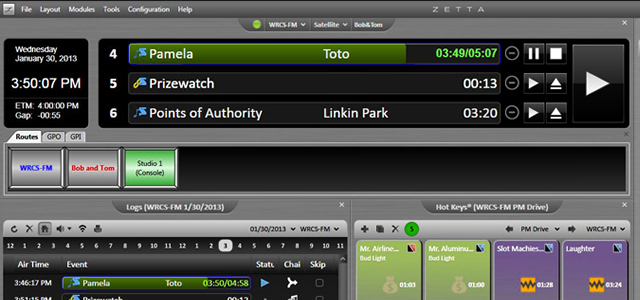 iRadio has upgraded its radio playout system to Zetta – the latest software from worldwide radio company RCS.
Leigh Doyle, iRadio Group Programme Director is thrilled with the station's new addition. "Zetta is just what we needed for our studio environment. Up to date, slick and powerful – just what a station like iRadio needs!
"And the staff has picked up on using the program straight off, something that rarely happens with a new software system in a high stress, fast paced station."
The station previously used Master Control but Leigh told RadioToday that Zetta is better: "Zetta is much more flexible than master control and the presenter has a lot more control over certain elements. The interface is much less clunky and more fluid and the ability to customise the modules is great as each presenter can have their own on screen layout. One of the great strengths in Zetta is it's ability to continue to play even if the programme is closed accidentally. The audio will continue uninterrupted."
RCS President/CEO, Philippe Generali added, "We love hearing these experiences and success stories. Zetta is the most powerful playout system available and the features will continue to grow. We recently added Zetta2Go which is a suite of applications that lets you control Zetta from a smart phone or tablet. You can control what's on the air from any place with an Internet connection."
Leigh continued: "At iRadio we're very complex when it comes to the playout log. Our imaging moves on just as frequently as the music so it's vital that we have a fast and flexible system to work with each day."


If you liked this story, we can email you more radio news and alerts. Just fill in the form below.