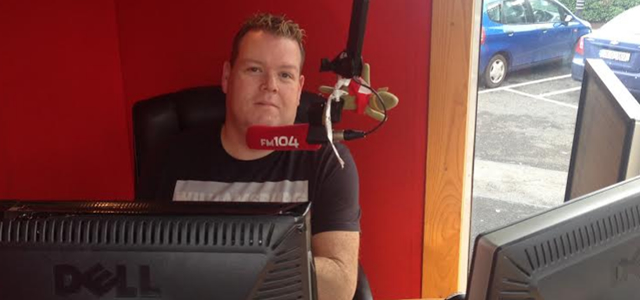 The RadioToday Q&A spotlight turns to FM104 as we pose a few questions to daytime presenter Andy Preston – as he says what he really thinks of his boss and reveals he's about to be a dad – again!
How would you describe your first radio gig?
If that old cliché "you're only as good as your last gig" were true, I'd have been banished from the business on that very first day. It occurred on August 4th 1987 on a small Dublin pirate station called Radio Diamond and I was AWFUL ! But, the adrenaline rush I experienced on that first day convinced me that a career in radio was for me.
How would you describe the radio landscape in your area?
There's only one word to describe it – competitive. When I first joined the 'legal' radio sector in 1995, my first observation was of how cutthroat the business was. I know that exists in every walk of life but it just seemed far more prominent in the world of radio. The business world reminds us constantly of how fragile our situation is, especially now with the financial difficulties the country has gone through in the last five years and the fight for every advertising contract and market share point has become stronger than ever.
What makes your station unique? How would you compare it to other stations you've worked at?
It's impossible to compare FM104 to the stations I worked on in the past. I went straight from the pirates to here and have remained since 1995. I don't suffer from a sore neck these days, thanks to the fact that I no longer have to look over my shoulder every few minutes in anticipation of a raiding party. The most unique thing about FM104 in 2013 is that it remains very much the same as it has been for the last few years – consistent. Very little in terms of programming has changed and I think that serves as a comfort for our listeners. They know what they are going to get when they switch on and that shows in time spent listening. They maintain a certain loyalty to us throughout the day and long may it continue.
"Local local local" has always been radio's mantra. How do you keep your station visible and involved in the community?
Whether it be via sound or vision, I have to give credit to our marketing and programming management teams for keeping us 'out there'. Our Roadhog is one of the most impressive outside broadcast units in the world, never mind Ireland ! We recently took delivery of four shiny new VW Beetles to replace our old fleet of Alfa Mito's and they look amazing. So visually we could not be any brighter than we are currently and hopefully we are complementing our look with our on air product to the community of Dublin. What I have found since I moved from Dublin to Kildare is how just something as simple as mentioning a road for instance can immediately create a more intimate listening experience for the listener, the type a national station could never emulate. I know this from listening to my own local station, KFM – a fine example of local radio at work combining a community feel with a broad spectrum of programming. I actually get excited when I am in the car and I hear my area of Newbridge mentioned. It's something that has made me all the more aware of the importance of local radio and I will always try to accommodate a request for a mention for a local event or make sure to mention the area a winner of a competition comes from. It may seem trivial but it's the area we are serving so embrace it.
What is your favorite part of the job?
Just doing it, it's that simple. I never forget to remind myself of how lucky I am to be doing what I am doing and I am reminded of it every time I step into the studio. And I just hope the listener gets at least a little of the satisfaction I get out of it, be that through winning a competition or hearing their favourite song. It's easy to get bogged down in the politics of the business but that is of no interest to the listener, give them what they want and if I'm doing that then I can't ask for any more.
What's the coolest promotion you've been involved with recently?
Our recent 'Rock, Shop And Drop' had one of the best prizes we have had in a long time. The prize was divided into three parts ; VIP tickets to see Bruno Mars in concert with hotel stay and limo to Dublin Airport the following morning to catch a business class flight to Dubai with 5K to spend. The final part of the prize was a trip to Sidney, Australia to swim with the sharks. If you survived, you got 2,000 dollars to spend. I never did follow it up to see if the winner survived…
What's the coolest promotion you've EVER been involved with?
The one that stands out for me is 'The Joker'. Around late 2002, our main competitor in Dublin 98FM, launched 'The Fugitive' – a competition familiar to radio listeners worldwide. It was a huge success and we bit our fingernails anxiously as we awaited the figures in the aftermath of the competition and, as we expected we lost our peanuts. How would we get back to where we were ? Well, we copied them ! 'The Joker' was put together with more or less the same mechanics that were used for 98's 'Fugitive' – give clues as to where 'The Joker' was and put a bounty on his head. The prize fund on offer was One Million Euro but on reflection, I don't think we gave away anything even close to that amount. The best part of it was that on Friday's for the duration of the competition, we did something different. The most memorable for me was the day the Boss went up in a helicopter and dropped something like ten grand over a housing estate in Tallaght, Dublin. After picking up the on air clues, thousands of listeners arrived at Tymon North Park as the chase for the money reached fever pitch. One listener called in to complain about some guy stealing his ladder to get up on the roof of his house to grab a wad of twenty and fifty euro notes ! I put the call on air and couldn't stop laughing at the poor guy, he was livid ! How I would love to do something like that again.
What artist would we be surprised to find on your iPod?
Anybody who knows me wouldn't raise an eyebrow at any of the choices on my iPod. I have such a rich and varied music taste that to me, at least, nothing stands out. Although, as a lifelong Tottenham supporter, the sight of Alex Ferguson's latest 'autobiography' in audiobook form would probably startle or possible infuriate one or two…
What's one thing that would surprise many people to learn about you?
That I am due to become a Dad – again – around early May next year. It's so much easier doing it this way than telling everybody individually so thanks for the opportunity !
If you could add one full-time position to your station's budget right now, what would it be?
Another production engineer, our Pat does way too much on his own !
Who is your favorite radio personality not on your staff and why do you like them?
When ever I am off I will always make an effort to listen to K.C on Today FM. I'm very fussy when it comes to radio listening and it takes a special individual to hook me in for a few hours listening – K.C is the one who makes me do just that. He is on air very much as he is in real life, an ordinary decent family man. I like that. He worked here briefly but I knew he was one of those destined to fly and make his mark elsewhere and I am delighted to see that just that has happened for him.
What was your favorite station to listen to when you were a kid?
The cliché for anybody around my age in the business is to say the original Radio Nova but it may shock some to hear that I didn't particularly like Nova. The first station I really loved was Sunshine 101. I loved the fact that at any point during the day I could switch on and hear a song that I really liked. I stumbled upon it while they were going through their various different 'phases' at the beginning of the Bill Cunningham 'hot hits' era, when they were running non stop music with no presenters over Christmas 1986 – I thought that was brilliant ! I was such a fan of the station that I went to the last staff reunion in 2008 at the invitation of the late Tony Dixon. I had met the station owner Robbie Robinson a few times in the past as I always made a point of calling to visit him whenever I visited Lanzarote but when he turned to me at the reunion and said "had you been old enough at the time, you could have worked for Sunshine". It's one of the nicest things anybody has ever said to me.
Do you have a favorite hobby outside of radio?
About a year ago I took out a gym membership. I have struggled with my weight since I was a kid and with 40 just around the corner for me, I decided that I would like to be a little thinner and fitter in middle age. And against all expectations, I loved it ! I fell in love with it even more during the summer and loved nothing better than rising at six in the morning for a gym session. As the darker mornings and evenings approached it became more difficult to maintain the interest but I am trying. I just need to try harder ! Aside from that my family – which as I already mentioned is expanding- take up all of my spare time. And there is no greater joy for me in life than being in the company of my children.
What is it about our industry that keeps you wanting to do it for a living?
This may sound like I am wearing my heart on my sleeve but I really think that a part of me would die if I were no longer involved in the business. I really don't know where my future in the business lies, be that on air or management. Ideally I would like it to be both but I'll be happy as long as I am in there somewhere. I'm also past the point in my life when all of my money goes on useless gadgets and over-priced cars, I have a family to feed so finding myself out of work is not an option !
What is the one truth that has held constant throughout your career?
That it's not about me, it's about the listener.
What advice you would give people new to the business?
Patience, patience and more patience. I have seen some very fine individuals work their backsides off over the years only to be cruelly cast aside by the stations they were involved with when the figures expected didn't materialize. It's a cruel, cruel business with many casualties but I had faith and I really think that that's what saw me through.
What is the current state of the radio 'talent pool'? Sorely lacking, would be my opinion. There's very few knocking on the door looking for opportunities these days and I find that worrying. When I started out here in 1995, there was a huge pool of up and coming talent knocking on the door waiting to get in. Where have they gone ? I noticed the tide turning around the mid noughties when management here at 104 found it increasingly difficult to fill part time positions. Live work was plentiful at the time and I suppose many were questioning what the point was in doing an overnight shift here at the weekend when you could get a few hundred quid for doing a few hours in a bar or club. If it had been me in that position I would have chosen the radio gig, no question. The Celtic Tiger years made people greedy though and people used to laugh at me when I told them that I used to pay to work on some of the pirates in my early days. Some are unwilling to fall in behind a stations' format and leave their ego at the door. "Why should I join a station that wants me to follow a playlist and not waffle on ad-nauseam about whatever the hell I like" is the attitude of some and of course, there's one or two who are very good at that. It's the pretenders to that style of radio who make me cringe.
What ringtone do you have on your mobile?
Just the same boring one that every iPhone user has – composed by Adam' Owl City' Young, from what I hear. There's a link in there !
What's the best sweeper/liner you've ever heard?
"If it's your first time don't worry, we'll be gentle. Long Wave Radio Atlantic 252" Many attempted to copy their innuendo laden liners, but failed.
What was your last non-industry job?
I worked for a furniture and bedding shop called Bargaintown in Dublin. I thought that I was going to be promoted to their section 23 apartment outfitting department but instead was fired ! Turned out to be a blessing in disguise.
What's the biggest gaffe you've made on air?
Referring to Slovakia as a Czechoslovakia around the time Slovakia were due to play Ireland in a friendly match. I got some well deserved abuse for that !
Tell us a secret nobody else knows!
Dave Kelly (my boss) is actually a really nice guy !


If you liked this story, we can email you more radio news from Ireland and the UK each weekday afternoon direct to your inbox. Just add your details below for "24 Hours in Radio - UK and Ireland":