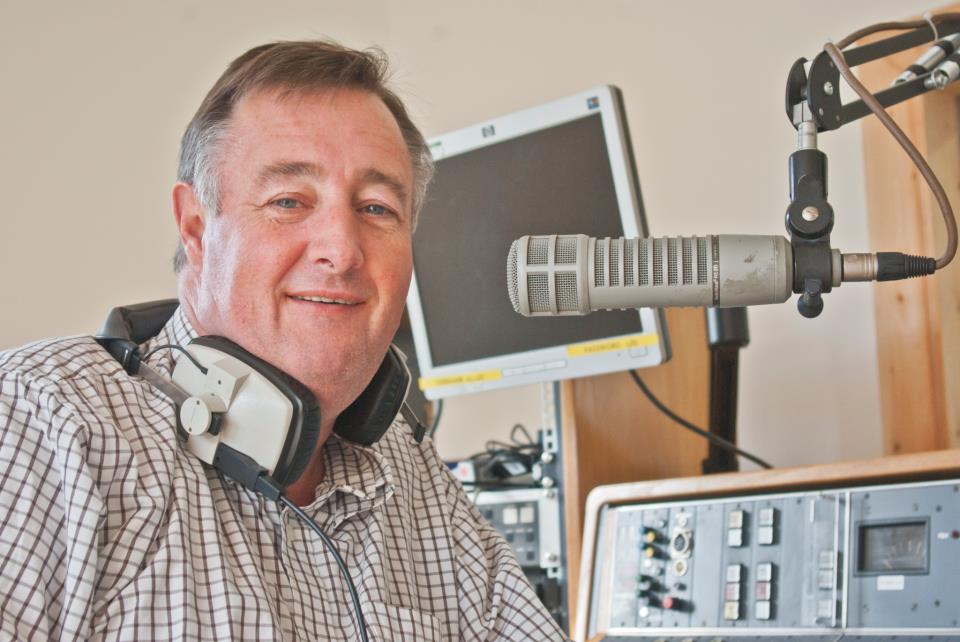 Irish broadcaster and radio programmer Hugh Browne passed away yesterday morning around 10am at St. James' Hospital in Dublin following a very short illness.

His death has come as a shock to many people in Irish Radio as he had been quite active and working right up until a few weeks ago when he had been admitted to hospital for some routine tests.
Hugh started in the 70's with stations like the Dublin Pirate "The Big D". In the early 80's his skills were endorsed when he was hired by Chris Cary to work at Ireland's Superpirate Radio Nova during the peak period of its popularity in the early 1980s.
His career spanned four decades and he was well known to many in radio in Ireland and overseas.
In 1982 he went to Cork to work with Don Stevens, the late Keith York, Tony Allan, Henry Owens (Condon) aka Alan Reed, Ken O'Sullivan, Andrew Hewkin, Siobhan Walls and many more top names in Irish Radio in setting up South Coast Radio 194MW / 104FM.
Ken O'Sullivan the broadcaster who started out on his career in radio with South Coast Radio in Cork, and is now on the air at Henry O'Donovan's Bond iTunes and LMFM wrote to RadioToday with these words about his long-time friend and colleague: "It is with great sadness that I heard the news this evening of the passing of Hugh Browne".
Steve Marshall at Radio Nova International in Spain wrote to us: "I knew Hugh from his days at South Coast Radio in Cork and I also had the honour of working with him for a brief common period at that station. He was a consummate professional, meticulous in preparation and yet delivered with the casual laid back and relaxed style for which he was famous.
"I re-connected with Hugh on Facebook a few years ago and it was he who told me the sad news of the passing of our mutual friend and colleague Keith York on Christmas Day 2010. Hugh and I joined with many of Keith's former colleagues for a wonderful evening of remembrance some months later and we shared dozens of happy memories of South Coast's halcyon days, the many highs, the few lows, the pranks, the fun and the wonderful music of the era. It was a memorable night and one I will always treasure, now even more so because it was the last time I met Hugh even though we had been in touch up to very recently. We had made plans to work together on some projects that will now sadly proceed without Hugh but who will be part of them in spirit. His family are in my thoughts and prayers at this sad time.
"The Irish radio industry has taken a bit of a battering in recent years with the loss of giants like Tony Allan, Keith York, Chris Carey, Bob Gallico and Henry Owens. Now another broadcasting legend joins the galaxy of stars on Heaven FM with the untimely loss of our dear friend Hugh Browne. Rest in peace Hugh and God bless."
Joe King Managing Director of BTS writes: "It's with the deepest heartfelt sadness that I learned of the very untimely passing of one of the nicest people I ever had the pleasure of knowing in radio over the past 25 years, Hugh was truly a pure gentleman with a warm heart and generous spirit and a most talented presenter, truly one of a kind, I offer my deepest condolences to his family, may they find some comfort in knowing how respected and loved Hugh was to so many people, RIP Hugh."
PJ Coogan of Cork's 96FM said today to RadioToday: "When I started in radio, Hugh was working for the original South Coast in Cork. I looked up to guys like him – he was the genuine article. Over the years we met a fair few times and he would always ask how things were in Cork. He went from South Coast onto ERI and I heard him on air for the first time in years on Christmas FM. He still sounded like he was thoroughly enjoying himself – which of course he was. A genuinely nice guy, with a great talent and love for his work. May he Rest in Peace."
Hugh later went on to work at Radio ERI Cork where he presented a very popular Irish Music Programme, then onwards to RTE Television where used his vocal skills as a continuity announcer.
He was involved with many new ILR start-ups across Ireland in 1989 including Northern Sound and was involved in several other successful licence applications as often the position of Launch Director / Launch PD on stations still around today and licensed by the BAI.
In the mid 1990s Hugh was Programme Director of Ger Madden's Radio Limerick One / RLO 95FM where he worked with people like Pamela Wilson and Tony Gallagher.
In the late 90s / early '00s Hugh was appointed as CEO and Programme Director of the now defunct CKR FM where he appointed Keith York as Chief Engineer and air personality as well as Tommy Mc Cabe.
Tommy spoke to RadioToday.ie this morning and he said: "I paid Hugh a visit in St. James' just two weeks ago. Hugh was still full of life and wanted to talk about radio and a licence application we had been working on. When I was at CKR there was a change in management and Hugh arrived to run the station, he then saw this as an opportunity to put together a great team with people like Keith York and himself. We were one of the first stations to use proper radio automation software in the country. Hugh had a great deal of experience in radio having already worked at Original Nova and South Coast in Cork. It was a pleasure to work with him, I don't think I ever once saw him get angry or use bad language at all; he was a real Gentleman of broadcasting and a pleasure to work with. I would consider Hugh a personal friend like Yorkie was and I'm devastated by this news. Our last project was the application for a radio licence from the BAI."
Hugh, together with David Harvey who is now on air at 4FM, setup Star Broadcasting Ltd. Trading as Dublin's Country 106.8 (now Sunshine 106.8) in October 2001 again working with Keith York aka Yorkie in the background on his engineering setup for the newly BAI licensed Specialist Licence Country Music Station for Dublin City and County.
Steven Keogh Programme Director KFM writes: "I've known Hugh for about 20 years and was very saddened to learn of his death. We worked together on two occasions, back in the CKR days, and at the launch of Dublin's Country.
I loved his 'school of radio' with CKR in the 90's… It was no nonsense, tight, personality driven, 'shut up and play the hits' radio! He was a no bullshit type of boss – I remember when we first met at a hotel in Carlow and straight up, he offered me CKR Breakfast…. I was presenting breakfast on Radio 3 at the time – he said he liked the show, and wanted me on board. I didn't take long to accept!
"We kept in touch after I left CKR, and once I learnt of Hugh's involvement with an American Country music station for Dublin, I expressed my interest in working with him again.
"Hugh gave me my first management experience at Dublin's Country 106.8, and for that I will be forever grateful. Granted, we both had misguided aspirations of converting a large number of Dubliners into American Country music, but we had fun trying!!
"The market simply wasn't there, and our involvement lasted less than a year. The music was fabulous in the early days and I'm positive our output would have been a winner in any US city – unfortunately not Dublin!
"Those days with Hugh, Dave Dennehy, Bob Conway, Gerry Wilson and gang, will always remain as one of my favourite times in radio!
"Hugh was a true gentleman, a broadcasting professional, always had a positive outlook and had a wonderful sense of humour. Rest in peace Hugh. My deepest sympathies to your family"
Hugh was also heard on prime shows at Charity station Christmas FM all over Ireland over the last few years every Christmas.
Sean Ashmore CEO of Classic Hits 4FM told Radio Today.ie "Hugh was a founding Director of Sunshine 106.8 and remained exceptionally supportive of the station over the past 12 years. He was a radio guy through and through and will certainly be missed.
"He was a talented Live DJ and ran his own PR Company too which kept him busy when not running stations or off the mic.
"In summer 2013 Hugh setup the BAI temporary licensed community radio station for Bagenalstown, County Carlow where he had lived with his wife Penny and his family over the last 15 years or more. It was called River FM – Bagenalstown Festival Radio."
Angela Breen the singer writes to RadioToday: "My stage name is Morgin Breen, which Hugh created. I met Hugh about 25 years ago in Northern Sound radio in Monaghan. We became friends for the time he was there. Then I met up with him a couple of years ago. I had sent him an original song called "Never Knew". I moved to Dublin and we met up regularly at his home with Penny and Callum. He introduced me to a producer called Brian Sheil from Carlow and we recorded two songs which he was going to release when he got out of hospital, which unfortunately he never got out. I saw him last Friday and his last words to me were "I won't go without making you a star, don't worry" I told him to never mind that and just get well. I wanted to tell you my story because he had such faith in me and gave me my confidence back after I gave up singing for a long time. He was going to call in favours in radio land. He had a lot of plans for me. We were great friends. I will always love him and miss him so much. He was a true gent."
Aside from his love for radio, Hugh took an interest in the finer things in life from Horse Racing to being a connoisseur of fine international cuisine to going on Sunday afternoon runs across Ireland in his Classic Triumph Stag. He was one of radio's Gentlemen and will be remembered as so by anyone he worked with in his forty year career.
Rest in Peace Hugh from all at RadioToday.ie. Our thoughts go out to wife Penny and children at this most difficult time. You will be remembered and honoured for many years to come.
– Enda Caldwell


If you liked this story, we can email you more radio news and alerts. Just fill in the form below.