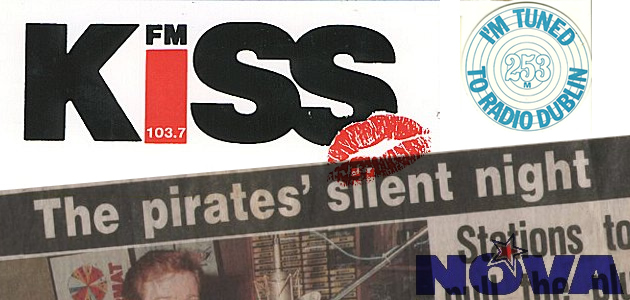 A number of pirate radio stations closed 25 years ago today and tomorrow, including WABC in Donegal and Sunshine in Dublin as the new broadcasting wireless and telegraphy act was introduced.
The super pirates KISS, Q102, Radio Dublin, Sunshine Radio, Radio West, ABC, Coast 103 and more were silenced as the then Minister for Communications Ray Burke introduced new legislation aimed at suppressing the stations.
So what's the best way to mark the 25th anniversary? How about a radio station which has popped up on 88.1 FM in Dublin playing "anorak material". Also, the world's only non-stop jingles radio station JingleMad Radio is playing back to back jingles from radio stations in Ireland past and present till midnight Tuesday. Have a listen over at JingleMadRadio.com or on Tune In.
Here are some images from RadioWaves:
Here are details of just a few radio stations which closed, thanks to RadioWaves:
Q102 launched at 7pm on Wednesday 23rd January 1985 with some familiar voices…notably from Radio Nova. It later rebranded as "Super Q" and officially ceased broadcasting at 6pm on the 30th December 1988 in compliance with the new .
WABC RADIO, from Donegal ceased broadcasting at 4pm on the 30th December 1988 in compliance with new legislation. However they returned to air following the introduction of the Broadcasting Act.
Sunshine Radio was established on September 15th 1980 by Robbie Dale and Chris Cary, two major names from the UK pirate scene. The two spotted the potential to set up a major independent station in Dublin following a tv documentary on the blossoming local pirate scene. It ceased broadcasting at 6pm today, 25 years ago.
Operated by David Heffernan, WKLR – West Cork Local Radio – closed at midnight on 30th December 1988 to comply with the new Broadcasting Act.
In Waterford, WLR made its first official broadcast from Rick Whelan's (station director) garage in Butlerstown on June 23rd 1978. The station went from strength to strength over the years but was forced to close at 6pm on December 31st 1988. KISS FM from Monaghan also ceased broadcasting at the same time.
Listen to audio from some of the closedowns over at radiowaves.fm.
What are your memories of December 1988? Let us know in the comments.


If you liked this story, we can email you more radio news and alerts. Just fill in the form below.