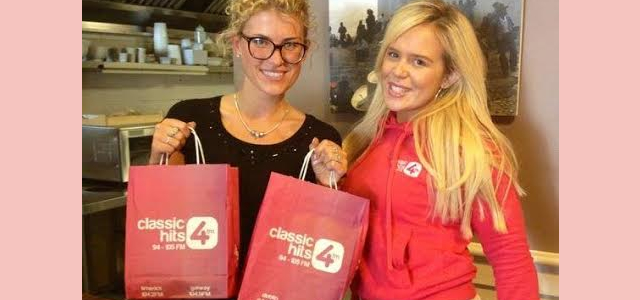 Claire started off as a receptionist at Newstalk 106-108 and has worked her way up, via Spin and Dublin City FM, to newsreader on Classic Hits 4fm. Now Claire takes the RadioToday Q&A challenge.
Tell us about you..
My career in radio started in Newstalk 106-108 where I started off as their receptionist. I learnt a lot during that period, as everyone in radio knows people tell the receptionist everything!! You also get an understanding of how every department slots into each other to make a beautiful thing called radio. Doing other mundane things too, like bringing George Hook his post, making tea for Brian Cowen and having a sing song with Johnny Cash's brother soon after I started with Newstalk, the very lovely Tracy Clifford (Fully Charged Spin 1038) approached me about weekend news cover; I jumped at the chance and for about 2 years… I worked Mon to Fri in Newstalk and Sat (Sometimes Sunday too) at Spin tower.
Did I mention I had a 3 year old at the time too?? Yep busy busy but very fun times. I then moved on to Spin full time, it was a fantastic experience being involved in such a growth period for them as a station. After that I went back to college to do some fitness diplomas and did some independent shows for Dublin City FM, and then got approached by Declan Pierce to come get involved with Classic Hits 4fm.
How would you describe your first radio gig?
Varied, The fabulous Elaine Geraghty hired me as front of house in Newstalk.
What led you to a career in radio?
I love music, I like to talk and I like to make people happy.
How would you describe the radio landscape in your market?
Healthy, thriving and ready to engage with strong product like Classic Hits 4fm.
What makes your station unique? How would you compare it to other stations you've worked at?
No one else does what we do so well 🙂
Are you wearing more "hats" than you have in the past?
Yes, but luckily I like hats so that's ok.
What is your favorite part of the job?
The diversity & making people happy.
What is the most challenging part of the job?
Budget constraints. Same as everywhere!
What's the coolest promotion you've been involved with recently?
We do regular listener parties; these are always a huge hit and give everyone the chance to meet face to face.
What artist would we be surprised to find on your iPod?
NWA.
What's one thing that would surprise many people to learn about you?
I'm a very talented tin whistle player.
If you could add one full-time position to your budget right now, what would it be?
A big strong man to help us carry round our promo gear!
Who is your favorite air personality not on your staff and why do you like them?
Becki Miller Spin 1038…warm, likeable and easy to listen to.
Who would be a "dream guest" to have on your show?
I'm obsessed with Holly Willoughby. It would have to be afternoon tea and chats with her.
What was your favorite station to listen to when you were a kid?
Sara Cox on BBC Radio 1.
Looking back, which years hold the best musical memories for you and who were your favorite acts at that time?
Nineties…Armand Van Helden, Blur, Blackstreet great era for music.
Do you have a favorite hobby outside of radio?
Working out!
What is it about our industry that keeps you wanting to do it for a living?
The diversity, I love music and its really good fun!
What is the one truth that has held constant throughout your career?
Be nice to EVERYONE the guy who's on work experience right now could one day be your boss…
What advice you would give people new to the business?
Show up and bring your A-game…everyday.
What would you like to do to save radio from its "dying-industry" image?
Radio, will never die only evolve. With more choice and even better content. Its important stations connect strongly to their listener, and that the bond is nurtured with lots of interaction no listeners no station…
And finally tell us a radio secret that no-one else knows…
I once called straight "sets" straight "sex" during Wimbledon facepalm!!


If you liked this story, we can email you more radio news and alerts. Just fill in the form below.