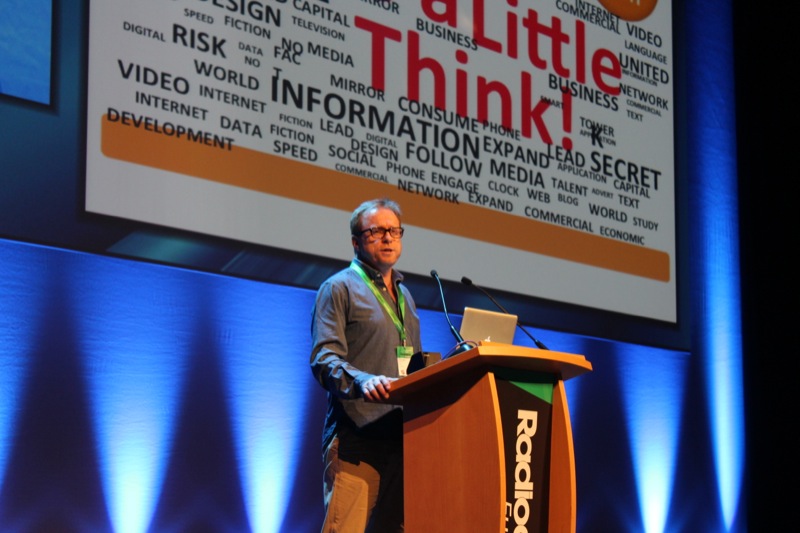 Programme Directors from four radio stations took to the stage at RadioDays Europe this morning to promote their radio brands to hundreds of radio delegates.
2fm boss Dan Healy opened with a photo of himself and the line "Ireland's biggest idiot" in reference to the changes he's making at the station.
He said five years ago Gerry Ryan passed away and so did the station. "I believe you have to destroy the radio station to rebuild it," Dan said. "I've no pension so this better work," he joked.
Dan made reference to the amount of press attention the radio station has had in the last six weeks, confirming the interest in the medium is alive and well.
"This is just the beginning," Dan confirmed as he ended his speech.
Also, Gabrielle Cummins from Beat 102-103 talked about the success of the station, saying the regional aspect of the station continues to be important, and that the future is bright for regional and local radio.
Dave Kelly from UTV explained how FM104 has dominated Dublin for over a decade. "We believe in building brands within brands," he says referring to the Strawberry Alarm Clock. "Most importantly we don't copy our competitors. We recently lost our talk show hosts – they were taken by the gentleman over there!" Pointing to Liam Thompson from Communicorp.
Liam talked about Today FM, saying weekends were important to the station. He's leaving the company soon to take up a new position as Content Controller at Magic 105.4 in London. Talking to RadioToday afterwards he said he's looking foward to his new job as "there's only so much you can do in the Irish market" and that he wasn't too worried about the new Smooth Radio taking over Magic anytime soon in the ratings which has a new breakfast show today.
Host Nik Goodman asked Dan Healy if 2fm signed Nicky Byrne because he was in Westlife, or because he was really good on the radio. He avoided the question but said they look for great personalities who can deliver great content.
Liam Thompson said sometimes there is a confusion between famous people and talented people.
Hear our interviews with Dan Healy and Liam Thompson below:


If you liked this story, we can email you more radio news and alerts. Just fill in the form below.