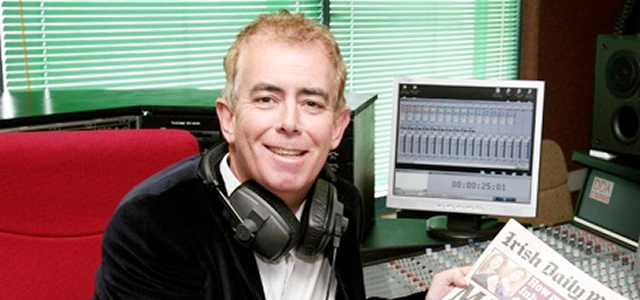 Keith Barry has sent out a public update on his Facebook page and Twitter slamming the 'unprofessionalism' he encountered when visiting Cork's Red FM this morning.
Brain Hacker Keith says he was refused his scheduled interview with new signing Neil Prendeville because he had just appeared on rival station Cork's 96FM chatting with PJ. Keith got told, whilst waiting in reception that "Neil doesn't want to interview him". He says he thought it was a wind-up at first, and said the producer seemed 'quite dumfounded' when delivering the news.
Keith wrote to his 78,000 Facebook fans and 50,000 Twitter followers explaining how he spent half the night preparing for the interview only to be refused a slot. He's now spreading the word around his 'showbiz friends' not to deal with the show. "Perhaps one day Neil will return to his professionalism and return back to Earth with a hard bump," he said.
The magician also refers to the Prendeville 'plane incident' from 2010 where the presenter apparently exposed himself on a flight – saying he was one of the people who supported him.
We've asked Red FM for a comment and will update this story shortly.
Here's the Tweet: Keithpbarry: Had a blast on @Corks96FM this morning.was supposed to be on @CorksRedFM but they rudely cancelled as Neil acting like a premadonna!
Here's the update in full from Facebook:
"Had a great gig in The Olympia last night.To promote my gigs in Cork May 7-11th I just drove 480km round trip to perform and chat on Cork's 96FM and Corks RedFM 104-106
I got home from The Olympia at 1am and worked up new demonstrations for both stations until 4.30am. I then left me house at 6.15am to be in Cork on time. Had an absolute blast on Cork's 96FM with PJ.
Then onto RedFm. Having been a professional entertainer for 15 years I have never met such unprofessionalism. Neil Prendeville, new to the station refused to have me on because I had just been on 96. I thought it was a wind-up at first as they had asked for no exclusivity and actually asked me 2 days prior to develop new material to perform on his fellow DJ KC which took me hours to do. These are hours I could have spent doing other things. It's interesting to me how Neil quickly forgot that I was one of his supporters during his 'unfortunate incident' and my manger sent an email of support from us to the station manager at the time.
The producer this morning seemed quite dumfounded, and Neil was not even courteous enough to face me himself. The reason I write this is not to whine – it's to warn other professionals away from amateurs like Neil as the same could happen to them when such egos are out of control.
I'm now off to quickly text my mates in showbiz and tell them to avoid his show as we don't have time for this nonsense. Perhaps one day Neil will return to his professionalism and return back to Earth with a hard bump. Now off to get ready for tonight's show in The Olympia – Game on."
Reaction on Twitter and Facebook includes: "In Neil's defense maybe he had just taken painkillers" and "You should have turned him into a chicken".


If you liked this story, we can email you more radio news and alerts. Just fill in the form below.