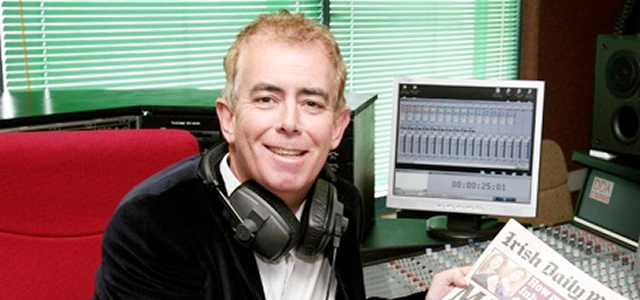 Neil Prendeville has taken 15 minutes out of his show today to explain the 'whole story' behind what happened when he refused Keith Barry as a guest.
"I refused to comment to all newspapers as it only concerns you the Cork listening public," he said. I didn't want to get in to a newspapers tit for tat battle with Keith. I've lived in fear of newspapers for far too long."
Neil expressed his anger at the way Keith acted on the morning of the event. "Keith was cancelled via a phone call before he arrived at the station. He was told this by his PR company but he still turned up, giving a false name to gain access and was a very very angry man here I can tell you. He repeatedly refused to give his car reg for security clearance and he was very angry with the staff.
"One of them was a young girl who didn't know who he was and was very upset and shaken, and she didn't deserve to be treated that way. Keith if you are listening to this you should find out her name and be man enough to apologise to her. What did she ever do to you?," Neil said.
Neil claims Keith threatened to tell the world about his cancellation on Twitter, saying: "If I don't get on-air I'm going to annihilate you all on Twitter – the shit is going to hit the fan on twitter," he said.
Neil explained that, over the years, he's had many radio chats and even a TV interview with Keith, and on this occasion it was agreed weeks in advance for Keith to come on the show. He says it was never mentioned that Keith would appear on 96fm an hour earlier with the same style interview. "I'm not the mindreader so I didn't know this" he said.
"It's silly to do the same interview within the same hour and I would have suggested to do one now and another at a later date," he said.
"It wouldn't happen in Dublin and Cork does not deserve to be treated like some kind of back water.
"I don't want to be doing the same radio as 96fm – we will have to share stories and callers but we certainly don't have to share pre-arranged celebrity guests. 96fm knows this because they cancelled Jon Kenny from the d'Unbelievables by phone when they heard he was on Red FM. "
Keith Barry slated Neil for not coming out of the studio to face him after he was cancelled – to which Neil explains "I was on-air – I was talking to callers," he said. Would Keith Barry walk off the stage to talk to someone during his magic show?"
"These are the facts. You can make up your own minds," he said. He ended his rant advising listeners to buy his DVDs and see his shows.


If you liked this story, we can email you more radio news and alerts. Just fill in the form below.