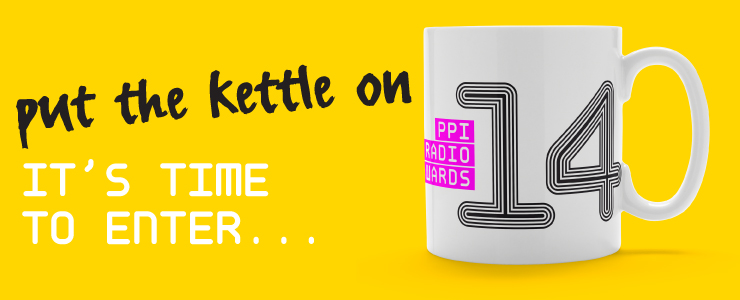 Four radio professionals have been inducted into the PPI Radio Awards Hall of Fame for 2014.
They are Paul Claffey from Mid West Radio, Tony Fenton from Today FM, Áine Lawlor from RTÉ Radio 1 and BBC Radio Ulster's Walter Love.
The PPI Radio Awards Committee welcomed the four new recipients at a ceremony today at the BAI offices in Dublin. Chosen by a group of their peers in the Irish radio industry, the inductees range from national to local radio broadcasters, all of whom are highly respected for their skill, passion for their jobs and their love for radio.
Sean Murtagh, PPI Radio Awards Committee Chairperson said, "We are delighted to induct Walter Love, Áine Lawlor, Paul Claffey and Tony Fenton into the PPI Radio Awards Hall of Fame. They rightfully take their place alongside the 14 other great Irish radio luminaries who have been honoured by their peers."
Michael O'Keeffe, CEO of the Broadcasting Authority of Ireland said "the BAI is delighted to be a part of this event, now in its 3rd year. We congratulate this year's inductees to the PPI Hall of Fame, all of whom have contributed to radio broadcasting in the island of Ireland over many years in both national and local radio".
Paul Claffey
Paul secured the first Radio licence for a local station outside Dublin, Midwest Radio, twenty five years ago. Speaking about Paul, Michael Hughes, Chairman Midwest Radio said: "A richly deserved award for a man who has given the west of Ireland a radio station that has its finger on the pulse. His ethos has always been "give people what they want – not what I think they want".
Tony Fenton
Tony has been on the afternoon show at Today FM for a decade. Chief Executive of Today FM, Peter McPartlin said "Those who have worked with Tony over the years know only too well the positivity that he exudes – it's a trait that not only inspires those who work with him, but also is something he manages to convey to his listeners. Tony Fenton does music radio like no-one else. He'll happily tell you it's not work. It's a love affair. Anyone who knows Tony has heard him mention on more than one occasion 'I love Radio'"
Áine Lawlor
Áine has been broadcasting on RTÉ Radio 1 since 1984. RTÉ Director-General Noel Curran paid tribute to her: "Áine is one of our most recognisable and valued voices. In that voice we hear both the highly experienced journalist – sharp, incisive and probing – but also the warmth of the person, and the ready humour that marks her unique style. Áine's familiarity follows from a long and successful career: 20 years as a presenter on Morning Ireland and News at One along with stints on The Marian Finucane Show, The Today Show, Today at 5 and RTÉ 2fm News. I'm delighted that Áine has been recognised with this prestigious honour."
Walter Love MBE
Walter has presented every shade and genre of programme including his beloved jazz since 1946. Peter Johnston, Director, BBC NI, says: "Walter is one of BBC Northern Ireland's longest serving and best loved presenters. His dulcet tones have entertained and informed our listeners on BBC Radio Ulster for decades. This award is a fitting recognition of the esteem in which he is held by all of us."
Fergus Keeling, Head of Radio, BBC NI, says: "Next year BBC Radio Ulster celebrates its 40th anniversary and Walter has been here since the beginning. He is a much loved and admired member of the BBC Radio Ulster family and a gentleman in the truest sense.
"Throughout his lengthy career he has worked across a range of programming – often in darker days of our history – with skill and poise. Jazz Club, his long-running specialist music programme which he both presents and produces, continues to be a jewel in our weekend schedule and his passion and encyclopedic knowledge of the genre is infectious.
"Walter is a pleasure to work with and to listen to and this recognition from the PPI is beyond well deserved. I am thrilled for him."
Previous Inductees of the PPI Radio Awards Hall of Fame are: Joe Duffy, Bill Golding, Liam O'Shea, Michéal Ó Muircheartaigh, Jimmy Magee, Marian Finucane, Des Whelan, Gay Byrne, Larry Gogan, Mario Rosenstock, Séan Bán Breathnach, Candy Devine, Ronan O'Rahilly and the late Gerry Ryan.


If you liked this story, we can email you more radio news and alerts. Just fill in the form below.