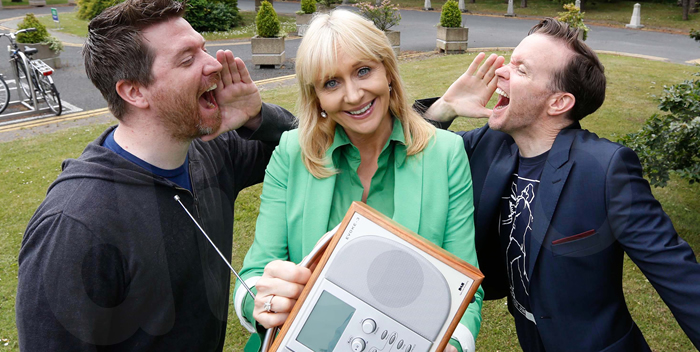 The Choose Radio message has started running once again across 36 radio stations today in a joint campaign by the IBI and RTÉ.
The theme of the sixth annual campaign is a "playful and imaginative take" on the much maligned T&Cs or terms and conditions which are a feature of every ad break on every radio station every day in Ireland.
Dan Healy, Commercial Director for RTÉ Radio said: "In a world of uncertainty, radio remains the great certainty whether on fm or digital platforms and this ad campaign proves from a creative point of view – everything is possible on radio."
Choose Radio says it encourages advertisers to invest in radio advertising by demonstrating its creativity, power and reach. It aims to convey the power and visual impact of radio through displaying what can be achieved with very little on-air time and a small budget.
It seeks to encourage media directors, media buyers and planners as well as key decision-makers such as managing directors, marketing and brand managers to invest in radio as an essential part of their marketing campaigns.
John Purcell, Chairman of the Independent Broadcasters of Ireland said "The digital revolution has further strengthened the traditionally huge power of radio by increasing the numbers of platforms on which radio is available and providing new ways for audiences to interact and react to their favourite stations. That as well as new features like "Playback" and "Rewind" are making the experience of listening to radio incredibly richer and deeper. Choose Radio is celebrating and highlighting that.
It is a fantastic opportunity for all in Irish radio both State owned and Independent to showcase the power of radio advertising. There is no other medium that is as cost effective, as flexible or as innovative as radio which is infinitely flexible, changeable and adaptable – that's what makes us so strong. Fiona Scott and her team at Boys and Girls have shown how the creative potential and the visual impact of radio can be achieved and how with some creative thinking there is no limit to what can be achieved from a radio advertisement."
The campaign was developed by Boys and Girls. Fiona Scott, CEO at Boys and Girls said: "Radio is a powerful medium – with almost 3 million listeners daily, meaning 9 out of 10 adults listen every day. However, as with any power, it must be handled responsibly. Brands have access to people's heads, and their work can leave a lasting impression. This campaign takes a funny look at the fallout from the power of radio, the people for whom it is simply too much. In a radio "mockumentary" we find sufferers of "The T's & C's", "The Hard-Sells" and even "The Jingles" and see how their lives and those of their loved ones have been affected. Written by Rory Hamilton and John Kilkenny at creative agency Boys and Girls, and produced by Mutiny."
36 radio stations will broadcast the Choose Radio promos three times a day for the duration of the two week campaign.
For more details see chooseradio.ie


If you liked this story, we can email you more radio news and alerts. Just fill in the form below.