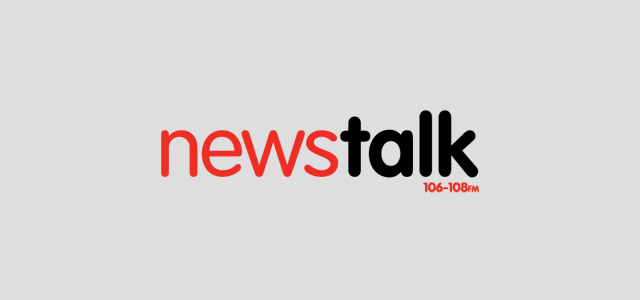 The latest reports on JNLR from around the stations
Newstalk continues to be Ireland's fastest growing national radio station with the latest JNLR results showing 672,000 weekly listeners.
The Communicorp station now reaches a record 376,000 listeners daily, and after twelve months The Pat Kenny Show has 143,000 listeners daily – an increase of 9,000 listeners book on book.
Gerard Whelan, Newstalk CEO, said: "We are delighted with today's JNLR results as they reinforce our position as Ireland's fastest growing national radio station. We've seen listener growth across the station, in particular Breakfast with Chris Donoghue and Ivan Yates, as well as The Pat Kenny Show continue on an upward trajectory."
TXFM is attracting a daily audience of 20,000 listeners and a weekly audience reach of 45,000, an increase of 5,000 listeners since the last survey results 3 months ago. Of that 45,000, 24,000 fall within the 15-34 year old age group.
Commenting on the latest figures, Peter McPartlin, CEO of TXFM, said " The response from fans in search of an alternative to the music mainstream, has been hugely encouraging. We didn't launch with any fanfare – we've just let our approach to great new music shine through. I'm proud of what we've achieved in such a short time."
Over at RTÉ, the state broadcaster keeps 51% of listeners with 1,843,000 adults listening to RTÉ radio every week – an increase of 5,000 this book. Radio 1 remains the only station with over a million listeners.
Commenting on the latest figures Jim Jennings, Managing Director, RTÉ Radio said: "Radio 1 is still the No.1 radio station in the country with all top 10 of the most listened to programmes in Ireland. There are some emerging trends in the radio sector that Radio 1 will pay attention to as we continue to develop our schedule. It is a very good day for Lyric FM as it continues to offer a real alternative to talk radio. The story for 2fm is encouraging and it's great to see Ryan Tubridy's impressive figures."
Tom McGuire, Head of Radio 1 says: "If you told me 12 months ago after we made major changes to our presenter schedule that we would continue to have such strong audience figures given the commercial radio world I would have been delighted. Today with Sean O'Rourke has delivered 295,000 listeners in a hugely competitive market which is a considerable achievement."
RTÉ Radio 1 weekly reach is over 400,000 ahead of its nearest national competitor. Morning Ireland remains the number 1 radio programme in Ireland with 429,000 listeners everyday.
Weekend Sport on RTÉ Radio 1 continues to score big with fans y-o-y as Sunday Sport increases 14,000 and Saturday Sport up 9,000
At 2FM, Breakfast Republic has dropped 11,000 listeners to 100,000 – the lowest in recent times for that slot.
The Tubridy Show delivers an audience of 171,000 listeners – up 27,000 – whilst Nicky Byrne with Jenny Greene sees 141,000 people listening each day.
Sport continues to be a big draw on RTÉ Radio as Game On receives an increase of 2,000 listeners b-o-b.
Commenting today, Head of RTÉ 2fm, Dan Healy said: "It's good to see the hard work invested in the schedule changes now bearing some fruit however we have a lot more work to do. I am particularly pleased for Ryan and his team who put enormous effort into the station over the past four years."
At Today FM, an extra 15,000 people are tuning in each week, taking the latest figure to 884,000.
Ian Dempsey has just shy of 200,000 listeners for breakfast and weekends saw a massive jump with 36,000 extra listeners on Saturday and Sunday – Alison Curtis, Phil Cawley and Colm O'Sullivan all made gains while Anton's Savage Sunday enjoyed a major boost once again with an increase of 17,000 listeners on the last book (now at 110,000).
Ray D'Arcy continues to dominate mid mornings against his competitors, with over 220,000 listeners tuning in to his 3 hour show, 50,000 ahead of 2FM's Ryan Tubridy.
The Last Word outperformed its drive time competitors among the core 25-44 audience with 104,000 choosing Matt Cooper's 4.30-7pm slot over The Right Hook (58,000) and Mary Wilson on Radio 1's Drivetime (43,000).
Today FM's CEO, Peter McPartlin said: "We continue to make gains in a very crowded market because I believe we don't take our listeners for granted – Today FM has been around for some time but every day we aim for something fresh, entertaining & stimulating that connects our audience and presenters."
The team at Today FM picked up the award for 'Full Service Station of the Year' at last month's PPI Awards.
And in Cork, more than two thirds of people in Cork city and county listen to Cork's 96FM and C103 each week. 272,000 (66%) of adults listen to the stations despite intense competition. JNLR this book shows the stations have a market share of 39.9%.
96FM & C103, Kieran McGeary said "These results prove the consistency of our product from early morning right across the day. Cork's 96FM & C103 continue to maintain our dominant position despite our increased competition both locally and nationally. We are totally committed to serving Cork and clearly Cork is committed to us".
The team at Sunshine are enjoying their 8th increase in a row this book. The station is up both with their daily and weekly figures. Sunshine 106.8 are now the only Dublin station to increase it's weekly listenership in the last eight radio survey's. General Manager Joe Harrington said,this is fantastic news and a real credit to our hard working team, we are really beginning to see huge momentum building and I have no doubt that the people of Dublin will continue to enjoy our output and will make Sunshine Dublin's new place to relax.
More reports as we analyse the data!


If you liked this story, we can email you more radio news and alerts. Just fill in the form below.