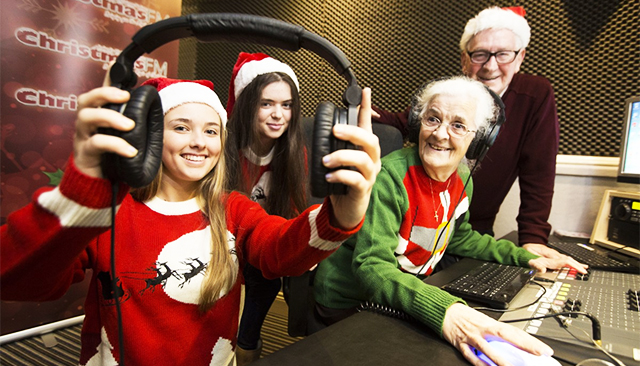 Popular charity radio station Christmas FM has announced that it exceeded its 2014 fundraising target, pulling in over €100,000 for their charity partner Age Action Ireland. 
Age Action promotes positive aging and better services and policies for older people across the country, and the station – which is run as a not-for-profit operation – says that the funds raised will go directly towards facilitating 30,000 home repair and maintenance jobs for vulnerable older people across Ireland as part of the charity's 'Care & Repair' programme.
This total means that, since 2008, Christmas FM has raised over €600,000 for charities including ISPCC, Barnardos, Simon, Focus Ireland and Aware.
The station's operating costs are covered by a sponsor each year, with 100% of donations going directly to their chosen charity partner. More than 100 volunteers gave their time for free in 2014, participating across the on-air production and promotion of the station, with each devoting between 20 and 50 hours of their time.
This is the seventh year in a row that Christmas FM has brought round-the-clock Christmas tunes and festive cheer to listeners in the run up to Christmas, with a larger FM presence year-on-year. Some of the famous faces to pop in and share their Christmas cheer in 2014, included singer Brian Kennedy, TV presenter Sile Seoige, actor Frank Kelly (AKA Fr. Jack Hackett from Father Ted), comedian Al Porter and Mrs. Browns Boys' actors Danny O'Carroll & Paddy Houlihan.
Commenting on the fundraising total, Walter Hegarty, co-founder of Christmas FM, said: "With over €100,000 donated, Christmas FM's listeners have yet again risen to the challenge and shown that the spirit of Christmas is alive and well in Ireland. Christmas FM seems to connect with the best in us and to work with nearly 100 other volunteers in bringing it to Ireland and around the world was a great privilege and a lot of fun."
Speaking for the charity partner, Age Action Ireland, their Head of Advocacy and Communications Eamon Timmins said: "We are blown away by the generosity of the Christmas FM listeners. Their donations means Age Action will be able to carry out 30,000 home visits and DIY jobs for older people in Ireland this year. This will enable more older people to continue to live with dignity and independence in their own homes."
Martin Kelleher, Managing Director of Centra – the station's sponsor for 2014, said: "Christmas FM really brings the spirit of Christmas to life through its festive music and the generosity of its volunteers and listeners. We at Centra were thrilled to sponsor the station for a second year in a row.  It was fantastic to work with Age Action who, like Centra, are part of communities right throughout the country. As part of our partnership Centra hosted a number of Christmas lunches at Age Action community centres throughout Ireland where we witnessed a real sense of festive community spirit."
It's expected that work will begin on planning 2015's Christmas FM broadcast soon. Those who wish to contribute or take part in the station in any way are encouraged to get in touch early to avoid disappointment.


If you liked this story, we can email you more radio news and alerts. Just fill in the form below.