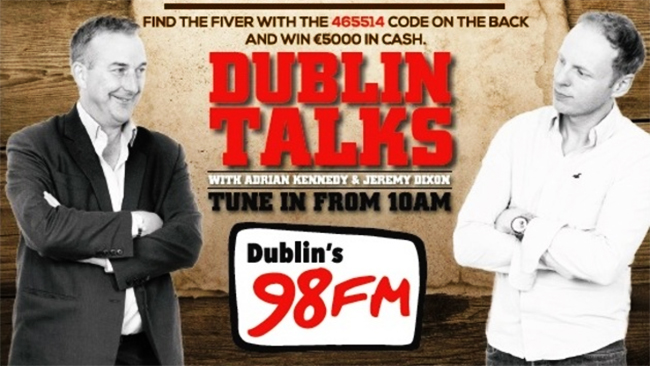 Daytime talk show "Dublin Talks" on Dublins 98FM, presented by Adrian Kennedy and Jeremy Dixon, is hoping to turn €5 into €5,000 for one lucky listener as part of their "Money for Nothing" promotion.
Kennedy and Dixon, whose show is one year on Dublin's 98FM today, have taken to the streets of Dublin giving away fivers "for nothing" (- usually meaning for answering a simple question) to passing pedestrians on Fridays.
They started the promotion by giving out free cash on Dublin City Centre's Henry Street:
The presenters were back on the streets again, handing out €2,000 in cash to shoppers, workers and homeless people on O'Connell Street last Friday, and have now decided to turn one of the €5 notes given out to the lucky punters on the day into €5,000.
In a clever promotion that has people all over the capital checking their wallets, they've shown a picture of the five-grand fiver, which has the serial code "465514", on their web site, saying: "If you have, or can find this exact €5, before 12:00pm on Friday (13th March 2015) – call us at 98FM – and we'll give you €5,000. SIMPLE."
Show producer and co-presenter Jeremy Dixon today said that all of Dublin is going crazy looking for the banknote, adding: "People are posting on social media saying things like 'I work in a shop and have been going through the till looking for the fiver' .. they're going mad looking for it, and who can blame them?"
If the prize is not claimed by Friday, a different code will be released the following week.


If you liked this story, we can email you more radio news and alerts. Just fill in the form below.