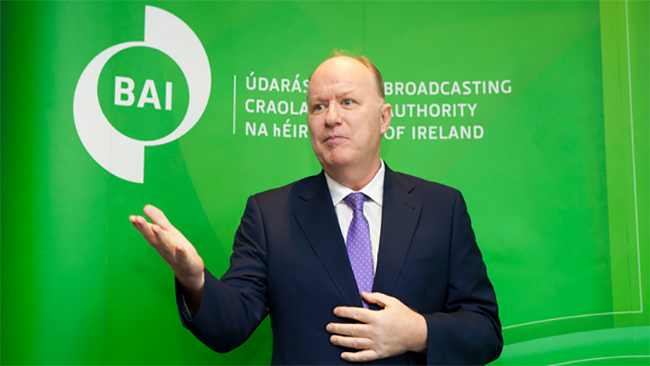 Tributes have been pouring in for much-loved Today FM daytime presenter Tony Fenton, who passed away just two weeks short of his 54th birthday.
Fenton, who had been with Today FM since 2004, had been going through a course of aggressive chemotherapy to battle prostate cancer, but sadly died this morning at St. Vincent's Hospital in Dublin after losing his battle with the disease.
The whole station has been left in shock by the news, as revealed today by Mario Rosenstock, who said: "We stood out there – just totally silent. The whole station has been just standing out there for 45 minutes, an hour.. just standing there because.. they all love him. Everybody's kinda hugging each other. They all loved him".
He was honoured by his Today FM colleagues with a round of applause on the floor.
The hugely popular presenter, who grew up in Glasnevin, in North Dublin, always believed he'd beat the disease and insisted as recently as January 21st that he'd be back on the air soon, saying: "I'm looking forward to getting back on radio and that will be in four weeks' time! I'm chomping at the bit, I really cannot wait. It'll be just me again, back on as normal."
Before moving to Today FM, Tony presented shows for 18 years on RTÉ 2fm – including one of the stations most successful and famous programmes "The Hotline", where he coined the phrase "You're … the WINNER!".
Known as one of Ireland's favourite pop DJs, he counted other former 2FM DJ's Simon Young, Barry Lang and Ian Dempsey as well as former Today FM presenter, Newstalk's Tom Dunne among his closest friends.
He was honoured by the industry's PPI awards in 2008 for Music Broadcaster of the Year, in both 2009 and 2010 for Best Radio DJ and in 2014 with an induction into the PPI Radio Hall of Fame.
Born "Anthony James Fagan", Tony wanted to be a radio presenter from a very young age, hoping to follow in the footsteps of his idols such as Benny Brown, Rob Jones and the BBC's Simon Bates.
During an apprenticeship as a carpenter in his father's building company, he set up as a mobile DJ business with his friend Barry Lang – a business which was affectionately referred to as "TO-BAR" (a conjoining of 'Tony' and 'Barry') by Ian Dempsey, who joined him later in the venture. The trio traveled all over Dublin spinning vinyl at various weddings and birthday parties.
His first radio gig was with famous early Dublin pirate station ARD (Alternative Radio Dublin) in 1979 and during the 1980s, he moved to Sunshine Radio and on to the original Radio Nova.
In 1985 his reputation – along with the vast audience he received whilst working with the pirates – helped him land a show on RTÉ 2FM, known then as Radio 2, where he stayed until 2003, when he left to pursue other interests. These interests included property investment – which hit him hard in the pocket – and, missing the buzz of radio, he went back to broadcasting, joining national independent station Today FM in September 2004, where he took on a lunchtime gig.
During his time at the Communicorp station he has interviewed many famous musicians, including: Noel and Liam Gallagher, Arcade Fire, Kings Of Leon, Jessie J, Maverick Sabre, Emilie Sandé, John Lydon of the Sex Pistols, Al Green, Elbow, Carly Simon, Tinie Tempah, Blondie's Debbie Harry and "Little Stevie" Van Zandt. He also presented a number of special programmes for the station which each focused on the history of one artist or band.
Just one month after losing his mother to cancer in October 2010, Fenton discovered what turned out to be a malignant melanoma on his leg. Following treatment, the melanoma receded and he was given the all clear in March 2011. However, when the cancer returned in May the same year, Fenton revealed publicly that he was battling the disease and travelled to Germany for surgery.
The surgery was a success at the time but the disease returned since then, leading to Fenton undergoing a course of aggressive chemotherapy and ultimately his passing this morning.
Today FM paid tribute to Tony on a specially extended National Lunchtime News at 1pm today with a special audio package along with and Ian Dempsey, Mario Rosenstock and station boss Peter McPartlin sharing their memories of an Irish broadcasting legend, during which Ian Dempsey responded to the influx of sympathetic texts to the station, saying: "Tony would like people to remember him as a really positive guy. He wouldn't want people to be getting too down about it."
Rosenstock paid tribute to Fenton's positivity, saying: "Nobody that I have met in my life knew how to live life as brilliantly as Tony Fenton. He believed that everything would always go right and it always went right for Tony Fenton. The thing about Tony was he didn't have a wife and kids and for a man who didn't have a wife and kids he was surrounded by more love than anyone I know."
You can hear the full tribute here:

Before and after the tribute was broadcast, Dermot & Dave's show (mid-day to 2:30pm) was given over to playing non-stop music from a playlist of Fenton's favourites.
"Tony, from all your friends and colleagues in Today FM: we'll miss you dearly dude".
Louise Duffy had been filling in on Fenton's show while he was receiving treatment. However, the slot was filled today by Phil Cawley, who read out tributes and played some more music from Fenton's playlist.
Robbie Robinson, who was Tony's boss at Sunshine in the early 1980's, spoke this afternoon to RadioToday: "Very sad to hear this about Tony Fenton's passing. Tony was a jolly handsome fellow, he took great care of the music, played the greatest songs, Irish radio will miss this guy. Irish radio was his greatest love. I know for sure that the 1980s Sunshine team will be greatly saddened by losing another great radio presenter. How come the good ones die young? Bless you Tony. RIP"
Chairman of the IBI John Purcell said "Tony Fenton has been a consistent voice on Irish radio since he first graced the airwaves in 1979. His was a voice that many of us grew up listening to. The esteem that the radio industry held him in was evident was Tony was inducted into the PPI Hall of Fame in October of last year. We send our condolences to Tony's family, to his radio family in Today FM and his many thousands of listeners many of whom will have a void in their radio schedules after today".
"A great voice has been lost to Irish radio and the entire industry is deeply saddened to lose one of Ireland's most popular and well known broadcasters, most entertaining gentlemen and most loyal friend."
Tony is survived by his sister Ann and his brothers Kevin, Paul and Colm.
A huge number of tributes have been paid to him online today, including the following:
heartbroken to hear of Tony Fenton's passing. Audrey and I loved him very much. We had so many great times with him, so many

— Tom dunne (@tomhappens) March 12, 2015
A friend just texted me with the sad news about #TonyFenton He'd always greet you with a warm smile ….great fun & gone WAY too soon. RIP

— Eleanor McEvoy (@eleanormcevoy) March 12, 2015
So very sad to hear of the passing of Tony Fenton. What an incredible career, and a very kind man on the occasion I met him.

— Louise McSharry (@louisemcsharry) March 12, 2015
My god I just heard about TonY Fenton. What tragic heartbreaking news.

— Niall Breslin (@nbrez) March 12, 2015
When I came to @rte2fm Tony Fenton was welcoming, encouraging and such a nice guy to me. My sincerest condolences to his family, loved ones.

— Rick O'Shea (@rickoshea) March 12, 2015
I remember back in my pirate radio days I met tony and he said ,it will happen for you, 2years on I was working along side him in 2fm . Rip.

— Alan Mc Quillan (@AlanMcQuillan1) March 12, 2015
Very sad to hear Tony Fenton has passed away. Always a lovely guy and a generous colleague. I hope he plays my request up there.

— The Ray Foley Show (@rayfoleyshow) March 12, 2015
Our thoughts & condolences to all of @tonyfenton friends, family & colleagues at this time, you will be missed RIP From everyone here at TV3

— TV3 (@TV3Ireland) March 12, 2015
Cannot believe @RealTonyFenton has passed away. What a shock. Rest in peace you gentleman and legend.

— Ryan Sheridan (@RyanSounds) March 12, 2015
Tony Fenton was the loveliest man with the cheekiest grin. He was one of a kind and will be so missed. Such a sad day.

— Jenny Kelly D'Arcy (@cupidkelly) March 12, 2015
We are devestated to hear the sad news, that our good friend Tony Fenton has passed away. He was such a kind… http://t.co/aXaYUs1Abd

— Aslan (@OfficialAslan) March 12, 2015
Tony Fenton had the best handshake in the Irish radio industry. @RealTonyFenton #RIPTonyFenton

— Dara Quilty (@daraquilty) March 12, 2015
There goes a great voice , Tony Fenton RIP ….

— Hector (@hectorirl) March 12, 2015
A gent, a pro and a lovely, lovely man . Irish radio & everyone who knew him have lost a real star today. #RIPTonyFenton

— John McMahon (@JohnMcMahonIrl) March 12, 2015
Awful news about Tony Fenton. Another member of what is fondly known as the Northside Mafia of radio is gone. Rip Tony. @RadioToday

— Dave Kelly (@DavekFM104) March 12, 2015
You're the winner, Tony. Rest in peace.
Ní bheidh a leithéid arís ann. Ar dheis Dé go raibh a h-anam.


If you liked this story, we can email you more radio news and alerts. Just fill in the form below.