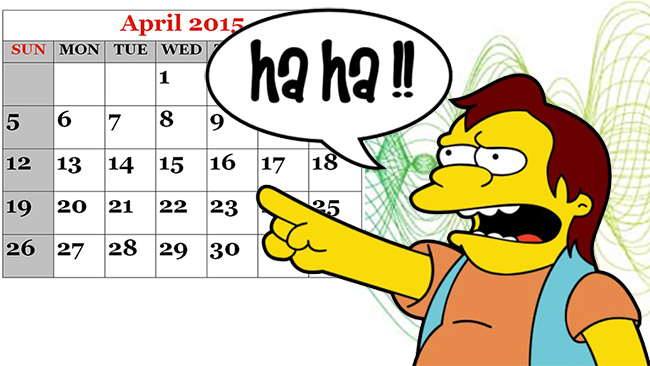 April 1st is well known as a day when people play practical jokes and hoaxes on each other and the radio industry is playing along in fine style as usual.
In the capital, FM104's Strawberry Alarm Clock presenter Jim-Jim Nugent pranked his co-host Mark "Nobby" Noble, with a bit of help from Terry, Paul, Ruth and Mark from UTV Ireland.
Noble was asked to record three voiceovers for TV ads, not knowing that they were all written by Jim-Jim and Terry, and also not knowing that he was being filmed the whole time!
Community station for Dublin 15 got in on the act too, claiming that their 4 full time staff and a number of volunteers were to be replaced by 24 new JobBridge interns. In a job ad posted to their web site, their Station Manager Denis McEvoy said the existing staff had to go as "they were all looking for 'workers' rights' and all that jazz. I mean they wouldn't do any of the demeaning stuff like getting me coffee and giving me back rubs!".
In the midlands, iRadio pranked their own daytime presenter Simon Murdoch by getting him to do a voiceover for a "new sex shop"…
Meanwhile, this morning on Tipp FM, breakfast show "The Breakfast BLT" announced that local Dáil representative Mattie McGrath TD would be joining the station to host a new dance show called Friday Night Floor Fillers – and the TD himself came on air to promote the show.
Speaking on air, Deputy McGrath said: "Friday floor fillers will hark back to the great days of the 90's dance scene, with the likes of Underworld, The Chemical brothers and The Prodigy  featuring  heavily. It was my teenage son who told me to go for it after the station had got in touch. I dj-ed at a local charity event recently and guys from the station were there and the opportunity has come out of that.  Look, I'm the kind of person who has always taken a risk and likes a challenge and this certainly falls into both categories!".
Commenting on the "appointment", station manager Fran Curry added: "We're delighted to have Mattie join the schedule. He is a regular on our current affairs and news output but to have him doing something completely different is really refreshing. It ties in with or ethos at Tipp FM, to produce a different sound for our listeners. Listeners have really responded well to the news since the announcement earlier this week and are really looking forward to the new show!"
Out west, in Co. Clare, Clare FM had listeners convinced that recently sacked BBC TV host Jeremy Clarkson was to head to the banner county for a post Top Gear TV project, during which he requested of the county council that they "close the cliffs of Moher for a week" because he wanted to "run a few cars off the top of them". The full audio is here:
Elsewhere, In Cork, local station C103's More Music Breakfast presenter Colum McGrath brought Patricia Messenger from Cork Today into studio to talk about her show and, pretending that they were live on air when they weren't, swore twice, shocking Messenger.
Warning: Explicit content in video below:
Messenger later ran a piece during Cork Today where she "revealed" that RTÉ's long-running Sunday night drama "Glenroe" (which ended 14 years ago) was to make a comeback.
Patricia hearing about the return of #Glenroe with filming to take place in #Ballyvourney #CorkToday pic.twitter.com/HLkzwPugNI

— C103 Cork (@C103Cork) April 1, 2015
Also in Cork, over at Red FM, breakfast host Keith Cunningham successfully pranked his co-host on the KC show.
In the south-east, hundreds of listeners were left red-faced after falling for a prank by South East Radio who ran a news story regarding the International Naturist Association holding a meeting in a Wexford hotel – a story which the hotel manager came on air to confirm:
What did your station get up to? Let us know at news@radiotoday.ie


If you liked this story, we can email you more radio news and alerts. Just fill in the form below.