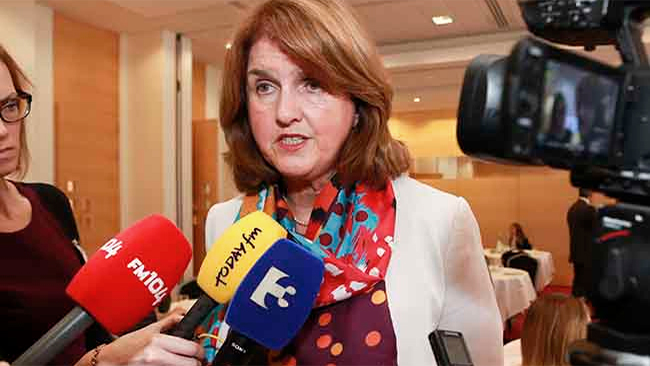 Irish radio and TV stations have been warned that balanced coverage of the same sex marriage referendum campaign is not just about time given to each side, but also challenging false claims.

Following recent statements by the Referendum Commission chairman which called into question the validity of certain claims made by 'No' campaigners, Tánaiste Joan Burton today said that unsubstantiated claims of issues that are nothing to do with the referendum must be challenged by broadcasters.
The 'No' campaigners claims in question included the suggestion that a 'Yes' win would lead to the legal redefinition of marriage, or would effect any change in surrogacy or adoption rules or procedures.
Agriculture Minister and Fine Gael Director of Elections Simon Coveney yesterday welcomed the statements by the commission, saying: "The Referendum Commission has confirmed that some of the distractions that have been introduced into this debate are no longer relevant to this debate because they're not relevant to this referendum. I hope with that clarification the country will be able to get behind this campaign now in a positive sense, and make a positive statement on Friday week that actually that we don't want discrimination any longer."
More detail of the statements made by Referendum Commission chairman, Mr. Justice Kevin Cross, can be found in this Irish Times Q&A article.
Speaking today at the launch of a new Labour party video calling for a Yes vote involving gay deputy John Lyons and his mother, Tánaiste Joan Burton said that the onus is on broadcasters to maintain balance by challenging false claims: "Robust questioning is in order, and if people make unsubstantiated allegations, one would generally expect that programme people – whether the interviewer, or the people in the management of the programme – would be sufficiently alert to question those kind of allegations when made".
There are 8 days left until voting takes place in the referendum, next Friday, May 22nd, with a broadcast moratorium expected to come into effect at 2pm the day before.


If you liked this story, we can email you more radio news and alerts. Just fill in the form below.