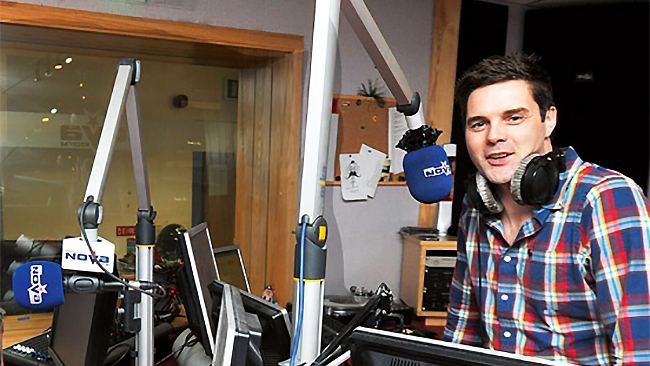 Marty Miller presents Radio Nova's breakfast show "Morning Glory" with his wife Dee Woods, but there's much more to his radio story than that, as we found out when he sat down to answer a few of our questions recently.
Marty, who likes to drum in his spare time, has his own web site which shows off his TV & radio presenting, voiceover, imaging and commercial work.
He's been with the Dublin-based rock station since it launched in September 2010 – but, as he explained to us, he was bitten by the radio bug a long time before that:
I've been on the radio in some shape or form since age 16. Starting in Beaumont Hospital Radio, getting into Eastcoast in Wicklow as my first paid gig… here I am a million years later. Kinda still getting away with it. Kinda!
So, Marty, what led you to a career in radio?
 I wanted to do it from about age 8 or 10. Listening to the guys back in the 80's like Jason Maine, Greg Gaughran or Henry Owens on Nova and Q102, I wanted to do what they did.
And your first radio gig… how would you describe it?
Wobbly! The red light of "Mic Live" freaked me out..!
 How would you describe the radio landscape in your area now?
Tough. Very competitive. Ireland is a small country with a sh*tload of radio stations all trying to make a few quid from the same small pool. But competitive is great as it pushes you to be better.
Tell us a bit about your gig and your station, then!
I work for Nova, the guitar station! It's a laugh, getting up early, talking nonsense with really great people, playing bands I love… e.g.: Pink Floyd on the radio at 8am is a great thrill! It really is the simple things that can matter the most!
What makes Nova unique? How would you compare it to other stations you've worked at?
Well, nobody in Ireland plays the music we do. It's a breath of fresh air in that way. Because of that Nova enjoys very healthy listenership all over the country via UPC and online listening.
What is your favourite part of the job?
Hearing people say they enjoy the show, the friendship, the being allowed into our listeners lives, at breakfast, in the car, bus, train whatever. It's a great thing to be part of peoples day from the very beginning.
What is the most challenging part of the job?
Getting up! Then going to bed!
Apart from your own show… who is your favourite on-air voice on your station – and why?
Dee Woods. Great talent. So funny, so quick witted, Gorgeous. I'm allowed say that. We're married!
And she's on your show…! Go on then, anyone else?
Actually. It's great to work alongside Greg (Gaughran). I've always liked his style on the air, nice to have him on after Morning Glory!
Who would be a "dream guest" to have on your show?
I'd love a pint with Paul McCartney!
What are you doing social media-wise?
Lots! All via Twitter (Marty's at @MartyMTweets), Periscope, soundcloud, youtube, facebook… Radio is an all round entity now. It's not enough to just be about your ears. So social media works great as radio's picture! 
What's the biggest gaffe you've made on air?
Called 98FM "Q102" on my 3rd day on the job in 98!! (Amazed I got outta that one alive!)
What's the coolest promotion you've EVER been involved with?
Brought 30 listeners to Australia a few years back. Time of our lives. Did breakfast from Sydney back to Dublin, we were on at 4pm Oz time for 6am Dublin time. Best way to do breakfast ever!!
What was your favourite station to listen to when you were a kid?
80's Q102 & Nova
What artist would we be surprised to find on your iPod/MP3 Player?
Einaudi, Beethoven, Morricone..I listen to loads of classical stuff….. It's the root of it all!
What about you personally? Tell us one thing that would surprise many people to learn about you?
I auditioned for a voice part in the Simpsons once AND I was in 3 episodes of Home & Away!
As someone who's been there and done it, what advice you would give people new to the business?
Do the time!!! Intern everywhere you can and get the experience. Knock on doors, then knock again. Ask us lot doing it for advice!
Finally… Tell us a secret nobody else knows!
There are no secrets on breakfast radio!


If you liked this story, we can email you more radio news and alerts. Just fill in the form below.