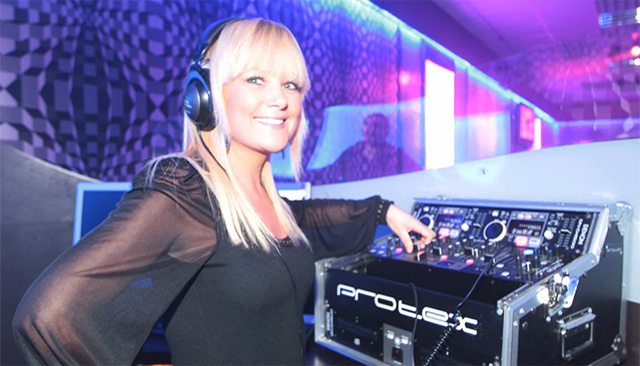 Former RTÉ 2FM presenter and now the host of Spin Hits on Dublin's SPIN 1038, newlywed Nikki Hayes sat down to answer a few questions for RadioToday.
Nikki Hayes has gone through some tough times in her career, many of which she spoke about in a recent newspaper interview, and all of which she's fought through with great strength, remaining upbeat, happy and excited about the future.
Nikki is the national ambassador for suicide prevention charity 3Ts and for positive youth mental health promotion programme Breathe.
She married soldier Frank Black last week and the couple have a daughter, Farrah.
Hi Nikki! Thanks for taking part in the RadioToday Q&A… first up, can you tell us a bit about you and the station you work for?
I work for Spin1038 which is probably the most fun, upbeat station I've ever worked at. Scrap the "probably" part … it is !!! Spin 1038 are Dublin's youth station and we are always bringing music FIRST so its exciting to be continuously on the breaking edge with new music.
Great! Going back to your first ever radio gig – how would you describe it?
Oh, nerve wracking, awkward and full of "emmmm"s!
What led you to a career in radio?
I grew up without a TV in the house so was always stuck to the radio. It intrigued me … Tony Fenton on 2FM's Hotline solidified it for me. I used to ring up to win all time and anytime I won I loved being live on air (… I won a lot!) Then, aged 15, I went and did my first show on pirate station DLR 106FM.
How would you describe the radio landscape in Dublin?
It's vibrant and full of choice.
So what makes SPIN stand out? How would you compare it to other stations you've worked at?
Well we're always first with new music. We're fresher than anyone else out there and its THE most positive exciting place to work!
Are you wearing more "hats" than you have in the past?
Probably … but that's due to the ever changing weather 😉 … Radio-wise though – yes! And next week I'm 21 years on radio!
Tell us one high point in your radio career so far?
Getting the call from John Clarke inviting me to work with 2FM was a definite dream-maker.
What's the biggest gaffe you've made on air?
Left the fader up with the mic on and asked a guy to keep and eye on things when I nipped to the loo… then got many offers from people tuned in for toilet roll #scarlet!
If you weren't working for your current station, what station would you like to work for and why?
I love working for Spin … and Communicorp as a company so to be completely honest, Im happy where I am!
What are you doing social media-wise?
I quit facebook 3 years ago. It's a nosey medium which i didn't wanna be part of anymore. I love twitter and thats where im at. I dip into instagram, the odd snapchat and of course whatsapp and viber. My blog is where I wanna try and help.
"Local local local" has always been radio's mantra. How do you keep your station visible and involved in the community?
Our new campaign..: "BE FIRST"
What is your favorite part of the job?
Being able to talk to so many people at once – its pretty much amazing
On the flip side, what is the most challenging part of the job? 
Living in the public eye. Ever since being with RTÉ my profile grew and living through my dad's death and dark times for me mentally, I did that all through newspapers and social media. In hindsight I would have been better off  to have got my head straight in private but you cant pick and choose your moments.
What's the coolest promotion you've been involved with recently?
Most definitely "The Drop" on SPIN 1038… people were in cars and groups running around the city looking for the €1,000 every day! It was funny – people would send me messages saying "ah g'wan Nikki where is it today?" .. we were honestly never told!
What's the coolest promotion you've EVER been involved with?
Topflight NCBI ski trip to austria – we raised awareness, brought listeners and I got to ski with Larry Gogan 😉
What artist would we be surprised to find on your iPod/MP3 Player?
Brad Paisley
What's one thing that would surprise many people to learn about you?
I'm horribly self concious and shy once I step off the mic / on-air persona
If you could add one full-time position to your station's budget right now, what would it be?
hmmmm … good one … do you mean on-air? if so we have quite a few hot newbies en route through the company from FRQ. In a staff member .. I could totally deal with Kevin Bridges in the canteen to entertain me on a daily basis 😉
What is the current state of the radio 'talent pool'?
Its getting better. There was a lull for a few years but now with the likes of college radio and FRQ – talent has a chance to train on a working station again and now we are seeing the talent bloom again. Its an exciting time for Irish radio.
Who is your favourite radio personality not on your staff and why do you like them?
DJ Jayo on 98FM! He needs more airtime… He's actually a lot cleverer than he makes out and I think he has a woman called Jemima on the go – he mentions her a lot. I'd like to see him expose himself for the woman eater he is  😉
Apart from your own show (obviously!)… who is your favourite on-air voice on your station – and why?
Steve K … he's cool, calm, collected and a voice for me to listen to both professionally and as a friend. I've huge respect and love for him.
Who would be a "dream guest" to have on your show?
I've been blessed over the years so many amazing guests from boy-bands, to Gloria Gaynor, Lionel Richie and even D12 before proof passed away but I would really love a good double-header with a comedian like Kevin Bridges, PJ Gallagher, Jason Byrne or Michael McIntyre.
What was your favourite station to listen to when you were a kid?
Radio Ireland , BLB and 2FM
Speaking of being a kid, what did you want to be when you were growing up?
A VET .. my love of animals is still as strong now however my love of blood is not!
What was your last non-radio-industry job?
Cleaning hotel rooms in the Shelbourne hotel one summer.
What music do you listen to when you're not working?
Such a mixed bag – I have the most diverse playlist from Fisher to Omi.
What is it about our industry that keeps you wanting to do it for a living?
It's a bug, its something I caught at a very young age but its always changing so you can never get bored. I love my job and honestly wouldn't want to be doing anything else.
What is the one truth that has held constant throughout your career?
I'm always me. I used to get hurt when people on forums would say my laugh was fake… I even, through hard times, would be genuinely happy on-air… work has always been a source of enjoyment for me. I've always just been me, scars and all – and there's plenty of them!
What advice you would give people new to the business?
Be prepared to work hard … everyone wants to be a DJ but stick with it .. if its what you want you'll have the best job in the world.
Radio has a bit of a "dying industry" image… what would you like to do to save it from that
Remind people what they do when they feel lonely at home … bored in the car … want to hear a story that breaking … yes there's on-line sources  but inevitably they tune into the radio because … its human, its a voice that they know and trust.
What ringtone do you have on your mobile?
One that Frank says sounds like the world is about to end 😉 … its a pre loaded Samsung one.
What's the best sweeper/liner you've ever heard?
Well look I grew up with "you're the winnnnnneeeeeeeeeeerrrrrrrrrrrrrrrrrrrrrrrrrrrrrrrrrrrrrr" (Tony Fenton)
Do you have a favourite hobby outside of radio?
Spending time with my family. I'm married 6 days now and myself and my husband have a wonderful relationship and a beautiful daughter. Favourite thing to do when I finish work is spend time with them both. I also really enjoy campaigning for better mental health support in ireland.
Tell us a secret nobody else knows!
When skiing in austria with 2FM on a 3 day broadcast, I crept out the bedroom window to go apres ski, so my producer wouldn't hear me leave the hotel room! 😉
Thanks very much Nikki!
Any time!


If you liked this story, we can email you more radio news and alerts. Just fill in the form below.