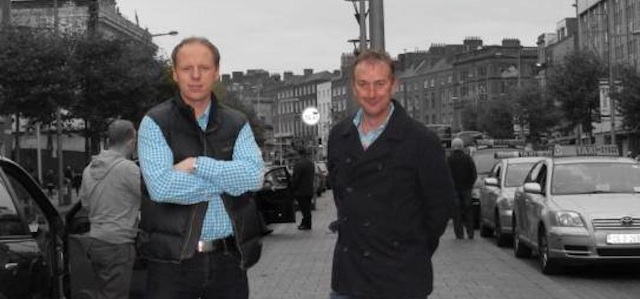 Adrian Kennedy, presenter of daytime chat show Dublin Talks on 98FM, has criticised his former employer FM104 and their late night phone show presenter Chris Barry in the latest interview on Castaway Media's 738AM Podcast.
In the hour long talk, hosted by Andrew Mangan, Kennedy spoke about his radio career, from his early years on local radio in Bray, right up to his current 98FM show, which he hosts alongside Jeremy Dixon.
The main focus of the discussion was his 20 years with FM104, most of which was spent hosting the Phone Show, which he took over after Chris Barry left the station for 98FM in 1997, only to be replaced by Barry again in 2013.
During the interview, Kennedy spent some time criticising Chris Barry, first taking issue with his lower listenership figures and later adding that:
"I've never had a problem meeting people, meeting listeners, getting photographs with people, all of that is all a very important part of what we do. [That's] one of my big gripes against Chris Barry, and how I believe he's actually obliterated that show since we left there, is that he doesn't interact with his audience, he doesn't have his photograph up on their Facebook page […] We live in a social media age and we have this guy in a newspaper with a photograph taken of the back of his head!"
Continuing to take issue with FM104 and Chris Barry, he said he was surprised that the station selected him to take over the show in 2013, adding:
"I was very surprised by the choice. Chris wasn't the first choice […] Chris was number four on the list … and if hindsight is a great thing, I wouldn't have put him on – but I do understand that at the time wasn't a queue outside the front door, banging it down to do that show".
Speaking about his and Jeremy Dixon's recent move to 98FM, Kennedy added that his personal relationships with management & former colleagues in FM104 were irreparably damaged in the time since, and that some there seemed to take his departure far too personally, adding:
"To this day I'm shocked by how two people who I would have classed as friends took it so personally. They run a company that is owned by a PLC, that is owned by UTV in Belfast – that's their job to run that company. For them to take it as personally as they did really hurts me to be quite honest with you – and shocked me… and that's true to this day. I would have had a pint with Dave Kelly – I haven't had a pint with Dave Kelly since I walked out the door, and that saddens me to be honest with you".
The interview can be heard in full here.


If you liked this story, we can email you more radio news and alerts. Just fill in the form below.