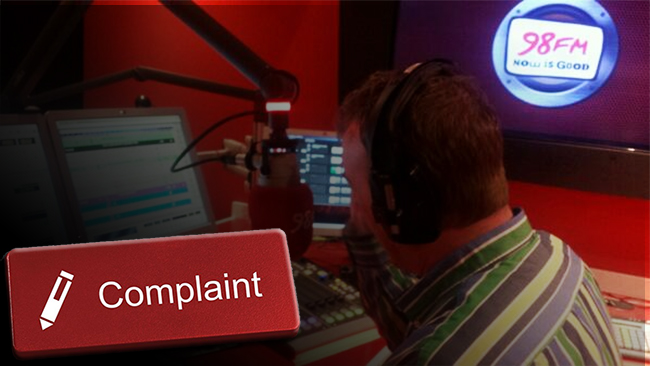 98FM's daytime talk show Dublin Talks has had two complaints upheld against it in the latest round of decisions published by the Broadcasting Authority of Ireland.
Both complaints relate to a broadcast of the show – hosted by Adrian Kennedy – on April 1st this year. One regarded the programme itself and the other concerned a promo containing material from it which ran the following day.
The programme featured a 13-year-old girl, who came on air to discuss young people sending inappropriate pictures of themselves via text messages or mobile apps.
It was only when the girl's mother heard her daughter's voice on air that she realised what was happening and informed the station that she was underage. However, 98FM still used an audio clip from the girl's interview in the promo which ran the following day – and rang her back six days later to put her on air again to discuss another girl – who had been at the centre of the discussion on April 1st – and had taken her own life.
The complainant, in this case the girl's mother – identified only as "Ms. X" in the complaint decision document, alleged that 98FM were in breach of principle three (protection from harm) and principle seven (request for privacy) of the BAI's Code of Programme Standards on both April 1st and 2nd.
In their response, 98FM said that Dublin Talks is a fast-paced show and they rely upon their caller's honesty – in this case the girl had lied about her age and said that she was over-16. However they did acknowledge that calling her six day's later had been an error, and that her contact details should have been scrubbed from their systems once it became clear she was only 13 years old.
The BAI ruled that 98FM had breached both principles of the code, along with principle two (importance of context) and principle four (protection of children), and that, as the programme was broadcast on a school holiday on a subject that was likely to be especially interesting for teens, they had a specific duty of care regarding the girl's age which was not upheld.
The BAI issued a warning notice based on the infractions, and said that there were "significant problems with the production and conduct of this programme which raise broader issues about the programme that merit further consideration".
Of the remaining complaints dealt with in this round of judgements, the only other one relating to radio concerned Newstalk's "The Right Hook" in a broadcast on February 19th, in which presenter George Hook was accused of expressing his own views without objectivity with regard to a water protest where one protester fell to the ground after being touched by a garda on the arm.
However, the complaint was rejected by majority decision by the complaints committee on the basis that Hook's primary focus was on issues relating to the rule of law, and that while he did express his own views, these comments "did not amount to the articulation of a partisan position".


If you liked this story, we can email you more radio news and alerts. Just fill in the form below.