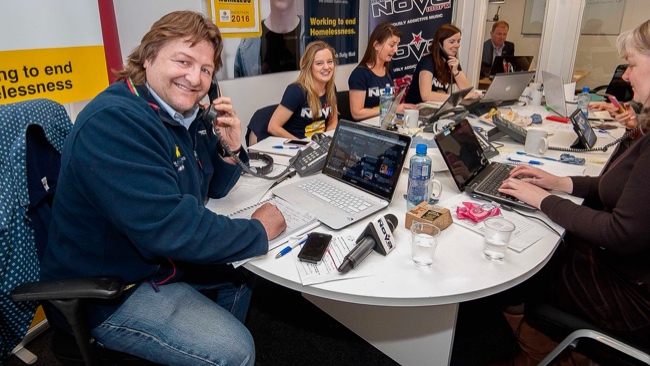 Radio NOVA's Help Our Homeless Radiothon has raised €50,520, smashing its initial target of €40,000.
The station raised the money from listener donations over a two-day pledge drive, making enough funds for Focus Ireland to provide more than 4 nights' safe accommodation and hot meals for almost 1300 people over the coming months.
It is the second year that NOVA has run its Homeless Radiothon, which saw celebrities from across the entertainment, music and political spectrum lend their support live on-air, with actor Cillian Murphy becoming brand ambassador for the initiative.
The Radiothon was presented by NOVA presenters Dee Woods, Marty Miller, Greg Gaughran, Pat Courtenay and Gareth O' Connor, and was a listener-focussed, fast-moving event, with donations received from people from all walks of life, from children donating their pocket money to businesses donating the takings of their day's trading.
The station received donations from as far afield as China, The USA and The Netherlands, with Focus Ireland's team continuously fielding calls in the stations meeting room, which became the Radiothon Call Centre for the two days of the event.
Radio NOVA CEO, Kevin Branigan, said, "It's a fantastic result. We are humbled by the huge amount of money donated by our listeners as it's far more than we ever thought possible. The money raised will make a real difference in tackling the social crisis of homelessness and everyone who donated, no matter how small, should be proud of themselves for making a difference".
Focus Ireland CEO, Ashley Balbirnie said, "We are facing a crisis of homelessness like we have never seen before. Three years ago, may seven to eight families per month were falling into homelessness. Now, it is up to 80 families per month. Radio NOVA's Radiothon is so important for us on so many levels beyond all the money raised. The energy that NOVA's team and listeners gave us such a boost; knowing that NOVA and the public are in solidarity with the people we are trying to help is so encouraging".
The charity pledge drive attracted support from a host of well-known faces and voices, all of whom played their part in the success of the initiative including former world boxing champion Bernard Dunne, Shane Byrne, Keith Duffy, Peter Coonan, Brent Pope, comedian Des Bishop, Paul Howard (Ross O' Carroll Kelly), TV3's Glenda Gilson, economist David McWilliams, Fianna Fail leader Michael Martin, Fred Cooke & Kevin McGahern of RTE's Republic of Telly, Bosco and Dustin the Turkey. Supporters from the world of music included Gavin James, The Delorentos, Gavin Glass, Jack L, HamsandwicH
Nova also hosted The High Hopes Choir, Ireland's first choice of homeless people, to sing Kodaline's 'High Hopes' live on-air.


If you liked this story, we can email you more radio news and alerts. Just fill in the form below.