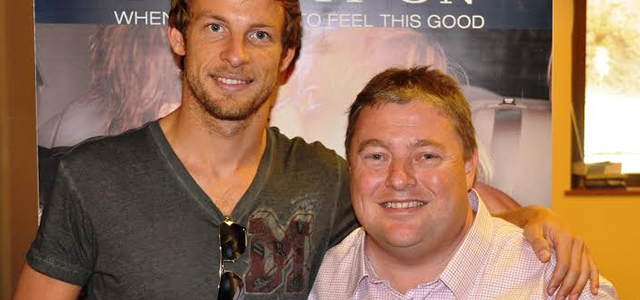 There have been only a handful of people in radio management I have found inspirational to work for in independent radio.
Any passionless Programme Director who manages upwards and regularly refreshes their mind by reading the ladybird book on how radio stations should sound is a huge "NO" for me.
I had the pleasure of working at Emap Radio for most of my professional career with Paul Kavanagh who was the Group PD. You always know the sign of a good leader as they talk and make complete sense, and if they don't agree with a bombastic Programme Director who is under them they never raise their voice. (The PD quickly realises that The Group PDs silence can be somewhat deafening!)
Paul Kavanagh took Emap Radio to another level and whilst his life is now based in Monaco at Riviera Radio "The Media Fixer" has a successful consultancy business of 30 years that specialises in mending broken media including Radio, TV, magazines and digital. Will Paul come back and recreate the buzz of Sunshine 101 or Atlantic 252 in Ireland anytime soon? Oh I do hope so!
Paul when was the time you decided radio was for you? and where did you get your initial break?
Growing up in Dublin in the 70s and 80s I had a choice to work in meat factory or try radio. I love music and greatly admired talented communicators. I thought it would be a good way to meet people and if I could make living doing it, I would not have to work!
At about 14 my voice broke and a tiny radio station has a slot no one wanted to present on a bank holiday so I gave it a go.
Did you find working in the UK very different than working in Ireland?
It is funny I have worked in USA, Monaco, Germany, France, Stockholm, UK and Ireland. Everywhere I go people first say to me it's different here and yes there are difference but about 70% is the same. This was not just my view, but thankfully we built radio stations that reached number 1 in each of their markets.
Do you still find radio an enjoyable experience or do you find the large egos tiring?
Yes I still love radio, internet, TV and the way digital allows us to do many new things. I am proud of my team when they are the first to keep people informed. Some listeners would be completely lost without their local station. Radio was the first mobile social media, with people interacting and expressing their views on phones, emails, and all kinds of messages. In most countries even with the development of music streaming and the internet 70 to 80% of people listen to the radio every day. All other media has declined.
I have no problem working with large egos so long as they are attractive characters and get results, what is tiring is the people with large egos who do not have the talent and don't attract strong audience numbers. I feel lucky to have worked with most of the big talent. Radio is nothing without great talent in studios and good management. I am also delighted that many of the young talented people who got their first breaks with me are still some of the strongest in the business.
You made an incredibly brave move to Monaco in 2003 becoming the Managing Director of Riviera Radio. Are you ready to come back to Ireland or is sunny Monaco in your blood now?
Riviera Radio will be 30 years old next year. I came to the station as I did for another 35 or more as a consultant to do a project to improve audience and sales. The initial changes were very successful and I found the people to be great. They asked me to stay longer I never expected it to last so long. In the last 5 years the audience has grown another 130% in the French ratings system. Monaco is fantastic fascinating people, wonderful weather, the world's best yachts and cars. Sometimes I miss the big markets like Paris, Berlin, London and Dublin, where when you change something you have 11 million or more people to notice and win over.
You launched "The Red Hot Sound" era of Sunshine 101 which undeniably was one of the biggest successes ever in Ireland. You also launched Atlantic 252 which was a clever mix of Sunshine 101 and UK offshore super pirate Laser 558. Is it time for this to happen again in Ireland?
In those days we had 45 and 50% market shares. Atlantic at one point had 7 million listeners. It is always about giving people what they want.
There is a magic to happen with radio and the internet which we are all trying to figure out. I can see a day where radio can significantly improve its revenue by combining radio, the internet and databases. We are testing some things and the results are very encouraging. Imagine you hear an advert for something, you click to say I want it and it is delivered to you next day. We can do that and make money from transactions not just ads.
The radio business has always been undervalued and we need to be confident as radio has and will continue to be an important part of people life. The facts prove it. A great radio campaign can create an amazing buzz, that no other media can. We are long term trusted friends who care about our listeners and clients. Radio needs to think how it can provide more to its listeners.
Robbie Robinson is still to this day your biggest fan. After 30 years what is it that has cemented not only the respect of Robbie but the foundations of an amazing friendship?
Robbie was very kind to me when I was young, he was a great example and I thank him. He gave me a job at 16 and my first management job when I was 18 years old, he said you have got 3 months to prove yourself and I have never looked back. We grew the audience, won in a head on battle and it is a shame we did not get the licence for Dublin, we had proved we could do it and win, but other forces were at work!
Do you miss being a Programme Director or are you simply enjoying the lifestyle and Managing Director role at Riviera Radio in Monaco?
I do love programming and working with the talent to achieve a goal. If you get that bit right much of the rest becomes easy. I have enjoyed every single challenge and love difficult challenges. Who would have thought 7 million people would listen to Atlantic 252, Riviera Radio would be bigger than many of its French competitors or that buying Melody Radio in London, turning it into Magic could be so successful. Cork's 96 FM which I advised for more than 10 years was the most profitable station in Ireland at the time.
When I first met you at Rock FM in Preston in the late nineties you had just been appointed as Group Programme Director and I was blown away by your people skills and management style. Emap's audience figures across the whole group flourished under your leadership for many years. In Ireland 2FM has undergone massive changes in recent times and places like 98FM seem to be in terminal decline allowing FM104 to be the leader of the pack. What would "the radio fixer" gravitate towards 2fm or 98FM?
Well thank you for those kind words, I very much enjoy consulting in different countries and the role at Emap as group programme director when Emap was growing rapidly and a FTSE 100 company was fantastic. I just helped many great people find a direction and a focus to win and achieve what they wanted. You normally need to get under the skin of the stations and find what the difference is between what the management think and how the audience see the station. Sometimes these can be polar opposites.
In Dublin I have fond memories of both 2fm and 98FM from their peak times and it would be easy to get them there again, they are well backed with everything needed at their disposal.
Where did you enjoy working the most and what is your dream gig?
It is hard to say where I enjoyed the most. I am delighted that I am still in contact with most of the people I worked with who still call for advice from time to time.
My office on the port of Monaco has to be the most beautiful, I will send you a picture of the view, currently I am looking at about 100 yachts valued between 50 to 300 million each with beautiful sunshine 300 days a year. Having said that when you are working every day you could be anywhere. I loved Cork, Dublin, Paris, London, Berlin for different reason, the buzz of a big city is great.
And finally what is next for Paul Kavanagh
I think there is much more to be done to develop radio and the digital world for more transactions and not just advertising. The recent RAJAR figures show 89% of people listen to radio in the UK every week is the key to this. We are social media, a 2 way communication while most other media is one way. We are live and close to our people. Radio is setting the agenda each day.
What ASOS.com have done should have been done by a media company for example. Partnerships with Amazon and other technology like apps can map out a new more exciting world for radio.
I love challenges and working with people.
Top photo: Paul with Jenson Button. Interview by Dave Miller for RadioToday.


If you liked this story, we can email you more radio news and alerts. Just fill in the form below.