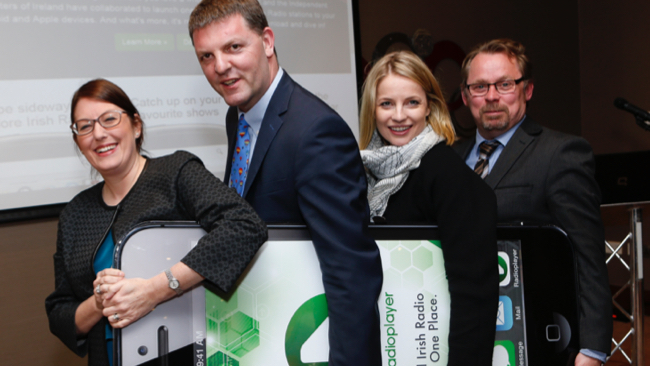 The Irish Radioplayer has been awarded the Outstanding Achievement Award at this year's PPI Radio Awards.
The Outstanding Achievement Award is presented to those who have made an exceptional contribution to radio during the course of the past year.
The Irish Radioplayer is the result of a partnership between the Independent Broadcasters of Ireland and RTÉ Radio and its launch marked a significant development in Irish radio when for the first time all Irish radio stations were available on one single mobile platform.
The aim of the Irish Radioplayer was to make radio consumption easier for audiences, bring Irish radio into the digital space, open up new platforms for broadcasters and new ways of listening for audiences.
Michael Hill, Managing Director of UK Radioplayer said "I was particularly excited to talk to the Irish radio industry because the team in Ireland had a very clear vision for how the Radioplayer should work in Ireland. I loved working on the Irish Radioplayer because in Ireland you love your radio and that's what Radioplayer is about – keeping people close to the medium that they love. Congratulations to the whole Irish Radioplayer team on winning the Outstanding Achievement Award".
John Purcell, Chairman of the IBI said "Scott Williams and JP Coakley first suggested a radio industry Radioplayer 5 years ago. From the start we were acutely aware of the many challenges facing the radio industry in launching a joint Radioplayer but the Irish Radioplayer is proof of what can be achieved when we, as broadcasters, put aside our competitive differences and focus on new technologies and what is in the best interest of the audience. I would like to congratulate Scott & JP on their PPI Outstanding Achievement Award. Without their commitment, unwavering dedication and never ending enthusiasm for this project the Irish Radioplayer would still be a good idea, stuck at concept stage and not the app that used by nearly 1 million users each month"
The PPI Radio Awards took place in the Lyrath Estate Hotel Kilkenny on Friday October 7th and are the highlight of the radio industry calendar. See all the winners here.


If you liked this story, we can email you more radio news and alerts. Just fill in the form below.