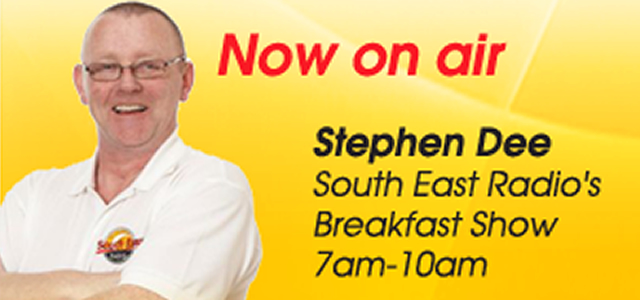 Tributes are being paid to South East Radio breakfast presenter Stephen Dee who has died suddenly in his sleep.
Stephen was on-air as normal yesterday, posting on Facebook about his show (which has now been taken down) and updating friends about his whereabouts.
He took over the breakfast show on the independent station in February 2011 having worked in the radio industry for over 25 years. Previously he's worked at ABC, KCLR and was at South East Radio for eight years after it launched in 1989. We was staff at Tipp FM in 2003/2004.
Stephen also presented a six part series for RTE Radio One a number of years ago focusing on the crooners and was part of Zenith Classic Rock using the name Harry Harrison.
Stephen's cousin Philip Doherty told us "I'm still shocked to hear of the passing of Stephen Dee, a great Radio Personality as well as an Amazing Cousin. Only met him a few months back when he brought me to South East Radio. His Breakfast Show woke up so many people each morning and he was always full of Joy. R.I.P Stephen."
Colleague Dave Redmond paid tribute via RadioToday, saying: "I'm stunned by the news of Stephen's passing. A very genuine character, loved by all at South East Radio both in the building and by those who tuned into his breakfast show every morning. He was a witty, friendly and warm person, very much full of "divilment". Loved a laugh and very often you would find yourself with tears streaming down your face at the stories we would relay or about what he had done to wind somebody. Sadly those tears are for his passing today and will be for a long time to come. My thoughts and prayers are with those who were closest to him, his family, friends and his "radio family" at South East Radio. Rest In Peace Stephen."
Brian Cleary wrote to RadioToday with his thoughts: "He was one of the few people that I worked with who was excellent technically and as a broadcaster. We will all miss him hugely."
Philip Cawley from Today FM, who worked with Stephen at South East Radio in the 90s told us: "He was the first person I met before I started on South East Radio. He made feel very welcome. He actually said "What on earth are you doing here?!"
"We met up a few week ago and he just said he was in a happy place."
Chief Executive of Cork's 96FM and C103, Kieran McGeary tweeted "Very sad news. RIP"
Tipp FM's Pat Murphy tweeted: "Saddened to hear of the sudden passing of Stephen Dee – one of the legends of local radio in Ireland."
Former colleague Brian Cleary, who is now CEO of Clonmel Chamber of Commerce said: "Shocked to hear about the sudden death of my former South East Radio, Tipp FM and Zenith colleague Stephen Dee. A larger than life character."
"It is with great sadness I heard of the death of Stephen Dee we worked together on Tipp FM in the "good old days "on the davis road RIP Steve," said Aaron Burchael, former Tipp FM colleague.
Long-time friend Paul Dower writes: "Stephen and myself were friends since the early 1980s, we worked together at Suirside Radio, I think it may have been called Crystal City Sound at that stage, we later worked at ABC Radio. I know very little about his involvement with the FCA to be honest, we never talked about it. I worked alongside him with Eddie Coady's 'Silent Mikes' for a while during the 80's too. A little story that he used to tell with glee, none of us had much money during the early 80s, radio didn't pay much, one day I was having a pint with Timmy Ryan in a pub opposite the radio station called 'The Blue Haven', Stephen came in all excited waving 40 quid above his head, he'd been doing a job on a farm, I took the two Twenty pound notes from him, tore them in two and threw them in the air (bad divil), he went on air shortly after and told his listeners and said 'Paul Dower has a neck like a jockeys b****x'.
"He was so dedicated to his work, meticulous, and his dry wit on radio was something else, he was a joy to listen to, if I needed anything, he was always eager to help. We had a lot of good times and I'm going to miss him something awful."
Stephen, also known by his nickname Squash, celebrated his 47th birthday just last week. His real name was Stephen Doherty and you can see funeral arrangements on RIP.ie.
Add your tribute in the comments below or email roy.martin@radiotoday.ie


If you liked this story, we can email you more radio news and alerts. Just fill in the form below.