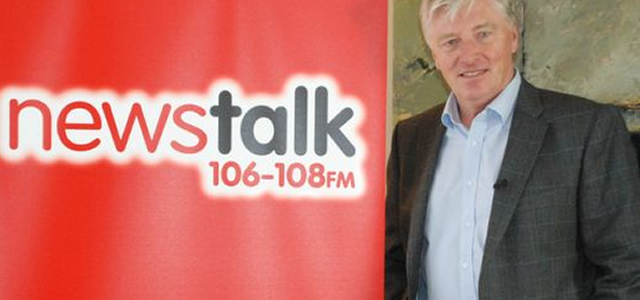 The number are in, the data has been calculated, and the official JNLR figures have been released for Wave 1 2014.
Almost 84 per cent of the population are listening to radio, with independent radio remaining the biggest star. The overall figure is up just under 1% on last quarter.
RTÉ Radio 1 continues its position as the biggest radio station in the Irish National radio market with 1.3m adult listeners.
Morning Ireland has 444,000 listeners, down 5,000, whilst Sean O'Rourke has 312,000 – down 15,000 listeners since the last book. Tom McGuire, Head of Radio 1 says: "After one of the most changeable years in Irish broadcasting, more people are listening longer to RTÉ Radio 1 and we appreciate that loyalty."
Pat Kenny's show has 18,000 new listeners since January suggesting Newstalk's plan of getting listeners to switch the dial to the independent station is working. Newstalk Breakfast with Ivan Yates and Chris Donoghue has also put on 16,000 listeners year on year.
At Today FM, Ian Dempsey's programme remains steady with a daily audience of 189,000 listeners. Matt Cooper's Last Word also grew its audience, while Ray D'Arcy remains the most popular talk show on independent radio even after falling 12,000 listeners to 218,000.
Back at RTÉ and 2fm's new breakfast show Breakfast Republic is still bedding in but Tubridy is down 4,000 listeners to 148,000. Rick o'Shea has added 10,000 listeners to 117,000 and Nicky Byrne has 151,000 listeners.
In the last 12 months Lyric FM has gained 12,000 listeners – equivalent to 10%.
In Cork, the battle between The New RedFM and 96fm continues, the results of which won't be known for another few books. 96fm remains the most listened to radio station – something which CEO Kieran McGeary is happy about. He told RadioToday: "Obviously, the programme schedule changes that we made to 96FM only came into being in the final two months of this survey period. The Opinion Line, which is now presented by P.J. Coogan, delivered a huge daily audience of 110,000. The Cork Today programme on C103 has grown its listenership to 40,000, which is an impressive milestone. Overall, I am delighted with our market share figure which has grown 11.5% since this time 12 months ago."
KC, new PD at RedFM told us: "Corks New Red FM won't be reflected in today's figures as we just re-launched the station on March 31st, in fact it will be October before we see our listened yesterday figures and Feb of 2015 before we get a bigger picture of where we are. From the book today we have had positive increases in mid-morning, afternoons and drive & achieved an increase in market share to 8.5% which is a solid foundation for the station going forward."
Back in Dublin, and Andy Matthews, Programme Director at Classic Hits 4FM comments: ""Classic Hits 4FM delivers yet another very strong performance with increases in weekday and weekend day parts, a great result from the team especially Jim McCabe in the very tough breakfast market and Robbie Fogarty, Gareth O'Callaghan and Suzanne Kane all gaining. Niall Boylan continues to grow audience not alone during the day but also at night. We have done well but we want more. At Classic hits 4FM we are focused, ready and looking forward to continued gains in the coming months"."
Sunshine 106.8 has had an increase in audience figures for the sixth time in a row. General Manager Joe Harrington said: "I'm absolutely delighted with the momentum, the fact that we have increased our daily market share and reach plus being the only Dublin station to increase weekly listenership six time in a row is really satisfying. This is a tough market but we are doing something right".
UTV leads the local radio scene in the capital with FM104 and Q102 up this book, yet down on market share year on year. Speaking to RadioToday, Group Programme Director Dave Kelly said: "This is a huge book for both our Dublin radio stations with significant increases in Market Share. It's interesting to see while other spent lots of money on outdoor this seems to have had little or no effect on the marketplace. I put the success of both FM104 and Q102 down to knowing the market, hiring the right presenters and of course all the hard working people on both teams."
98FM is recovering from a recent slide, getting back up to the numbers it was attracting this time last year but is still on roughly half the market share it had two years ago.
Meanwhile NOVA has added 9% to its market share since last year. "Our recent schedule developments put us in a strong position to develop our audience over the next 12 months. We're really excited for the future", says NOVA's CEO & Programme Director, Kevin Branigan. "We're extremely gratified by our continued growth in share and reach. We're working very hard to grow our audience in key demographics and these latest results are a clear sign that we're advancing steadily in audience terms".
Newcomer TXFM remains at 1% market share after its rebrand from Phantom 105.2.
Beat 102-103 has broken all of its records in the latest book. The station now attracts 93,000 listeners in the South East every day. Head of Station Sound Niall Power told RadioToday: "Despite our national and local rivals actively targeting young adults in the South East, Beat 102-103 continues to go from strength to strength with a record daily reach, weekly reach, AQH and market share.
Breakfast is up 9% book on book, Beat at Work has increased by 29% since this time last year, and our evening programming, The Takeover, commands 66.6% share among 15-34 year-olds in the South East. We're over the moon and looking forward to a busy summer ahead!"
The top 5 stations in Ireland for Market Share are:
1. Cork's 96FM 35.2%
2. RTÉ Radio 1 23.1%
3. Beat 102-103 15.5%
4. C103 12.6%
5. FM104 12.5%
A total of c16,600 people were interviewed during the survey period by Ipsos MRBI, on behalf of JNLR – Joint National Listenership Research – that is funded by all national, regional and local stations, BAI, AAI, and IAPI.


If you liked this story, we can email you more radio news and alerts. Just fill in the form below.