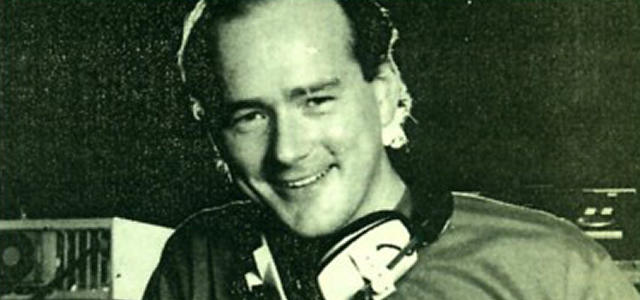 John O'Hara made his mark on Irish radio in the 80s, but remembers his time fondly before leaving for a long career in radio in the UK.
He did breakfast at Radio Nova, worked for Energy 103 and helped launch Capital (FM104) before joining Liverpool's Radio City. He then came back as MD of Atlantic 252 before it closed. He also writes his memories exclusively for RadioToday.
"I first started playing in radio in about 1978, almost 36 years ago. In those days in Ireland we were "Pirates", which of course made the whole thing much more exciting. Knowing that there could be a knock at the door at anytime, having our broadcast signals jammed, being behind many triple locked doors and on one occasion an electrified fence gave what we were doing a certain mystique.
We didn't get paid, we bought our own 7 inch singles every week with saved up pocket money and we loved it. We adored it. For many years I did a breakfast show at Radio Nova before rushing in to the Insurance Corporation of Ireland to complete an 8 hour day, rush home to bed and do it all again the next day. The reason radio was exciting in those days was for all those reasons, the true passion from behind the mic, the complete spontaneity, the knowledge that we could be fired in the middle of a shift and the lack of two things, firstly the lack of corporate shareholders and secondly the lack of any sensible research.
Video didn't kill the radio star, research did. In 1989 I moved to Radio City in Liverpool, at that stage one of the UK's premier local commercial radio stations. I remember the first computer being wheeled onto the programming floor and with the arrival of RCS Selector we lost the spontaneity. Reams and reams of paper now dictated what song would be played in what order and what promotion or sponsorship credit or charity talk up was to be inserted as links.
On many occasions I would be forced to smilingly introduce the same Cher song three times within one 4 hour programme, and I never liked Cher or her songs. But we were told, "research tells us, the average listener only listens for 20 minutes a day, and they want to hear their 3 favourite songs each time they turn us on". What a load of codswallop or balderdash or as we used to be able to say in Ireland "shite". The reason listeners only listened for 20 minutes a day was because we played the same 18 songs over and over again in almost the same order for weeks on end.
Both the UK Rajar research and the Irish Jicrit research systems were completely flawed. Asking busy disinterested people to accurately complete a complicated diary showing exactly when and to whom they listened to during the course of a week. So let's be honest, it wasn't who was creating the best radio that won the battle for listeners, it was whoever had the largest marketing budget, to create that top of mind awareness that was so important in getting diary ticks or telephone recall.
Once the stock market and the annual AGM started to influence our daily output the writing was on the wall. I'm pretty certain Sir Alex managed to keep the financial guys out of the M.U. dressing room. I imagine he said something along the lines of, "I will look after the football and the goals and trophies will follow, and then you can look after the profit". But we allowed our analysts and financial people to control our programming. Everything was sponsored, sometimes ad minutage ran to 20 minutes an hour. Every supposed ad lib from a presenter was a carefully scripted manoeuvre to entice the listener to dial an 0898 number for a one in a billion chance to become the 1,000th lucky caller "to get through", as everyone now knows we took many tens of thousands of calls each time we ran these cash generating illegal lotteries, and of course it was always Debbie, a happy bubbly screaming mum of 3 aged 29 who won the dream prize. We robbed and stole and misled our listeners. We treated them like dimwits.
The final nail in the coffin for commercial radio was and continues to be the illegal immoral tax the the governments in Ireland and England levy on the terrorised public to pay for extremely overfunded public broadcasters. In Ireland's case the situation is compounded as the Irish state broadcaster also takes advertising revenues in addition to the illegal tax.
Both the BBC and RTÉ do news and sport terrifically well both on radio and TV. Certainly funding for that needs to be provided. However I fail to understand how the UK government and the BBC's board of directors can justify the continued tax payers funding of R1, R2, R3, R5 and most remarkably 6 Music, when countless commercial organisations are providing a similar service. The same goes for RTÉ shambolic 2FM. Many times at Capital Radio in London, where I ended my 25 year radio career running a network of stations, we came across the salary barrier that the BBC created. No matter how much we offered a "star personality", the BBC offered more. They could afford to offer more, it was free money, being delivered without conditions by the government every year after illegally terrorising their citizens and threatening them with jail if it wasn't paid. How outrageous.
Radio as we knew it is dead, but being valiantly kept alive by its carers. Eventually the life support machine will be switch off, the valves will loose their glow and the frequencies will be allocated to pizza delivery drivers.
But creativity and individual genius can now develop much more freely. The internet allows anyone and everyone to become a broadcaster, podcaster, cam performer and so on. But I think the days or over when everyone will arrive at the office talking about what Kenny Everett or Chris Evans or Gerry Ryan said this morning.
Should we feel sad at the death of radio as we knew it ? I don't think so, it was a very special time, we are lucky to have enjoyed listening as much as we did. Kids in the future will never believe how we tuned in to the same crackly station every night to perhaps hear our favourite song or a request from a possible future lover or just to hear the deep gravelly voice of a favourite night time DJ.
I for one and immensely happy that I left my "safe" career in the Insurance Corporation of Ireland and trail blazed across the UK. I think I helped make some great radio, I made some excellent friends and I have many funny stories saved up for a book one day.
Right now, I'm on a motorbiking adventure across Central America, the Pacific Ocean is pounding against the beach, howler monkeys are throwing fruit down onto the roof of my cabin and I'm in need of a cool beer."


If you liked this story, we can email you more radio news and alerts. Just fill in the form below.