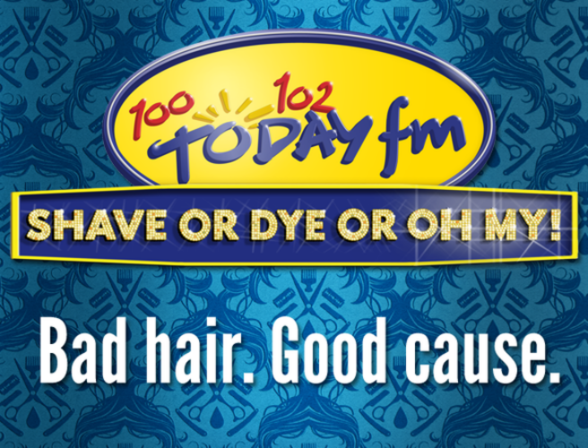 Today FM's now famous Shave or Dye campaign, supporting the Irish Cancer Society, launches today for the 6th year in a row. The hugely successful station initiative has this year evolved to include 'Oh My', encouraging people to share a bad hair selfie on their social media and donate €2.
The campaign raises vital funds for the Irish Cancer Society and has seen Today FM presenters shave their heads and dye their hair for the cause and encourage the people of Ireland to do the same.
This year, "Shave or Dye or Oh My!" features presenters Ian Dempsey, Mairead Farrell, Louise Duffy, Dermot & Dave, Matt Cooper, Paul McLoone and Paula MacSweeney in a barber shop setting sporting a variety of hair dos and don'ts! The campaign can be seen on Irish TV from today, supported by outdoor, digital, cinema and press advertising.
Irish band The Minutes are supporting Shave or Dye or Oh My! 2015 by providing their popular single 'Cherry Bomb' as the soundtrack to the campaign TV ad.
Since its launch in 2010, the campaign has raised €7.5 million with over 30,000 Shave or Dye events held across the country by listeners and supporters. Shave or Dye has also smashed a number of World Records including the most heads shaved by 1 barber in 1 hour (2010) and the biggest gathering of Mohicans (2013).
Over the years, a number of high profile supporters have also backed Shave or Dye including the Irish Football Squad who dyed their hair green while Senator David Norris famously shaved his head and beard live on air, raising over €20,000. In 2013, The campaign also saw a No. 1 iTunes single 'Start Again' top the charts, with Irish Supergroup 'Grande Parade', featuring Jerry Fish, Gavin Glass, Mundy, Cathy Davey and Valerie Francis.
Ireland's cancer rate is one of the highest in the world. 1 in 3 people will be diagnosed with cancer during their lifetime and it is estimated that by 2020, 42,000 new cases will be diagnosed. Latest data from the National Cancer Registry shows that 34,798 people were diagnosed with cancer in Ireland in 2011. These stark figures mean that there is an ever-increasing demand for the direct patient care services provided by the Irish Cancer Society.
If you are concerned about or affected by cancer, please call the Irish Cancer Society's National Cancer Helpline on Freephone 1800 200 700 for advice, support and information. Staffed by specialist cancer nurses and open Monday-Thursday 9am-7pm and Fridays 9am-5pm


If you liked this story, we can email you more radio news and alerts. Just fill in the form below.