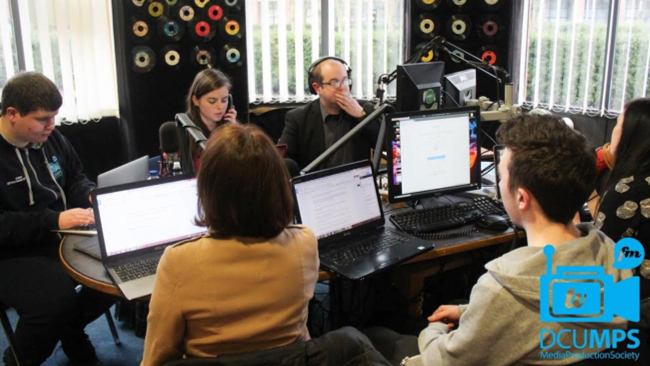 "Any student who actively gets involved with their college station knows how much spending time in the studio can take you over. It's not just a room, it's this space where you get to be creative and professional, all the while doing what you love.
Most campuses across the country feature a student station, from Flirt FM in NUIG to Belfield FM in UCD. Being station manager of DCUfm, I feel honoured to help students with their shows and with becoming fantastic radio journalists, broadcasters, and personalities.
DCU has a long, proud history with its student media. DCUfm is now over 25 years old, and has seen 1,000s of students now come and go, all the while leaving a lasting impression.
Currently, DCUfm broadcasts from its studio at the heart of DCU's Glasnevin campus in the Hub student centre where it has been since 2005. But now, the Hub is about to undergo major reconstruction which will see the DCUfm studio close.
It was a heartbreaking realisation for myself that I would be the last station manager in the current studio. Affectional known as the "goldfish bowl" due to its round shape and large windows, it's been the anchor of so many students' lives over the past decade. We lived to do our shows on DCUfm, to be behind a mic, talking with people like us and playing the songs we love. It was sanctuary.
Seeing this place go will be incredibly tough. There won't just be a hole in the Hub, but a hole in student life. I spent all my free time there, either on air or trying to figure out why the station wasn't on air. It was my life for the past 12 months, and it made me certain that my future career will be in radio.
But contrary to that, I don't have any worries about DCUfm. In two week time, there'll be a new management team in place ready to take over as is the quick turnaround nature of student radio, and they'll keep DCUfm ticking over.
The station is not disappearing. It will have a temporary studio that it'll broadcast from until a new, state of the art studio opens in two years. If I learned anything about DCUfm this year, it's that it wasn't actually just that studio. It went beyond the room. It was each and every person that was involved, that had a show, news bulletin, or played songs.
They were and will still be DCUfm, because that's what student radio is.
There's no money in student radio, so you do it purely for the love. You want to be on air no matter what. Whether it's in a modern, fancy studio or a small room with a mic, if you want to be on radio, you'll seek it out and do it.
DCUfm has flourished over the past handful of years, and there is no reason why it can't continue to do so. I will shed a tear as I lock the studio for the last time, but I will still tune in and hear the stings and promos that are burned into my brain and know DCUfm is as brilliant as it ever was."
Photo credit: Mark Crabbe


If you liked this story, we can email you more radio news and alerts. Just fill in the form below.