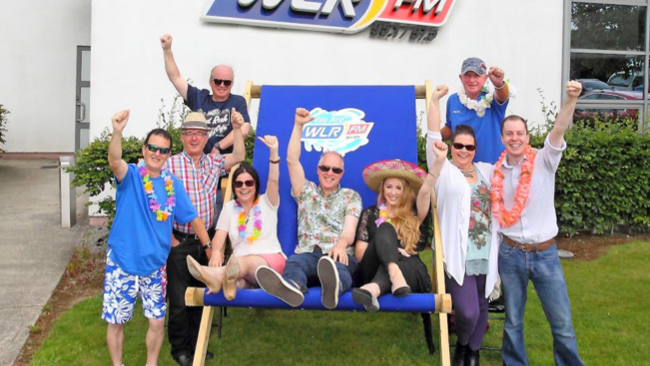 RTÉ 2fm has lost 58,000 listeners over the past year, having recorded 146,000 listeners on a daily basis in the latest JNLR figures.
The extended Breakfast Republic has lost 11,000 listeners since the last quarterly survey and now has 151,000. Nicky Byrne and Jenny Greene's show is also down from 143,000 listeners to 136,000.
2fm is shouting about overtaking Today FM among 15-34 year olds though, and boasts Breakfast Republic & The Eoghan McDermott Show are up 1pt of Reach (to 2%) respectively for their Average Quarter Hour audience among 15-34s. Today FM now has 142,000 listeners, down 47,000 over the past year.
Will Leahy has added 5k to his weekend show at 2fm. He points out on Twitter that's a 20% rise: "Weekends get zero press so tweets will have to do!"
However, Today FM grew its market share to 7.7% and now has 100,000 more listeners tuning in each week compared to 2fm. It recorded a hike of 7,000 listeners in its drive time slot, The Last Word. Matt Cooper now attracts an audience of 139,000.
Commenting on the show, Matt Cooper said: "After a very brief blip it's good to see that The Last Word has re-established its long standing position with Irish radio listeners as the most popular late afternoon alternative to RTÉ. We look forward to building on a very strong recent performance in the coming months by continuing our approach of getting the best guests onto The Last Word and letting them talk about a wide variety of stories and issues"
Head of RTÉ 2FM, Dan Healy says: "2FM is now 9 months into its new daytime schedule and although the headline figures indicate a drop in audience the underlying trend is growth with the stations prime time market share increasing from 5.7% in July-Dec 2015 to 6.4% in Jan – June 2016. Looking at the Average Quarter Hour performance, Breakfast Republic and The Eoghan McDermott Show remain very solid with growth in both day parts. What is very satisfying is that 2fm has the largest national market share for 15 to 34 year olds at 10.8%"
At RTÉ Radio 1, the team continues to run the only station with a weekly reach of over 1.3 million and RTÉ lyric fm remains steady with a weekly reach of 8% (289,000) adult aged 15+.
Commenting on the latest radio figures for RTÉ, Jim Jennings, Managing Director, RTÉ Radio says: "The latest JNLR figures confirm that RTÉ's radio services continue to thrive with one in three adults 15+ tuning in to our stations on a daily basis. Radio 1 continues to lead the daytime schedule with 18 out of the top 20 programmes. 2fm has increased its peak time share over the last six months. RTÉ lyric fm has grown its listeners in almost all of the weekday daytime programmes. In such a competitive market, it is heartening to see our stations performing so well."
Newstalk 106-108FM has grown its market share to 6.3% drawing 380,000 listeners daily and 706,000 weekly. Newstalk Breakfast, has 163,000 daily listeners whilst The Pat Kenny Show delivers growth with 131,000 listeners daily, up 5,000 book on book. CEO Tim Collins said: "This is a particularly important year for Newstalk with significant schedule changes coming in the Autumn. These figures published today show sustained growth and further evidence of the station's strong position as the station of choice for younger talk radio listeners."
A new schedule is expected to be introduced in September.
In Dublin, FM104 is shouting about being the number 1 music station, whilst the station's breakfast show is up 4,000 more listeners today to 80,000.
Sunshine is tweeting it has doubled its figures in less than two years "to an amazing 5.2% share in Dublin – Thanks so much for listening #Relax," the station says.
The only station in Dublin to show any significant increase this quarter is 98FM, up 10% to 115,000 listeners.
Radio NOVA has received an increase in both its daily listeners and market share. The music station has increased its daily audience to 76,000 while its market share has increased by 9%.
"These are very respectable listenership figures for us. We continue to increase our daily listenership and market share in a very competitive market place", says NOVA's CEO, Kevin Branigan. "We've shown continued growth across our daytime schedule in recent times and and we continue to take audience from other radio stations in the market".
Around the country, WLR enjoyed its biggest increase in recent years, a jump of 4 points in daily reach. You can see the presenters celebrating on a giant deckchair above!
WLR's Programme Director, Michael Byrne told RadioToday: "This has been one of the best results in years for WLR and a great boost for the team. We welcome the new 4,000 listeners who tune in daily and along with our existing loyal audience, we thank them all for the support. We have worked hard over the last two years to grow something new, introduce new voices, new imaging and now the hard work is paying off."
Cork's RedFM has 118,000 people tuning in every day making it the most listened to single station in Cork and 7,000 ahead of its nearest competitor.
The latest survey also sees Cork's RedFM placed as No1 for market share, female daily reach and male daily reach in Cork.
Programme Director KC says "RedFM's success is down to strongly focusing on all things local". The station recently announced the addition of Ray Foley to their Saturday morning line up.
Beat 102-103 now has 94,000 adult listeners tuning in daily, ahead of Radio 1 (88,000), 2FM (41,000) and Today FM (51,000) in the South East.
In the target market of 15-34 year-olds, 3 out of 4 people choose to listen to Beat each week in the region.
Beat Boss Gabrielle Cummins says "it's an increasingly competitive market with so much choice now for audio listening, we're thrilled that Beat is still so front of mind particularly among our all-important target demographic."
Head of Station Sound Niall Power is responsible for overseeing weekend programming on Beat and says "we've put a lot of time and thought into providing the perfect soundtrack for our listeners at weekends. From chat and banter and sport to the perfect mix of your music now, I'm over the moon to see record audiences for so many of our weekend shows. Beat's Big Weekend is now bigger than ever before!"
Limerick's Live 95FM remains at the top of the listening charts in Limerick City and County. 70% of listeners in Limerick tune in to Live 95FM every week.
"This figure emphasises the ability of the radio station to reach out across the community and also carry an advertiser's message to all corners of Limerick City and County. This is an excellent result for Limericks Live 95FM, which maintains Live 95FM's long held position as the most listened to radio station in Limerick City and County," said Chief Executive Joe Nash.
"I want to sincerely thank the team on the air and behind the scenes here, whose ability and hard work continue to deliver a service that the listeners of Limerick tune in to, in significant numbers," he continued.
Nationally, the latest results show 83% of all adults – almost 3 million listeners (15+), listening every weekday.
A total of c16,850 people were interviewed during the survey period by Ipsos MRBI, on behalf of JNLR – Joint National Listenership Research – that is commissioned by all national, regional and local stations, BAI, AAI, and IAPI. Grab the press release here.
Have we missed your news? Send your press release to news@radiotoday.ie right away and we'll add you here, and for the ultimate facts and figures on JNLR, see iLevel.ie.


If you liked this story, we can email you more radio news and alerts. Just fill in the form below.