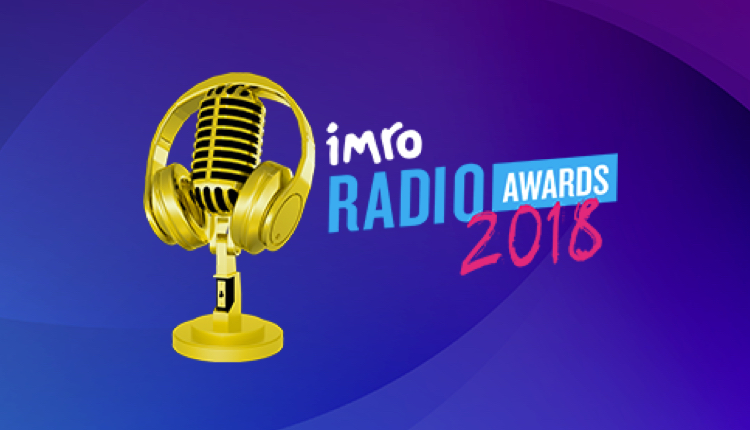 Here are the nominations for the IMRO Radio Awards 2018 – judged by a team of 90 who listened to 275 hours worth of audio between them.
Together, there are 217 shortlisted nominations in 37 categories. Local stations received 134 nominations while national stations received 84 nominations.
The Awards cover a diverse range of programming including music, speech, news, sport and individuals. Entries for the all-Ireland Awards come from an array of stations from RTÉ and BBC to Newstalk, Dublin's FM104 to 4FM, Highland Radio in Donegal to Radio Kerry and from Downtown Radio in Belfast to Wexford's South East Radio.
A spokesperson for the Radio Awards Committee said today "Heartiest well done to all the nominees, we applaud the quality of the entries this year. Radio in Ireland is thriving once again and we are delighted to see such a varying range of programming being submitted."
The awards will be announced on October 5th. Here they are in full:
Category
Station
A1
General Music Programme
Fergal D'Arcy
Today FM
The Zoo Crew
Spin 1038
Chris and Ciara
RTÉ 2fm
Muireann O'Connell
Today FM
The Big Ride Home with Dara Quilty
98FM
The Eoghan McDermott Show
RTÉ 2fm
A2
Specialist Music Programme
The Rolling Wave
RTÉ Radio 1
The Paul McLoone Show
Today FM
Classical Connections John Toal
BBC Radio Foyle
Ceilí House
RTÉ Radio 1
The Paschal Mooney Show: Big Tom Doesn't Play Here Anymore
Ocean FM
Soundscapes with Stephen McAuley
BBC Radio Foyle
A3
Breakfast Programme
Gold Breakfast with Will Leahy
RTÉ Gold
The KC Show featuring Ross Browne
Cork's 96FM
South East Radio Breakfast with Dave Redmond
South East Radio
The Ian Dempsey Breakfast Show
Today FM
PJ and Jim in the Morning
Classic Hits 4FM
Aidan & Oonagh in the Morning
iRadio
A4
Music Special
Jazz Club – the Jazz and Blues of Sir Van Morrison
BBC Radio Ulster
FM104's Strawberry Alarm Clock – Aslan Special
FM104
Sailing Homeward to Coney Island
Ocean FM
Opera Night – Eithne
RTÉ lyric fm
Elvis Day on WLR
WLR
In My Own Words
Tipp FM
A5
New Irish Music / Musical Talent Programme
Across the Line
BBC Radio Ulster
Green on Red
Red FM
98FM's Totally Irish
98FM
FM104's Open Mic
FM104
Rough Sunday
LMFM
When Teresanne met Ruthanne
WLR
B1
News Story
Big Tom – Death of a Legend
Shannonside Northen Sound
Belfast Rape Trial
Newstalk
Paedophile Hunters
BBC Radio Ulster
Ibrahim Halawa
98FM
Baby John Is My Name
Radio Kerry
August Floods
BBC Radio Foyle
B2
News Bulletin
Midlands 103 News
Midlands 103
Downtown Radio & Cool FM
Downtown Radio/Cool FM
Today FM News
Today FM
98FM News
98FM
Red FM News
Red FM
Newstalk
Newstalk
B3
News Programme – Full Service
No Shortlist is Published for This Category
B4
News Programme – Local/Regional
Beast from the East
WLR
Main Lunchtime News
Ocean FM
Northern Sound News at 1
Shannonside Northern Sound
The Breakfast Show After the Flood
BBC Radio Foyle
The Michael Reade Show
LMFM
Beat News Round Up Referendum Special
Beat 102 103
B5
Current Affairs Programme – Full Service
Evening Extra
BBC Radio Ulster
The Last Word with Matt Cooper
Today FM
The Pat Kenny Show
Newstalk
Ivan Yates: The Belfast Rape Trial Verdict
Newstalk
The Nolan Show
BBC Radio Ulster
Between The Lines
Newstalk
B6
Current Affairs Programme – Local/Regional
The Wider View Countdown to Brexit
Shannonside Northern Sound
Morning Focus
Clare FM
Remembering Dolores
Limerick's Live 95
KCLR Live
KCLR
Midlands Today with Will Faulkner
Midlands 103
Morning Mix Anti Social Behaviour
South East Radio
B7
Sports Story
Top of the World
Clare FM
Back from the Brink: Institute Football Club
BBC Radio Foyle
Radio 'GAA GAA' – All Ireland On WLR
WLR
The Munich Air Disaster 1958
RTÉ Radio 1
Silenced No More, Ashamed No More
Newstalk
Ireland's Grand Slam Journey
RTÉ Radio 1
B8
Sports Programme – Full Service
Off The Ball
Newstalk
Championship Sunday
Today FM
Premier League Live
Today FM
Sunday Sport Remembering Jimmy
RTÉ Radio 1
OTB Live
Newstalk
The Marty Squad
RTÉ Radio 1
B9
Sports Programme – Local/Regional
The Brandywell Reborn
BBC Radio Foyle
The Score
Cork's 96 FM
Over the Line
Galway Bay FM
When the Gloves are Off
Ocean FM
Big Red Bench
Red FM
Now That's What I Call Sport
98FM
C1
Documentary/Feature
Top of the World
Clare FM
An Unholy Trinity
RTÉ Radio 1
The Book Show, Tristram Shandy
RTÉ Radio 1
After Tuskar Rock
Newstalk
Frank Stagg's Three Funerals
RTÉ Radio 1
007, The Irish Connection
RTÉ Radio 1
C2
Music Documentary
The Recovery Café
BBC Radio Ulster
Conversations About the King
RTÉ Radio 1
An Seisiún
RTÉ Raidió na Gaeltachta
Totally Irish – Music Makers
98FM
Berlin Calling
RTÉ 2XM
This Aint no Party
RTÉ 2XM
C3
Short Feature
Baby in a Coffin, Real Life Abortion Stories
RTÉ Radio 1
Citizens
BBC Radio Ulster
KCLR – The Historyman
KCLR
Science Drops
Red Hare Media
CAKE
RTÉjr
The Book Show, Song of Winter
RTÉ Radio 1
C4
Magazine Programme
The Open Door with Ann Marie Kelly
Midlands 103
Plan B
Spin 103.8
Moncrieff
Newstalk
The Ray D'Arcy Show
RTÉ Radio 1
Reasons To Be Cheerful
RTÉ Radio 1
The John Toal Show
BBC Radio Ulster
C5
Drama
Captives
Newstalk
The Art of Foot-Binding by Danielle McLaughlin
RTÉ Radio 1
A Pilot's Honour
Newstalk
K.L.O. for the Doggy by Robert Barrett
RTÉ Radio 1
Mr Wall, Ep 1 & 2
RTÉjr
100 Everyday Menaces
RTÉ Radio 1
C6
Specialist Speech Broadcaster of the Year
The Bergen Whale
RTÉ Radio 1
My Teenage Christmas
RTÉ Radio 1
A Grave Profession
Ocean FM
Futureproof – Enemies of the State
Newstalk
The Fertile Plan
South East Radio
Science & Stuff with Emer Maguire
BBC Radio Ulster
C7
Craoltoireacht le Gaeilge
Fiona Ní Dhonnabháin's Samhlaigh
Red FM
Splanc
Newstalk
Rónán Beo @ 3
RTÉ Raidió na Gaeltachta
Pop Raidió le Laois De Cantilliun
Spin SW
Scoil Bhríde – 100 Bliain d'Aois
BBC Radio Ulster
Rí Rá ar R na G
RTÉ Raidió na Gaeltachta
C8
Interactive Speech Programme
Lunchtime Live: Cervical Check
Newstalk
The Neil Prendeville Show: Depraved Children's Rape List
Red FM
The Opinion Line
Cork's 96FM
Liveline: Forced apart after 63 Years, Kathleen & Michael Devereux
RTÉ Radio 1
The Joe Finnegan Show: There's no words today, words are no good today
Shannonside Northern Sound
98FM's Dublin Talks
98FM
D1
Community/Social Action
Giving for Living Radiothon
Cork's 96FM
KCLR Big Spring Clean Up
KCLR
Dare to Care
Today FM
Classic Hits Wish Week
Classic Hits 4FM
Damien Edgar: Save the Next One
Downtown Radio/Cool FM
Live 95FM's 95 Stop Tour
Limerick's Live 95
D2
On-Air Competitions / Promotions
Coffin Lock In: The Return
Beat 102103
Best of Dublin Awards
98FM
Spin 1038 & Red Bull Flugtag
Spin 103.8
Billboard Singles
Spin 103.8
Big Slide Festival
98FM
Today FM's F-Annemarie
Today FM
D3
Station Imaging
Today FM
Today FM
Cork's 96FM
Cork's 96FM
Radio Nova
Radio Nova
98FM
98FM
FM104
FM104
Spin 103.8
Spin 103.8
D4
Entertainment Inserts
FM104's Strawberry Alarm Clock with Jim-Jim & Nobby
FM104
Molly in the Morning
Galway Bay FM
Dermot & Dave's Entertainment Inserts
Today FM
The KC Show Featuring Ross Browne
Cork's 96 FM
Mario Rosenstock
Today FM
Breakfast with Ray & Jay
Red FM
D5
Innovation
Futureproof: The State Watches
Newstalk
Newstalk Ireland's Town
Newstalk
Billboard Singles
Spin 103.8
From Red FM to Ed FM
Red  FM
Be the Voice
Radio Kerry
Shazam & Win with Radio Nova
Radio Nova
E1
Music and Entertainment Broadcaster
Jim-Jim Nugent
FM104
Dara Quilty
98FM
Ray Foley
Red FM
Muireann O'Connell
Today FM
Fergal D'Arcy
Today FM
KC on the the KC Show on Cork's 96FM
Cork's 96FM
E2
Radio DJ
Darren Rice
Beat 102103
Laura Bracken
Spin 103.8
David Hammond
Beat 102103
Steve K
Spin 103.8
Andy Clarke
98FM
Tracy Clifford
RTÉ 2fm
E3
Specialist Music Broadcaster
Paul McLoone
Today FM
JJ O'Shea
Radio Kerry
Stephen McCauley
BBC Radio Foyle
Ann Marie Kelly
Midlands 103
Lynette Fay
BBC Radio Ulster
Ralph McLean
BBC Radio Ulster
E4
News Broadcaster
Elaine McGee
BBC Radio Foyle
Colm Ó Mongáin
RTÉ Radio 1
Brendan O'Loughlin
98FM
Lana O'Connor
Red FM
Seamus McKee
BBC Radio Ulster
Audrey Carville
RTÉ Radio 1
E5
News Reporter
Brian O'Connell
RTÉ Radio 1
Henry McKean
Newstalk
Kevin Magee
BBC Radio Ulster
Philip Boucher-Hayes
RTÉ Radio 1
Fiona O'Donovan
Red FM
Barry Lenihan
RTÉ Radio 1
E6
Sports Broadcaster
Darren Frehill
RTÉ Radio 1
Raf Diallo
Newstalk
John Duggan
Today FM
Joe Molloy
Newstalk
Nathan Murphy
Newstalk
Ger Gilroy
Newstalk
E7
Sports Broadcaster – Local/Regional
Darragh Cox
Ocean FM
Derrick Lynch
Clare FM
Eric White
BBC Radio Foyle
Darren Cleary
98FM
Tim Moynihan
Radio Kerry
Jamie Moore
98FM
E8
Speech Broadcaster – Full Service
Pat Kenny
Newstalk
Ivan Yates
Newstalk
Stephen Nolan
BBC Radio Ulster
Sean Moncrieff
Newstalk
Audrey  Carville
RTÉ Radio 1
John Toal
BBC Radio Ulster
E9
Speech Broadcaster – Local/Regional
Jeremy Dixon
98FM
PJ Coogan on The Opinion Line
Cork's 96FM
Shane Beatty
KFM
Will Faulkner
Midlands 103
Fran Curry
Tipp FM
Patricia Messinger
C103
Declan Meehan
East Coast FM
 
E10
Newcomer
Ben Finnegan
Midlands 103
Jaz Keane
Spin 103.8
Debbie Ridgard
Beat 102103
Tommy Walsh
Newstalk
Emer Maguire
BBC Radio Ulster
Sasha Wylie
Downtown/Cool FM
F1
Local Station of the Year
No Shortlist is Published for This Category
F2
Music Station
No Shortlist is Published for This Category
F3
Full Service Station
No Shortlist is Published for This Category


If you liked this story, we can email you more radio news and alerts. Just fill in the form below.